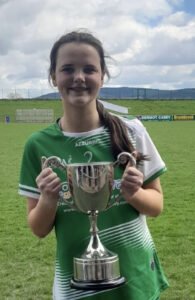 Mungret/St Paul's GAA Club Notes:
Limerick Players:
Limerick Minor Hurlers will play Clare in the Munster MHC semi-final after they fell to a 0-20 to 1-14 loss to Cork at the TUS Gaelic Grounds on Tuesday 25 April. A win or draw would have put Limerick into the final but missed frees in the final stages cost them badly and they travel to Ennis in a week's time as a result. Well done to Mungret St. Pauls players Sean Duff and Conor Crowley who are on the panel.
On Saturday, the Limerick Minor Camogie Team headed to Clonmel to face off Clare Camogie in the Electric Minor A Shield Semi-Final. #MSPCamogies Amy O'Halloran and her team mates worked hard to get a favourable reslt – and thats what they came away with having secured themself a place in the All-Ireland Final! Well done girls and the very best of luck to you in the final!
Full time score: Limerick: 1-08 Clare: 1-06
#MSPCamogies Clodagh Nestor and Jillian Buckley made up the U16 panel who travelled to Mallow on Friday night for the U16B Munster Final against a Cork.
Unfortunately they lost out to a very strong Cork team on the night. Well done for your efforts girls, we are proud of you!
Well done to the Limerick U14 Green and White development squads who met Clare on Saturday. There were brilliant games all around!
This squad includes #MSPCamogies Abbey Nealon, Roisin Ni Neill and Aoife Boyce. Well done!
Well done to the Limerick Minor Football team in the Munster Minor Football Championship Phase 1 Round 3 who had a great win over Waterford in Mick Neville Park on Thursday 27 April 2023. Limerick: 1-8(11) Waterford: 0-5(5) Mungret St. Pauls are proud to have Darragh Hogan and Rory Mullins on the panel with Liam O'Connell on the management.
On Friday 28 April the Limerick U-20 Hurlers had a tight lost in the Munster U20 Hurling Championship Round 5 Limerick: 0-21 Cork: 1-19, Mungret St. Pauls are proud to have Barry Duff, Fintan Fitzgerald, Liam Lynch and Billy Molyneaux on the panel with Diarmuid Mullins managing.
Well done to the U-16 Limerick Football team who beat Roscommon Saturday 29 April 2023, Limerick 3-15 Roscommon 1-5. Mungret St. Pauls are very proud of our Daniel O'Connell, Rory Mullins, Conor Mangan, Conor O'Longaigh, Aaron Morrow and Liam Aherne who are on the panel.
Saturday 29 April 2023 the Limerick Senior Hurlers fell to a stronger Clare side on the day, Mungret St. Pauls would like to extend our condolences to the family of John Walsh who son Ruairí is a teacher in St. Pauls school and has been involved in Cumman na mBun Scoil and Primary Games for many years. Ar dhéis Dé go raibh a anam dílís.
We were delighted to have 15 x #MSPCamogie players and 4 x Coaches attend the U13 Limerick Camogie Development City Development Hub which kicked off on Saturday.
There was a fantastic buzz around Monaleen pitch as girls from a variety of clubs across the city registered for the first of 4 Saturdays.
CLUB Limerick Draw:
Have you signed up to the 2023 CLUB Limerick Draw? For only €100 (with €50 going back to Mungret St. Pauls), be in with a chance of winning a top prize of €10,000; PLUS 29 additional cash prizes each month! Congratulations to our winners, Marie and John Bucke, for the April draw. Log onto clublimerick.ie/draw to join today or contact Noreen Moriarty on 087 622 8396
Realtai:
Mungret St. Pauls Réaltaí is a movement /ball skills initiative for boys and girls with additional needs aged 9 to 12 years. After our successful pilot training sessions we are looking for children for our next sessions, places are limited. If you are interested in registering your child please contact Margaret Horgan on 087 648 3156
Junior Camogie:
#MSPCamogies Junior team headed to Kilmeedy to play hosts Feenagh Kilmeedy on Saturday night in the league.
After a slow start, they battled hard in the second half, but unfortunately came up a bit short in the end.
U10 Camogie:
Well done to all the U10 #MSPCamogie players, coaches and supporters who headed to Murroe on Saturday morning in very wet conditions for the first of their blitz's!
Super proud of all the girls and their performances! The future is bright!!
Ladies Football:
Thanks to all who donated and supported the BakeSale last Saturday.
Well done to Clare O Meara and the Limerick Football Team who beat Cork in the Munster Senior B Championship.
Katie O Mahony, Emma O Rourke and Pat Galvin (management) were unfortunate to lose out to Waterford in the Minor C Munster Championship.
Congratulations to Roisin O Neill and the Limerick U14 football team who won the Munster C Championship.
U-15 Hurling:
Monday 24 April 2023 it was a busy night for our U-15 hurlers as both our teams were out for their first round, the Division 1 team were out in Kilmallock where they were met with a strong opposition. Mungret St. Pauls kept in touch with Kilmallock who got a lucky lead as they netted the ball. Mungret St. Pauls were playing catch up from then but put it up to Kilmallock.
Mungret St. Pauls 0-9 Kilmallock 2-12
The second U-15 team, in Division 3, were home to Blackrock who proved to be too strong a team for our 14 year old players who never gave up throughout the whole game.
Mungret St. Pauls 1-4 Blackrock 6-15 in Mungret at 6.45pm
Next hurling match for both teams is May 8 when the Division 1 team play Na Piarsaigh away and the Division 3 team play Askeaton, Kilcornan, Ballysteen at home.
U-11 Hurling
Well done to Mungret St. Pauls U-11 hurlers, who won the cup and plate finals at the interprovincial competition (Clarinbridge competition) after climbing to the top and winning the finals knocking out Naas, Doora Barefield(Clare), Kilmacud Crokes, Clarinbridge, Sixmilebridge, Toureen and Newport. Thank you to Clarinbridge for inviting us to the day.
U-13 Hurling:
On Thursday 27 April Mungret St. Pauls had two teams out, the Division 2 team were at home to Coshlea Gaels where Mungret St. Pauls dominated and came out on top.
Mungret St. Pauls 5-9 Coshlea Gaels 0-3
It was a similar situation with the Division 3 team who played Caherline in Caherconlish
Mungret St. Pauls 6-9 Caherline1-1.
Senior Hurling:
Mungret St. Pauls 0-18 Patrickswell 0-26
The Senior Hurlers travelled out the road to Patrickswell on Thursday 27 April 2023. Mungret St. Pauls had a poor startas Mungret St. Pauls struggled to produce scores getting five points while Patrickswell hit double digits with 19 points by the end of the first 30 minutes. The second half was a better game for Mungret St. Pauls as they outscored Patrickswell in that half and even narrowed the gap to eight points. After two wins this was the first loss and leaves the Senior hurlers in third position on the league board with two matches to play. The next outing is on Thursday 4 May against Kildimo Pallaskenry at home.
Junior A Hurling:
Mungret St. Pauls 2-21 Ballybrown 1-7
It was out to Ballybrown on Saturday 29 April 2023 for our Junior A hurlers to play the hosts. This was an exceptional game for our team as they took on near neighbours Ballybrown. Mungret St. Pauls lead from the start and kept the pressure on Ballybrown making it difficult for them to get in many scores. After four games with two wins, a loss and a draw Mungret St. Pauls are on top of the League table on point difference with one game left to play at the end of May against Ahane.