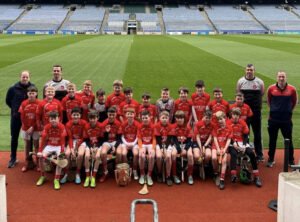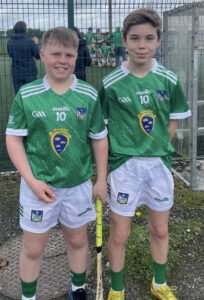 Mungret/St Pauls GAA Club Notes:
Volunteers:
Mungret St. Pauls are looking for a variety of volunteers for club events, do you have some time you can donate to us to help in the everyday running of the club. We require volunteers to help out in the club shop and coffee dock, looking after the score board during a match, report on matches.
We would appreciate you messaging the club phone on 085-8679962 to let us know where you can help the club, Thank you.
Limerick Players:
Congratulations also to the U-20 Limerick Footballers who beat Waterford in the Quarter finals and now play Cork in the Semi Finals. Well done to our club players Frank Corcoran, Jack McCarthy, Ciaran Uwatse, Oisin Moss and James Killian who are on the panel.
Hard luck to the Limerick Minor Football team who lost to Tipperary on Thursday 13 April 2023 in Mick Neville Park. Mungret St. Pauls are delighted to have Kevin Morrow, Darragh Hogan and Rory Mullins on the panel for the match.
Sam Newman and Sean Donnelly who are selected to play for Limerick Primary schools teams. Sam Newman representing An Mhodhscoil is playing Saturday 23 April in the TUS Gaelic Grounds at half time of Munster football semi final v Clare at 7 pm. Sean Donnelly representing St Nessans school will be playing May 21 half time of limerick v Tipp in Thurles.
Feile na nGael:
Mungret St. Pauls 1-3 Murroe Boher 1-7
It was a mixed bag of weather in Martinstown on Monday morning, 10 April 2023 when our U-15 Feile hurling team prepared for their fourth match of the weekend. There was a delay for the start as the match previous went into extra time which was when the heavens opened, it had finished raining by the time our boys got to take to the pitch.
Murroe Boher settled into the game quicker than Mungret St. Pauls as we struggled to get the sliotar between the uprights. Murroe Boher had a bit of a breeze and were cleaner on their shots, a penalty was awarded to Murroe Boher and while our goalie got close to the sliotar it hit the net to extend the lead for Murroe Boher. Mungret St. Pauls failed to secure a score before the half time whistle with Murroe Boher 1-4 up.
The second half was a much improved game for our players as they fought to bring themselves back into the game. A pointed free brought us onto the score board and other scores started to come only to have Murroe Boher point straight after. With a few tries to raise the green flag we eventually hit the back of the net, unfortunately time was running out and with Murroe Boher keeping the pressure on we needed a second goal to level but ran out of time and left our boys with heavy hearts as they bowed out of the Feile Final. Murroe Boher went on to win the Division 1 Cup later that day. Our U-15 hurlers have the Championship to look to now staring next week.
Thank you to everyone who supported the players and coaches over the weekend, your presence at the side of the pitch was appreciated.
Junior A Hurling:
Mungret St. Pauls 1-14 Monaleen 2-13
This really was a game of two halves as our Junior A hurlers moved into Monaleens Clubhouse pitch on Monday 10 April 2023. Monaleen were in right form from the start and they built up a substantial score. Mungret St. Pauls were slow to get going but managed to get five points on the board before the half time whistle to Monaleens 2-9.
The second half, Mungret St. Pauls pulled it out of the bag as they pushed hard and started to top up on their points, Monaleen only managed four points in this half with Mungret St. Pauls sending nine sliotars over the cross bar. With the forwards attacking the Monaleen goals the sliotar was eventually stuck into the net. The clock was ticking down and a goal was needed to give us a one point win, a close rang free was awarded to us as the final strike, it was hit toward the goal but was stopped before it got over the line, final whistle Mungret St. Pauls took a loss.
This teams are next to take on Ballybrown on Sunday 30 April in Ballybrown.
Junior Camogie:
Our Junior Camogie team played Blackrock Effin on Easter Saturday in R2 of the league. Great to see the numbers of players available for selection on a bank holiday weekend. We started brightly against the wind with 3 points on the board the first 5 minutes without reply. Blackrock Effin responded well and at 15 minutes it was even stevens at 0-3 each. Some good team play and accuracy in front of the posts saw us go into halftime 0-8 to 0-4 ahead. A good start again in the 2nd half within 20 minutes we were 0-12 to 0-6 ahead. Its fair to say we were wasteful at times in front of goal and should have increased our lead. Blackrock are a good side and continually pressured out defence who worked well as a collective to deny them get any foothold and convert the attacks into scores. We finished strong adding a goal in the last few minutes ending with a win on a scoreline of 1-14 to 0-7.
U-12 Hurling:
Well done to our U12 Hurlers who had an early start this morning to travel to Croke Park where they got to play 3 matches and even managed to get a tour of the stadium. There were some very happy Tipperary supporters who got to meet Tommy Dunne as well.
Thank you to the coaches who organised the travel arrangements and the stop off for supermacs on the way home.
U-17 Hurling:
Mungret St. Pauls 1-13 Killacoola Gaels 2-8
It was a very breezy Wednesday 12 April 2023 when Killacoola Gaels came into Mungret to play the second round of the Division 2 league. This was a tough game for our players as they had to bring themselves back into the game in the second half after going six points down, they managed to up their game and before they knew it they had the game level and squeezed in an additional two points to eventually win the game. After two wins they now top their group and wait for the other group games to finish to see who they next play.
U-13 Hurling:
On Thursday 13 April 2023 Mungret St. Pauls had 2 teams out in U-13 Hurling. Our thirteen year olds were on the Senior pitch against Bruff in the Division 2 group game where they played a strong game against a strong team. While Bruff opened the refs book first with a point Mungret St. Pauls used a full page for their scores. It was a great showcase of team work through out the game. Well done to the players on their second win, they next play Coshlea Gales on the 27 April at home.
Mungret St. Pauls 1-12 Bruff 1-2
Our twelve year olds fresh from their practice games in Croke Park a few days earlier welcomed Pallasgreen to the Crescent College comprehensive pitch, this was a game with some great scoring from both sides. Our younger players showed great fighting spirit playing a slightly stronger side and never let their game drop through out. They next play Caherline in Caherconlish on 27 April.
Mungret St. Pauls 2-2 Pallasgreen 4-6
Intermediate Football:
Mungret St. Pauls 0-18 Kildimo Pallaskenry 2-9
It was a dry evening on Friday 14 April when Mungret St. Pauls played host to Kildimo Pallaskenry in the second of their league matches. Mungret St. Pauls were first to score and kept the lead throughout, Kildimo Pallaskenry pushed hard with a goal in either half but were out scored in the end as Mungret St. Pauls never let up on working the ball up the pitch and taking a score when the opportunity arose. They are out next on Saturday 22 April against Clauhaun in Mungret.
Junior A Football:
Mungret St. Pauls 0-12 Pallasgreen 1-5
On Saturday 15 April 2023 our Junior A footballers had home advantage when they played Pallasgreen. Both teams put in a solid game, Pallasgreen hit a quick three point score but Mungret St. Pauls were more on target on points and it was this that pushed them on to win the game, this win has left them top of the table after two wins from as many games. The next game is against Bruff on Saturday 22 April 2023.
Development Update:
The final stages of the Ball Wall are taking place over the next couple of weeks and the works on the Astro Pitch will begin soon after. Currently the surface levelling is happening with all the machinery was on-site prior to the Camogie Easter camp, another busy morning in Mungret St. Pauls GAA.
Con and Annie Kirby:
Well done to our players who took part in the Con and Annie Kirby Cic and Puc Fada on Saturday 15 April 2023 in the Limerick Greyhound Stadium. Going for the Puc Fada were Ava Reaboi and Sean Moriarty , for the Cic fada were Jack Houlihan and Ava Larkin, all four represented Mungret St. Pauls with pride but were unlucky to be out shot on the day.