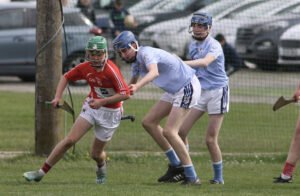 Mungret/St Pauls GAA Club Notes:
Limerick Players:
Congratulations to the Senior Hurling team who had added yet another title to their name when they overcame Kilkenny in a showcase of skill. There were many Mungret St. Pauls supporters in Cork enjoying the match and delighted with the win.
Primary Game:
Huge congratulations are due to Eilís Ni Neill, Ava Larkin and Sadhbh Hanley on recently being selected to play for the Limerick County Primary schools team!
They will be seen in the green and white at half time of the LimerickGAA v Clare championship match which takes place in the Gaelic Grounds on the 29th April.
This is a huge achievement/experience for all 3 girls and their teammates who no doubt will remember it for the rest of their lives!
We hope to hear all their friends and family in the crowd that day cheering them all on! MUNGRET ABU!
GAA Easter Camp:
Our GAA Easter camp for boys and girls began on Tuesday 4th and runs until Thursday 6th of April. There were 140 children all togged out and full of excitement on Tuesday morning ready to enjoy the next three days. We are delighted to have our own players coaching the children attending. Thank you to Kevin O'Hagan for organising the camp this week.
TLC
Special thanks to all of our members who turned up early on Friday 7 April 2033 to support our TLC initiative and the very many young boys and girls . We also appreciate that JP McManus and Paul O Connell our County manager Pat Daly and members of the JP Mc Manus team paid us a visit and had a photo taken . They were very impressed with the large turnout . Also well done to our members who were invited to groups in their own neighbourhood.
U11 Camogie:
The Limerick Camogie Development "County Go Games Day" took place in Ahane Camogie Club on Saturday and what a smashin day it was for all players!
Our girls took on Bruff, Ahane and Monaleen for some hugely entertaining games! The future is bright – keep in girls – yer FLYIN!!!
Thanks Ahane for hosting (Orla and Lorraine) and of course Jack and Margaret from Limerick Camogie Development, doing fabulous work for the future of Limerick Camogie.
U14 Camogie:
A very competitive match was had at home on Tuesday night for our U14s who had their first match in the Mackey League.
Newcastlewest Camogie travelled to #MSPCamogie where both team rose to the challenge!
Unfortunately we were defeated by just 2 points in the end, but put in a serious display!
U16 Camogie:
Our U16s got the league off to a good start with a win v Galbally at home last Thursday.
Well done girls, keep her lit!
U-15 Football:
Mungret St. Pauls 4-1 Cappamore 0-7
Our U-14 footballers travelled out the road to Cappamore on Monday 3 April 2023 to play their opening match of the league. This was a smashing game, made better by the dry sky and solid pitch. It took a while for our players to get settled into the game and with Cappamore having the advantage of the breeze they took an early start, it took Mungret St. Pauls half way through the first half to get a score on the board but it was a whopper to open with a goal. Cappamore kept a bit of the lead until the half time whistle when Mungret St. Pauls had leveled the game 1-1 to 0-4. The second half was when Mungret St. Pauls played a better game working the ball up the pitch using the player in the better position as they went. The goals started coming and Cappamore started to struggle to get much more on their score bord.
With news coming in from home base that our first team had fielded with Hospital Herbertstown but were left standing waiting for a referee that failed to attend, their game to be rescheduled for another date. The second team took the win against Cappamore eager to prepare for their next match which will be Mondays 17 April against South Liberties in Mungret. The Division 1 team wait to play Ahane in Ahane on the 17th also.
Ladies Football:
The Intermediate Ladies Football team unfortunately went down to a better side in the opening round of the league. Oola coming out as the winner. In under 16 the Red team opened their league with an away victory to St.Brigids while the Red team lost away to St.Senans.
Junior A Hurling:
Mungret St. Pauls 0-21 Na Piarsaigh 2-15
On Sunday 2 April, our Junior A hurlers took on Na Piarsaigh at home while the rain fell it made for a slippy match but Mungret St. Pauls gave a spectacular display of hurling to go into the half time break 10 points ahead of Na Piarsaigh. 0-15 to 0-5 The second half was a different game with Na Piarsaigh eating away at our lead it came down to the last strike of the ball to have the game stay level which was not the result we wanted but happy to have the draw.
U-17 Football:
Mungret St. Pauls 4-17 Adare 6-5
The U-17 footballers went out the road to play Adare on Wednesday 5 April 2023, this was a great result for us as the players had their shooting boots on scoring a fantastic 17 points to join the four goals. Adare built up a substantial score also but it was Mungret St. Pauls that took the win.
Intermediate Football:
Mungret St. Pauls 0-11 Monaleen 0-15
In Mungret on Wednesday 5 April 2023 our Intermediate Footballers took on the Senior Monaleen team, they put in a great game taking a lead in the first half but Monaleen did not sit well with that and hammered back with scores. We held up well to them and came off with a few bruises on the score board with us finishing with a four point loss.
They are next out on the 15 of April at home against Kildimo Pallaskenry.
Feile na nGael:
It was an early start for our U-15 hurlers on Saturday 8 April 2023 as they had to attend Caherdavin for the group one matches in the division 1 Feile competition.
The first match was against our neighbours, Ballybrown, the players hit their stride straight away and showcased a fantastic game of hurling against a weaken Ballybrown side. We easily won the first game which took the pressure off for the second match.
Mungret St. Pauls 4-8 Ballybrown 0-3
The second round was up against Monaleen who drew with Na Piarsaigh in their first match and with a slow start we eventually got three points on the board to nothing by the half time whistle. A lucky goal for Monaleen let them slip closer to our score, a few wides for us did not help but we held it together as time was running out and just got over the line with a one point win to qualify us for the Semi Final on Monday with one game to go.
Mungret St. Pauls 0-6 Monaleen 1-2
The last match was a must win for Na Piarsaigh with Mungret St. Pauls not going to make it easy for them, it was a physical battle for both sides as each side put what energy they had left into the game. Mungret St. Pauls had the lead at half time but with only being two points ahead was not comfortable enough and Na Piarsaigh struck gold when they hit the net half way through the second half going one point ahead, Mungret St. Pauls ran out of time and the loss left us in second place leaving us to play Murroe Boher on Monday in the Semi Final.
Mungret St. Pauls 0-6 Na Piarsaigh 1-7
Junior B Hurling:
Mungret St. Pauls 3-17 Ballybrown 4-12
The two neighbours met on Saturday 8 April 2023 in Ballybrowns village pitch, this was a well attended match. Mungret St. Pauls powered into the match and were striking from all over the pitch there were some great scores going over and with us getting our three goals in the first half we were double digits ahead of Ballybrown by half time. The second half Mungret St. Pauls seemed to step back a bit with Ballybrown fired up they lobbed sliotars into the full forward who set alight the net bringing them back into the game but Mungret St. Pauls even thought we only scored four points in the second half we had built up enough of a buffer to hold Ballybrown away from a win.
The Junior B Hurlers are not out again until the end of this month.
Senior Hurling:
Mungret St. Pauls 1-15 Ballybrown 0-12
Moving across the road to Ballybrowns new pitch the Senior hurlers were the finale of the day on Saturday 8 April 2023. We were expecting a tough battle as always from Ballybrown and as the game rolled on it was tight with both sides getting in a burst of scores, Ballybrown first then Mungret St. Pauls only we finished our row of scores with the only goal of the match. Going in at half time there were four points separating the two sides.
The second half was tougher as we had the hill to climb and had to hold onto what lead we had, as Ballybrown scored we equalled it with our own adding in a extra one every so often Ballybrown never caught up to us and we took the two points for the win comfortably. We currently sit top of the table with two wins from two with the next match not until the end of this month there will be plenty of training being done.