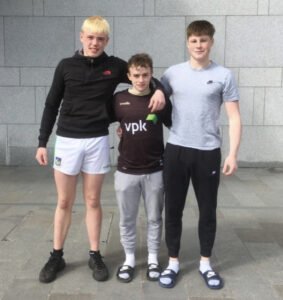 Mungret/St Pauls GAA Club Notes:
U-17 Hurling:
Mungret St. Pauls 1-17 Patrickswell 1-11
On a dry Wednesday, 29 March 2023 our U-17 hurlers welcomed Patrickswell to Mungret for a very sporting game where both goalies got tested but it was the points scored that won the game.
This was a great opener for our hurlers, although we were missing a few of the older players the younger players stood up to the challenge to help out. Mungret St. Pauls had the slight lead throughout the game holding a three point lead by the half time, 1-9 to 1-6.
With the marginal lead Mungret St. Pauls knew they had to better their first half performance which they did as the game progressed, they kept the pressure on and there was a variety of different scorers throughout. Well done to the team earning two points on the first game in the League. Their next game is on April 12 against Killacolla Gaels at home.
Camogie:
The future of #MSPCamogie returned to training last night in the form of our DOTEY U6s and determined U8s! A chilly night but they didn't feel the cold what with all the running around they were doing! A great first session back girls – keep in, yer FLYIN!
Junior Camogie:
A good performance was put in by our Junior Camogie team this Sunday in the first round of the league, where they played and beat Cillard.
MSPCamogie: 5-11
Cillard: 0-04.
Well done girls! Keep an eye on our ClubZap and Social media for next fixture!
Intermediate Football League:
Mungret St. Pauls 3-15 Camogue Rovers 2-8
The weather stayed dry on Sunday 26 March when our Junior team took to the pitch for the first time this year in a competitive match which had Mungret St. Pauls working hard for their scores and in holding back the Camogue Rovers from doing much damage to the score board. Mungret St. Pauls proved too strong in the end and took a good score as their win.
U-13 Hurling:
Mungret St. Pauls 4-13 Cappamore 0-1
On Thursday 30 March 2023 our U-13 Division 2 hurlers opened their group matches when they played Cappamore in the Crescent Comprehensive. This was a very one sided scoring game but on the pitch Cappamore attacked every ball making Mungret St. Pauls fighting for possession throughout. They are next out on 13 April against Bruff in Bruff.
Senior Hurling:
Mungret St. Pauls 2-19 Monaleen 1-17
In the second match on our pitches on Saturday 1 April 2023 our Senior hurlers got their win when they played the Club All Ireland champions, Monaleen. Monaleen were down their county players which gave Mungret St. Pauls a great opportunity to challenge themselves to overcome Monaleen which they did in style.
Mungret St. Pauls had a slight edge throughout going a goal up heading into the second half Monaleen pulled it back to a point at one stage but Mungret St. Pauls regrouped and found their rhythm again to take the five point lead by the final whistle.
They next play neighbours, Ballybrown this Saturday in Ballybrown.
Junior B Hurling:
Mungret St. Pauls 2-8 South Liberties 2-13
It was a dry evening in Mungret on Saturday 1 April 2023 when our Junior B hurlers opened their league matches against South Liberties. A game with plenty of action where some of our younger players got in some great game time. Mungret St. Pauls were chasing South Liberties for most of the game with a six point difference at half time they pulled it back closer in the second half but South Liberties proved too strong and held the lead to win.
They are next out on Sunday against Ballybrown in Mungret on Sunday 9th April.
Junior Football:
In the South Junior A Football League which had been postponed from the previous week, it took place on Saturday 1 April 2023 in Banogue. This game saw a lot of running and great passes from both sides but Mungret St. Pauls were unlucky to leave the game with just a goal separating the two sides.
TLC:
This year Mungret St. Pauls GAA Club have registered with Team Limerick Clean-up (TLC). If you have two hours to volunteer you are welcome to join us at 9am on Good Friday morning April 7. If your available, we would love to have your help. Contact Donal Fitzgibbon on 086 605 3934
Limerick Players:
Minor: We were delighted to see Amy O'Halloran and her minor team-mates have another great weekend, when they secured their second win of their All Ireland Championship Campaign. They beat Meath on Sunday following their trip to hosts Wolfe Tones GAA. Limerick: 2-15
Meath: 0-09.
Senior:
We were delighted to see Ailbhe Larkin, Olivia Kerins and the Limerick Senior Camogie Team get a win over Offally this weekend.
This win ensured that they remain in Division 1B in the league for next year. Well done girls!
Junior: Congrats to Aoife Morrissey and the Junior Camogie team who also had a great win over Offally this weekend.
Congrats:
Congratulations to Molly Tobin, Jayne Casey, Sarah Horgan and their U16 team-mates in the Limerick U16 squad who had a great win this weekend over Tipperary. It was a fantastic performance which sees them into the U16 A Munster Semi final! Well done girls! Limerick: 0-13, Tipperary: 1-09.
Well done also to Lily Quinn and her U17 team-mates who were out against Cork this weekend in the Munster League!
A tough battle for our own Diarmuid Mullins and the U-20 hurling panel, who took on Clare at a later date than advertised. Mungret St Paul's are delighted to have Fintan Fitzgerald, Barry Duff and Liam Lynch on the match panel.
Well Done:
Well done to the Limerick Minor Hurling panel who beat Clare on Tuesday, 28 March with a final score of Limerick 2-20 Clare 0-22, we are delighted to have Sean Duff and Conor Crowley on the panel.
A first outing for the Limerick academy footballers who got to represent their club and county on Saturday 1 April 2023, There were two great wins for the U-14 footballers who were in UL against Waterford while the U-15 played after the U-14s and had a mixed result against Wexford with one win and one loss. The U-16 footballers took a loss against Cork on their visit to the rebel county. Mungret St. Pauls are delighted to have players on each team, well done to, Adam Bennett, Jack O'Sullivan, Jack Dervan, Amhlaoibh Bohane, Aaron Morrow, Daniel O'Connell, Conor O'Lonaigh, Liam Ahern and Conor Mangan.