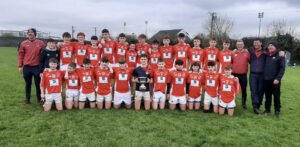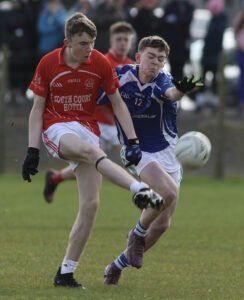 Mungret St Paul's GAA Club Notes:
Feile Peil na nOg:
Mungret St. Pauls 4-3 Fr. Caseys 0-1
Mungret St. Pauls 3-5 Oola 1-4
Mungret St. Pauls 1-5 Monaleen 2-8
On Saturday 25 March 2023 Mungret St. Pauls played host to the Division 1 Football Feile . The pitch was in great condition considering all the rain that had landed in the last week which is a great compliment to our field committee how have been looking after each pitch carefully.
Mungret St. Pauls and Fr. Caseys were the opening game of the day, this started with Mungret St. Pauls hitting the net within the first minute, they continued to add on another two points before half time came. Mungret St. Pauls gave a second better half with Fr. Caseys struggling to get into the game leaving our players with a win on their first game.
The second game against Oola was a more challenging one for our players as they were put to the test against a more physical team. Mungret St. Pauls had a slight lead throughout and with the goals scored they managed to get over the line to pocket their second win.
The final match was a rehersal for the next day which would see Mungret St. Pauls play Monaleen in the Final. Monaleen were the ones who achieved more on the score board to take the win but Mungret St. Pauls put in a fair game and look forward to the final.
Mungret St. Pauls 1-6 Monaleen 1-5
On Sunday 26 March the weather stayed dry for the final although a bit breezy with Mungret St. Pauls having the slight advantage in the first half. Monaleen got the first score in with a point from a free, quickly followed by Mungret St. Pauls getting a good goal and four points up before Monaleen managed a second point in injury time in the first half. The second half Monaleen were not messing around as they shook the net. The rest of the half saw Mungret St. Pauls and Monaleen both taking their scores from frees, Mungret St. Pauls holding onto the narrow lead by their fingertips as the ball was carried up the pitch and yet another free waiting to be scored by our opponents which was successful. It was into injury time and anything could happen as Mungret St. Pauls held onto a one point lead just as the final whistle was blown.
Well done to the U-15 footballers who won the Division 1 Féile Peil na nÓg and go forward to represent Limerick in the Féile later this year.
Con and Annie Kirby:
Unfortunately we ended up being knocked out in the first round of the Con and Annie Kirby Memorial Stake, we would like to Thank the Limerick Greyhound track for their hospitality and to Noreen and JP McManus for their continued support and generous contribution to GAA in Limerick. Mungret St. Pauls always enjoy the Con and Annie Kirby events while we are disappointed to be out of the running we will still enjoy the races and wish the rest of the clubs and dogs the best of luck in their races.
TLC:
This year Mungret St. Pauls GAA Club have registered with Team Limerick Clean-up (TLC). If you have two hours to volunteer you are welcome to join us at 9am on Good Friday morning April 7. If your available, we would love to have your help. Contact Donal Fitzgibbon on 086 605 3934.
Intermediate Football League:
Mungret St. Pauls 3-15 Camogue Rovers 2-8
The weather stayed dry on Sunday 26 March when our Junior team took to the pitch for the first time this year in a competitive match which had Mungret St. Pauls working hard for their scores and in holding back the Camogue Rovers from doing much damage to the score board. Mungret St. Pauls proved too strong in the end and took a good score as their win.
Limerick Players:
Congratulations to the Limerick Senior Hurling team who after their win against Wexford have secured a place in the League Semi Final against Tipperary.
Limerick Camogie:
Well done to #MSPCamogies Amy O'Halloran and her Limerick Minor Camogie teammates who drew with Wexford on Sunday, when they met in the Electric Minor A Shield All Ireland Championship.
Well Done:
Well done to Diarmuid Mullins and the U-20 hurling panel who took on Waterford on Saturday 25 March and won, Mungret St Paul's are delighted to have Barry Duff, Fintan Fitzgerald and Liam Lynch on the U20 match panel.