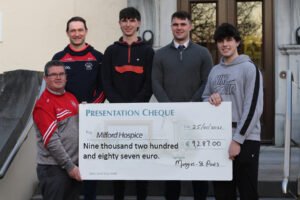 Mungret/St Paul's GAA Club Notes:
Limerick Fittest Superstars:
Register your team today or try and rally the troops to get your "Team of 4" for Mungret St Paul's GAA club. "Limericks Fittest Superstars " You don't want to be disappointed on the day that you didn't take part in this great event . Davy Fitzgerald visited us last evening to discuss our upcoming event .
AND WE OFF !!!
A few of our Confirmed Teams not being shy to get into a photo for Mungret St Paul's GAA Club " Limerick Fittest Superstars " More team photos will be taken during the week. We have over 20 teams confirmed and a good few more teams nearly confirmed, so our event for Saturday 20th May is shaping up to be an unbelievable Community and Club Event .
Don't worry we are still looking for more teams . Hurry up and gather your "Team of 4 " from Friends / Neighbours/Work colleagues / Country Cousins or Team mates .
" DONT LOOK BACK AND REGRET IT , LOOK BACK AND SMILE ,YOU DID IT "
For any other enquiries about the event please Contact Kieran on 087 7382441.
Limerick Players:
Congratulations to Clare O Meara and Carol Bateman and the Limerick Ladies Football Team, who won their opening National league match against Kilkenny last weekend.
Huge congratulations to our very own Amy O'Halloran on being named in the Limerick Camogie Minor Squad for 2023 – we are very proud of you!
A fantastic ambassador of MSPCamogie that so many of our young players and coaches look up to. Always available to volunteer when needed, leading by example and giving back to the club.
We wish you the very best of luck Amy!
It was not a great result in round one of the Allianz Football League Limerick: 0-4 Derry: 0-16. We were delighted to have Killian Ryan on the panel on the day.
We forgot to acknowledge while the Limerick hurlers were playing Kerry we had Niall Mulcahy on the Kerry starting team along with fellow Kerry player, Louis Dee who had played for Mungret St. Pauls.
Corporate Sponsors:
We are enclosing a list of companies and business who have committed to our development with a financial contribution over 5 years. To date we have just short of €80,000 in our Corporate funds, €128,921 in our Member Investment Fund and we invite our members when doing business to consider these business favourably.
If you know any company or business who may be interested in meeting with us please first check to see if they have already been previously approached by contacting John Horgan or Colin Kenny. If they have not we will supply you with an excellent brochure to present them. If you would prefer not to call yourself please pass on their name and contact and one of our corporate team will visit them. We do not want anyone to say they were never asked.
Thank You.
ACS Construction, Analog, BCS Crane Hire Ltd, Cartmal Range Ltd, Chill The Beans, Cobi Sports, Collins Bar, DGD Shredding, Dore Financial Services, EcoBurner Ltd, EI Electronics, Flexi Office Space, Gaswork, Horgans L&EC, Hungry Lyons, Irish Cement, Kirby Group Engineering, M&C Property, Mungret Medical Centre, Murphy O'Connor Accountants, Noels Mens & Boyswear Ltd, O'Malley-Griffin (Brokers) Ltd, OMC, Orona Mid Western, Peter Duggan, Racefield Pharmacy, Raheen Supermarket Ltd, RT Communications, Souths Bar, Takumi Precision Engineering Ltd, The Bike Shop, TJ O'Mahonys, UMR Group, Westward Ho.
Membership:
Mungret St Pauls 2023 Club registration is now open. This year all registration will take place online through the GAA system Foireann. To pay your membership please go to www.foireann.ie
PLEASE NOTE THAT ALL MEMBERSHIP SHOULD BE PAID AS SOON AS POSSIBLE AND BEFORE TRAINING RETURNS FOR ANY TEAM.
Many members will have used Foireann throughout Covid for their Return to play. For those new to the system you will find a User Guide in pdf format and a helpful video on our website https://www.mungretstpauls.com/club-membership.
We would remind you to double check all the information, name, date of birth, etc are all correct.
Camogie:
Big congratulations to Laurel Hill Coláiste FCJ on their thrilling win over Laurel Hill Secondary School FCJ today in the MunsterPost Primary Camogie final. There was huge support in Mungret for both sides for this incredibly competitive match. Colaiste may have started slow, but once they got motoring there was no stopping them! Well done to #MSPCamogies Rachel Lynch, Clodagh Nestor and Aoife Carey! We are proud of you! Full time sore: Colaiste: 1-8 Secondary 1-7.
Cheque Presentation:
Mungret St. Pauls were delighted to present a cheque for €9,287 from our Movember for Joe Harrington to Milford Hospice. At the handing over of the cheque was Ken O'Connor who raise over €1,000. Liam and JJ Harrington were there in memory of their dad, Joe. Darragh O'Hagan was representing our Healthy Club while Brian O'Halloran was accepting the cheque on behalf of Milford Hospice. Milford and Mungret St. Pauls are very thankful to everyone who took part and donated.