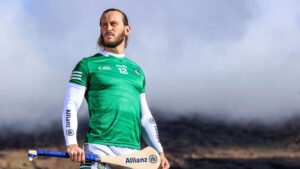 Morrissey's paranoia an antidote to 'rot' of complacency:
By John Harrington
He's won four All-Irelands in the last five years and has rarely if ever had an off-day for Limerick in that period, and yet Tom Morrissey still has a healthy dose of paranoia about where he stands in the Limerick forward-line pecking order.
He believes such a state of mind isn't just understandable considering the competition for places in the Limerick team right now, but a downright necessity.
"For any successful team you need lads constantly coming in and pushing the lads who are there so you have that paranoia," says Morrissey.
"It's not good for any individual to get complacent or relaxed. When you're dealing with top level sport complacency is the rot when it comes to improving. It's the one thing that when you look at a team or an individual, when you get complacent or relaxed that's when you're going to be at your most vulnerable.
"It's no different when the lads come through, you need to be on your toes and you need to be pushing yourself to make sure that you're bringing up the standard with them and try to stay maybe a step ahead."
Up and coming Limerick forwards like Donnacha Ó Dálaigh, Micheál Houlihan, Shane O'Brien, and Adam English have all impressed when given an opportunity by manager John Kiely, and aren't inclined to afford multiple All-Ireland winners like Morrissey too much respect when it comes to trying to knock them out of the first choice XV.
"They're definitely not there to look at us, they're there to make a point and push on their own individual careers," he says.
"I think maybe as someone who's been involved in the panel for a while, that's what you love to see, young lads like that who don't really care what you've done or what's gone on with this team in the past, they've got their own agenda and they want to make sure they're successful.
"That as a result drives everyone on and creates that healthy competition that any successful team needs."
When you have a panel as stacked as Limerick's right now, it guarantees ferociously contested internal training games where no quarter is asked for or given.
"Yeah, it definitely does, the training matches are definitely competitive," says Morrissey.
"They definitely get fiery and maybe a small bit over the line at times but it's all in good nature. I suppose it just shows how lads are pushing and trying to get the best out of themselves. That brings the best out of each other and your team-mates as a result.
"While there's a burning desire to obviously win competitive matches against other counties like at the weekend, there's also a burning desire to win any training match that's played behind closed doors between us as well."
The worrying thing for all teams trying to knock the three-in-a-row All-Ireland champions from their pedestal is that they've been significantly better in this year's Allianz Hurling League than they were in last year's one.
In 2022 they seemed to time their run perfectly and peaked for the latter stages of the championship.
Is their any danger the hugely impressive form they've shown on the way to Sunday's Allianz Hurling League Final against Kilkenny suggests they're playing too well, too soon this year?
"Not really," says Morrissey. "You can't be afraid of training either. We have full faith in Cairbre [O'Caireallain], Paul and John to manage our load and get these peaks and troughs right.
"I'm sure it's something they accounted for when they were setting out the season. I think it's definitely for the better. We trained hard in December but we had two weeks off again for our team holiday at the start of January. We're still feeling fresh and ready to go."
Sunday, April 9
Allianz Hurling League Division 1 final
Limerick v Kilkenny, Pairc Ui Chaoimh, 2pm (TG4)