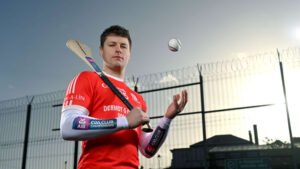 By John Harrington
When a team is relegated from senior to intermediate, one of two things tends to happen.
The relegation is so demoralising that it takes the team a year or two to recover from it sufficiently to be in the frame for promotion back to the senior ranks.
Or else the relegation stings a club into action and motivates a group of players to prove they're better than some are saying they are.
Happily for Limerick and Munster Intermediate hurling champions, Monaleen, they took the latter route and now find themselves in Saturday's All-Ireland Intermediate Club Final against Tooreen of Mayo.
"You couldn't write what's happened," says Monaleen player Andrew La Touche Cosgrave.
"We don't even know what it was, it might take until after this All-Ireland Final and we all sit down and figure out what it was that made us click. We don't actually know what it is yet.
"Now, obviously the management are very heavily involved in that conversation because they've done so much for us. But the players deserve a lot of credit to because after we were relegated, we got back into the gym around November and we kicked on from there.
"That showed where our heads were at. That has to come from you and it did come from us. Some lads mightn't have come back straight away, but they saw there was a bond being built, and craic being had.
"And it just took off then, because, from those gym sessions, you're like 'right, there's something going on here."
Monaleen's bouncebackability has come from a collective effort. The players have put their shoulder to the wheel, but they were helped along the way by a committee of club die-hards who were determined any time spent in the Intermediate grade would be as fleeting as possible.
They facilitated training for the players and interviewed them all individually before using that intel to find a manager, Tipperary native Eoin Brislane, that they felt might best serve the needs of the group.
"The committee who were there before the management are the fulcrum of everything," says La Touche Cosgrave.
"They met all the players before the management came in and sat down with us all one to one and asked us what our aspirations are.
"Those one to ones were put to the management and Eoin and the management got in touch with us then and it just kicked on from there then. It's just been incredible."
The average age of this Monaleen team is just 21 which suggests they have a very bright future.
The return to fitness of La Touche Cosgrave, who scored 1-1 in the All-Ireland semi-final win over Bray Emmets, has added a nice seasoning of experience to the mix after he missed much of the season with injury.
He won U-21 and senior All-Irelands with Limerick in 2017 and 2018, but he's been curbed in recent years by a niggling Achilles injury which eventually required surgery.
"Yeah, eventually I had to get my Achilles done. I had tendonitis in it for a good number of years and it just got to the stage where it was too sore.
"So I just went to someone after the Blackrock match that relegated us and I was a good couple of months out until I found then I had to get an operation. So I had that and have been just slowly building myself back.
"It was a very frustrating injury, but, look, it was made way easier by the lads that I have around me. I was with three or four people five or six nights a week and Eoin, our manager, and the club as a whole were very good to me. I wouldn't be playing today if it wasn't for them.
"To be honest, when I was looking on, with this injury I was thinking 'there's no way I'm going to get in here, the boys are playing so well'. Even to this day the 'B' team as we call it, they're putting it up to us every single day. There's no position safe, not one.
"So in the time you're training you're thinking 'Jesus, I need to pull up my socks here'. And when you go home and think about it there's no better place to be, fellas pushing other fellas everywhere, from one to 36. Every one of us is pushing and contributing."
They'll go into Saturday's All-Ireland Final as favourites, but La Touche Cosgrave is wary of the challenge that will be posed by Mayo and Connacht champions Tooreen.
"They're Mayo senior champions and we're coming up from Intermediate so that's definitely one thing in play. They've 15 Mayo senior hurlers and, yeah, Mayo might not be competing in the Liam MacCarthy, but it doesn't matter.
"They're still doing county training and have the hurling done that Limerick are doing. They're still hurling five or six nights a week.
"We might have the favourites tag but they're not there for no reason and it's all going to come down to who wants it more on the day. They're a very good