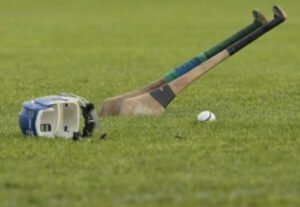 Monaleen see off Ballybrown to earn Limerick County Junior B hurling title:
By Tom Clancy Limerick Leader Sport
MONALEEN survived a late, late Ballybrown revival to claim a second ever Junior B hurling championship. Despite holding all the aces down the final stretch, the winners saw a David Hall shot fly over rather than under with virtually the last act of a tense encounter in Cappamore.
City champions by virtue of a narrow win over the same opposition, Monaleen had themselves in a great position as second half goals from Dylan Crowe and sub Ben Hayes gave them a cushion that their overall play deserved.
Damien Cosgrave, who has served his native club so well, was a rock at full-back and the long-serving player received the cup as captain of the men in red.
His defence looked watertight until deep into additional time when Ballybrown began to deliver long and direct into a crowd goalmouth.
One of these yielded a free which Rob O'Brien dispatched to the net. From the very next play, Mickey Davoren broke the sliotar to Hall who, going away from goal, sent his effort agonisingly over.
Monaleen heled a 0-9 to 0-7 interval lead, with the sides level six times in the opening half. Hall opened the scoring with a fine effort, and Ballybrown led 0-3 to 0-1 when O'Brien landed a long range free.
Monaleen held a more accurate pass throughout and this led to scores from Harry Gleeson and Dermot Crowe which had them ahead by the quarter-hour. Max Ivory was sharp from placed balls, as four of the final points of the half went to Eamonn O'Connell's men.
The game was in danger of running away from Ballybrown in the third quarter, but two Hall frees kept them in touch. There was a goal from the stick of Crowe after a long delivery was broken neatly to him by the impressive Cian O'Dwyer.
O'Dwyer had an influence on the game, having flown back from Spain for the clash. The gap at three when Sean Healy scored from range but the next score was vital. Again, a long delivery worked out for Monaleen, this time substitute Hayes latched onto it. He was somehow in space and finished well to put daylight of two goals between the sides.
Eventually, Ballybrown found joy, but it was too little, too late. Ben Adams, O'Brien's goal and then Hall all scoring in a lengthy stoppage time but referee TG Ryan called a halt, meaning Monaleen earned promotion back to Junior A following relegation in 2021.
Scorers for Monaleen: Max Ivory 0-6 (0-6 frees); Dylan Crowe 1-2; Ben Hayes 1-0; Ben Murnane, Harry Gleeson 0-2 each; Noel Clancy 0-1
Scorers for Ballybrown: David Hall 0-7 (0-5 frees); Rob O'Brien 1-2 (1-1 frees); Peter O'Rourke, Conor O'Neill, Paul O'Neill, Lee O'Reilly, Sean Healy, Ben Adams 0-1 each.
Monaleen: Muiris Ó Dálaigh; Darragh Clifford, Damien Cosgrave (C), Conor Carew; Noel Clancy, Conor Nicholas, Tom D'Arcy; Ben Murnane, Conall O'Duinn; Harry Gleeson, Cian O'Dwyer, Diarmaid Lehane; Dylan Crowe, Robert O'Sullivan, Max Ivory.
Subs: John Nicholas for Lehane (37 mins); Ben Hayes for O'Sullivan (49 mins); Luke Ryan for Gleeson (54 mins); Nicky O'Dwyer for Murnane (60 mins).
Ballybrown: Barry Twomey; Peter Kiely, Jamie Behan, Adrian Roberts; Robert O'Brien, Keith Punch, Lee O'Reilly (C); Ben Adams, Seán Healy; Peter O'Rourke, Conor O'Neill, Mickey Davoren; Paul O'Neill, David Hall, Bobby Smith.
Subs: Stephen Adams for Smith (injured – 41 mins); Dara Punch for Roberts (60 mins).
Referee: TG Ryan (Feohanagh-Castlemahon)