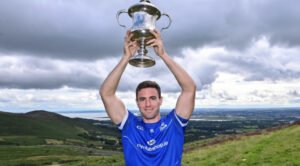 Mackessy and Lynch crowned M Donnelly All-Ireland Poc Fada champion:
By Paul Keane
Fionan Mackessy made history in the Cooley Mountains by becoming the first Kerry man to claim the M Donnelly GAA All-Ireland Poc Fada senior title.
The Kingdom hurler came good at his very first attempt and completed the challenging circuit in just 48 blows.
Former winner Colin Ryan of Limerick also took 48 pucks but Mackessy beat him to top spot thanks to the 62 metres he added on, compared to Ryan's 16 metres.
Mackessy led throughout despite high winds and wet underfoot conditions in the north-east after the recent poor weather.
In third position was Clare hurling star Peter Duggan who, along with seventh placed Tadhg Haran of Galway, was a sponsor's pick in the 12-strong field.
For Mackessy it was a considerable jump from Munster runner-up, behind 2021 All-Ireland winner Ryan, to national champion.
"Definitely there was a bit of luck on the day, you can't strike it clean the whole time," said Mackessy who paid credit to both sponsor Martin Donnelly and 'caddy' Fionan Egan, a fellow Ardfert clubman.
"Fionan made a big difference to me. You need a lad ahead of you to get you around the course, he was pointing up the hurley and I was aiming for him the whole time. I had great confidence that he was giving me the right directions."
Mackessy admitted that he got plenty of information beforehand from nine-time winner Brendan Cummins. The Tipperary great and Mackessy forged a relationship when Cummins was part of Kerry's coaching team.
"I'd be good friends with Brendan Cummins, he's a bit of a legend of this mountain," said Mackessy. "I gave him a phone call yesterday and he gave the ins and outs of what to be looking out for.
"I'm surprised really that I won. I just wanted to come up and have a good experience and give it a lash. But I'm going home with the cup so I'm delighted."
Last year's champion Killian Phelan from Kilkenny finished in fourth position.
Meanwhile, Molly Lynch capped a terrific couple of days by claiming a three-in-a-row of senior camogie Poc Fada titles.
Lynch was on the bench for Cork at Croke Park on Sunday when they defeated Waterford in the All-Ireland senior camogie final.
With 24 pucks to complete her course she was three ahead of second placed Susan Earner who previously came out on top in 2017 and 2018. Cavan's Emma Mulvaney came third.
Tiarna Kelly from Derry claimed the U-16 camogie title while the U-16 boys winner was Sean Kelly from Galway.