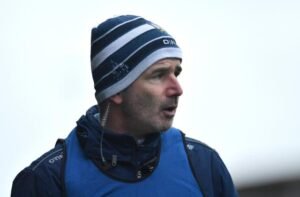 Limerick sign off from Allianz Football League with disappointing loss to Clare:
By John Redington Limerick Leader Sport
"A VERY disappointing way to end the league. We came down with good intentions but the mistakes killed us," was Limerick senior football manager Mark Fitzgerald's reaction to his side ending their season-long stay in Division Two of the National league with a crushing 2-18 TO 0-9 defeat to Clare in Cusack Park, Ennis on Sunday afternoon.
With both teams already relegated following the previous round of games, the result didn't matter but, being the last competitive outing for them before the championship, more was expectged from a clash that had already been decided by half-time.
In front of their own supporters in the official attendance of 1,041, the Banner showed serious intent early on and clinically built up a nine point lead by the break as they attacked with purpose and variety against opponents who weren't getting enough players up in support whenever they gained possession.
In fact, this lacklustre performance, arguably Limerick's most disappointing since they sank to the bottom of Division Four five years earlier, would have been punished even more had skipper Donal O'Sullivan not brought off a pair of outstanding saves at the beginning and at the end of the first half.
They did manage to find a response over the interval as James Naughton shaved three points off the deficit but it faded out when a red card reduced them to fourteen and Clare followed up immediately with their first goal.
With that, the edge of competition disappeared, Clare's extended panel put their hands up for inclusion in the starting lineup for their Munster Championship clash with Cork and continued to rattle off the scores whenever the mood took them against opponents who had been reduced to thirteen by the final whistle.
With four weeks to go before they line out in the provincial semi-final against the winners of Clare and Cork, Fitzgerald and his backroom face the task of rebuilding the side's cohesion and focus which, despite the results going against them, they never lost in the six previous rounds.
Adding in the upheaval resulting from the departure of his predecessor Ray Dempsey just a fortnight earlier, he'll be hoping this was a one-off aberration in a game that had no competitive value and the squad can now direct their attentions on gaining that single victory which will qualify them for the All-Ireland championship.
Clare enjoyed all the early possession, took the lead through Emmet McMahon, saw O'Sullivan block Aaron Griffin's shot on goal and drew the foul for Keelan Sexton for Keelan Sexton to punish and, after Limerick replied through Naughton's free, Daniel Walsh and Griffin stretched the gap to three. Further scores from Sexton and Podge Collins threatened to cut the visitors adrift before Killian Ryan climbed highest to fist over a shot dropping short but that was overtaken by Sexton from play and from a free.
By this stage, the Banner had settled into containment and hitting on the break but, with not enough of their opponents showing to get the attack into the score zone, the lack of urgency was even making their moves careless until Mark McInerney converted a free and Sexton followed up.
Peter Nash pulled on back from a mark which was answered by McMahon off the resulting kickout to give the Banner a half-time lead of 0-11 to 0-3 which would have been even greater had O'Sullivan not brought off a point-blank save after McInerney had pounced on a defensive error.
Naughton gave Limerick the restart they needed within seconds of the throw-in and followed up with a free and another from play. However, a couple of missed chances drained the momentum from the rally and, while Clare didn't immediately respond, the game changed when Adrian Enright picked up a straight red after referee Barry Judge had a long discussion with his umpires and the Banner immediately benefited from the extra man when Walsh's pass found McInerney in behind the defence to slide under the advancing Aaron O'Sullivan.
Naughton responded with his fourth score in a row but, with subs piling in on both sides to claim places on championship lineouts, the picked up and the spaces opened up with Clare getting the better response as Griffin, McMahaon from play and from a free stretched their lead before Nash's strike was met by McMahon and Cian Sheehan by Griffin.
His cousin Shane Griffin followed up, the hosts drove home hteir superiority when Ciarán Downes ran onto Collins's pass to drill low into the far corner and, after Nash picked up a black card, McInerney closed off the scoring from a mark.
SCORERS: CLARE: Keelan Sexton (2 frees), Emmet McMahon (1 free) 0-5 each, Mark McInerney 1-2 (0-1 mark), Ciarán Downes 1-0, Aaron Friffin 0-3, Daniel Walsh, Podge Collins, Shane Griffin 0-1 each; LIMERICK: James Naughton 0-5 (2 frees), Peter Nash 0-2, Killian Ryan, Cian Sheehan 0-1 each.
CLARE: Stephen Ryan; Cillian Rouine, Ciarán Russell, Micheál Geary; Ikem Ugweru, Jamie Malone, Daniel Walsh; Emmet McMahon, Darragh Bohannon; Brendy Rouine, Podge Collins, Ciarán Downes; Mark McInerney, Keelan Sexton, Aaron Griffin. SUBS: Pearse Lillis for Brendy Rouine (45 minutes),Shane Griffin for Keelan Sexton (52 minutes), Darragh Nagle for Ciarán Russell (62 minutes), Dan Keating for Darragh Bohannon (62 minutes)
LIMERICK: Donal O'Sullivan; Jim Liston, Seán O'Dea, Brian Fanning; Cian Sheehan, Barry Coleman, Gordon Browne; Cillian Fahy, Colm McSweeney; Adrian Enright, James Naughton, Paul Maher; Killian Ryan, Davy Lyons, Peter Nash. SUBS: Aaron O'Sullivan for Donal O'Sullivan (Half-time), Brian Donovan for Killian Ryan (half-time), Dara Noonan for Davy Lyons (52 minutes), Tony McCarthy for Gordon Brown (52 minutes), Cormac Woulfe for Brian Fanning (57 minutes).
REFEREE: Barry Judge (Sligo).