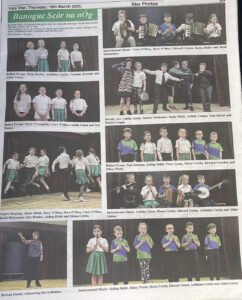 Limerick Scór Committee had the honour and privilege of attending – without question THE BEST Scór event in years on Thursday evening.
It wasn't an All Ireland final , Munster final , County final – it wasn't even a divisional final.
It was a LOCAL CLUB final organised by Banogue GAA and I tell you it was great for the soul.
This is what Scór is about – The true meaning and spirit of Scór.
A local event, local people , socialising , chatting , talking , reminiscing, altogether enjoying themselves.
The excitement and pride of participants, organisers and audience was wholesome & infectious.
Scór is not just for the BIG OCCASSION it is for nights like this.
Banogue is a small rural club in South Limerick and they were able to produce a full compliment of competitors to represent the club and parish.
We had a Figure team , a Set team , a Novelty Act , 7 Solo singers , 4 Instrumental Music groups , 5 Recitations and 4 Ballad groups – All from 1 rural club – Amazing effort by all involved and the TRUE spirit of Scór.
Congratulations Banogue GAA – We are in awe of you.
All the winners will now move forward to the County Final on 25th March.
You would be a silly man to bet that Banogue will not represent in style and nearly fill the hall by themselves and their supporters.
On top of that they had fine spread on the event in this weeks Vale Star newspaper as well as a fully printed programme of the evenings event.
More of this is always needed and is always very welcome and as a committee all of us Scór Luimní we will help in anyway we can to bring it fruition.
Long live Banogue and UP Limerick !
#GAABelong
#luimneachabú
#irishculturalofficer