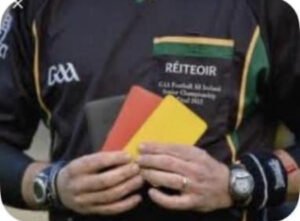 Limerick GAA Referees Association AGM:
At the Munster council offices on Monday 270/2/'23 the Limerick GAA Referees Association held their AGM. Donnacha O Callaghan, chairman, welcomed the representatives of the County hurling and football boards, Bord na nOg, and Limerick PPS. The chairman continued his address to the meeting by congratulating all referees on a successful year and praised all referees who were rewarded with finals, most notably Johnny Murphy on his appointment and handling of the All Ireland club final. He thanked the boards for all their cooperation throughout the year.
Brendan Stack, secretary, addressed the meeting and expressed his concern at the shortage of referees and asked all in attendance to help promote the ongoing referee recruitment. He also spoke of the abuse that is prevalent of late within the GAA and outlined the protocol, and support, to deal with same if anyone may experience this during a game.
Timmy McGrath, treasurer, presented a detailed account of the years financial transactions.
Patsy Coffey, referee coordinator, expressed his concern at the declining number and age demographics of referees and thanked all for their help in 2022. An appeal was made to anyone who might wish to join the team and 'Put your whistle where your Mouth is' to contact any of the officers.
Wayne Fitz spoke on behalf of the football board and thanked all referees for their assistance during 2022 and wished all referees well for 2023. Frank Reidy, on behalf of the hurling board, noted the outstanding work in 2022 of all referees. He also agreed with the secretary and the concern with the declining number of referees. He reiterated that referees deserve respect for the tough job that they do and consolidated that no abuse towards referees will be acceptable. Jack O Connell, on behalf of the Bord na nOg, thanked all referees for their cooperation in 2022 and doubled down on abuse towards referees and stated that all reported incidents would be firmly dealt with. Eamonn Phelan thanked all referees also on behalf of Limerick PPS. Gerry McNamara, Childrens officer, highlighted the legislation required for all referees regarding safeguarding and garda vetting requirements.
The officers were returned unopposed to the board for the coming year, i.e Chairman Donnacha o Callaghan, Vice-chairman Joe Mulcahy, Secretary Brendan Stack, Assistant Secretary Liam O Sullivan, Treasurer Timmy McGrath, PRO Eamonn Stapleton.