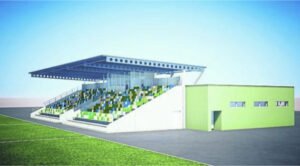 By John Keogh Limerick Leader Sport
LIMERICK GAA have revealed that they expect to have the development of a stand at Mick Neville Park in Rathkeale completed by the end of October.
At the June club delegates meeting with the county board, it was revealed that the hope is to open the newly completed in time for this year's Irish Wire Products SFC final.
The stand is set to have 705 seats installed by the end of August, while dressing rooms and a gym underneath the stand will be part of phase two of the development. The new structure will also be plastered and sealed. The covered stand is a over a decade in the pipeline for the centre of excellence facility.
In early 2012, planning permission was granted for works to complete the main playing pitch in the Rathkeale based grounds. Those plans included 'the construction of a stadium complex to incorporate a seated spectator stand and four players dressing rooms, treatment rooms, referee's changing facilities.
Also included in those state-of-the-art plans were gymnasium and indoor handball court with spectator seating and first floor conference room and office area with second floor press and media rooms. However, that planning permission lapsed and a new scaled back proposal was submitted in 2019.