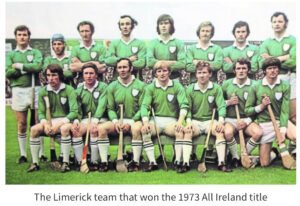 Limerick GAA announces 1973 Events:
Limerick GAA have this week announced a number of events which will mark the 50th Anniversary of the iconic All Ireland Senior Hurling Victory in 1973.
•
A
limited edition
commemorative jersey resembling the one worn by the team in 1973 will be unveiled in partnership with O Neill`s
sportswear
in the coming weeks.
This unique jersey will have an embossed pattern containing the names of the 1973 panellists and will certainly be a collector`s item for all Limerick GAA enthusiasts.
•
An historical
summary which will contain detailed research on the journey towards success in 1973, will also be unveiled later this year. Written by James Lundon, with support f
rom
Cuimhnigh
Ar
Luimnigh
colleagues Liam O Brien and Niall Deegan.
This exclusive book will also be a
collectors
item and will contain numerous stories and information about the year, with some newly discovered detail, history and anec
dot
es previously untold.
Work on the book is already underway with an expected publication date in Autumn of this year.
•
Also in Autumn,
the
Limerick Museum
on Henry Street,
under the direction of Dr Matthew Potter plan to curate a
n exhibition
of 1973 memorabilia
at a location to be decided,
which will
be a real draw for followers of the team and the era.
•
One of the highlights will be the introduction of the 1973 panel before the Limerick v Cork Munster Senior Hurling Championship game on 28
th
May.
The panel
of players
will b
e
honoured a
t
a special luncheon earlier that day and will then be introduced to the crowd
at the TUS Gaelic Grounds before
the game.
Commenting on the events, Cathaoirleach of Limerick GAA Seamus McNamara said "a lot of planning and collaboration with the 1973 team has taken place and we are looking forward to honouring this very important year in LimerickGAA`s history in a dignified way. On this the 50thAnniversary these players deserve to be recognised and I would like to thank everyone who is helping to bring these commemorative events to fruition."  
Mr McNamara added "In particular I am looking forward to seeing the team take the field at TUS Gaelic Grounds on 28thMay and would call on all our supporters to show your appreciation in recognition of their achievements on that occasion".