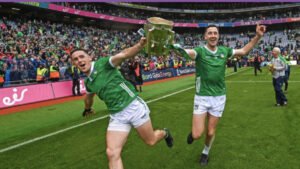 Limerick dominate 2023 PwC GAA/GPA All-Star Hurling Team:
Not surprisingly, Limerick's four in a row success in the All-Ireland senior hurling championship sees them again dominate the PwC Hurling All-Star team with seven places on the coveted final 15 for 2023.
The Treaty County lead the way with All-Ireland finalists Kilkenny capturing five places, Munster finalists Clare having two and Galway forward Conor Whelan completing the representation.
Kilkenny's Eoin Murphy is now a four-time All-Star goalkeeper after another season making wonder stops and is a feat helped in no small part by that incredible Cat-like reflex save against Clare's Peter Duggan in the semi-final at Croke Park.
Mikey Butler and Huw Lawlor represent Kilkenny in the full back line with three-time winner Dan Morrissey joining them.
Clare's John Conlon is named at centre back and enters a distinguished club of players who have been honoured as forwards and defenders in their career after he was named full forward in 2018.
Either side of him, Limerick duo Diarmaid Byrnes and Kyle Hayes win their fourth straight All-Star award.
It's an all-Limerick midfield of Darragh O'Donovan and Will O'Donoghue.
In attack, birthday boy TJ Reid moves into the top 10 most decorated All-Stars of all time. The Kilkenny man turns 36 today. In claiming an equally magnificent seventh All-Star in 12 years, he joins county men and icons Noel Skehan and JJ Delaney as well as Cork dual star Jimmy Barry Murphy and Kerry football hero Mikey Sheehy on seven awards. He is one behind Kerry's Colm Cooper, two behind DJ Carey, Tommy Walsh and Pat Spillane in a list still headed by his Ballyhale Shamrocks club colleague Henry Shefflin who amassed 11 in his career.
Uachtarán CLG Larry McCarthy said: "I am delighted to congratulate the distinguished final 15 who have been selected for a PwC Hurling All-Star for 2023. The high-calibre list of nominations reflected what was yet another thrilling hurling season and this team represents the cream of that considerable crop. To join the illustrious ranks of the heroes who have been honoured with an All-Star since 1971 is a wonderful achievement and something that I am sure will be shared by your families and clubs. I want to thank our partners in PwC for their continuing support of this prestigious scheme and look forward to a great night in the RDS for the presentation banquet that will celebrate a fantastic GAA season."
Tom Parsons, CEO of the GPA added: "To be nominated for a PwC All-Star is a massive honour as it marks you as being among the best performers in any given season. To take the next step and be named on the final 15 puts you on the level of being the best of the best and that is what these 15 hurlers have achieved. Congratulations on your outstanding individual performances throughout 2023. You are part of a storied list of the legends of the game of hurling who have won these awards in the past. The PwC GAA/GPA Player of the Year and Young Player of the Year will be named tomorrow night in the live television broadcast. To the 6 nominees, the very best of luck."
Enda McDonagh, Managing Partner, PwC, said: "On behalf of everyone at PwC, a huge congratulations to each of the 15 players named in the 2023 PwC All-Star Hurling Team of the Year. All are very deserving winners for their incredible individual and team performances throughout the year. You each made outstanding contributions for your teams during the championship, inspiring the next generation of hurling legends. Values such as teamwork, commitment and dedication are highly regarded at PwC and we are proud to support people to fulfill their potential both on and off the field. We are already looking forward to another exciting season and displays of excellence in 2024."
First held in 1971, the PwC All-Stars represents the highest individual accolade in Gaelic Games. The final 15 team was chosen by a panel of Gaelic Games Correspondents from across, print, radio, tv and digital media, in a meeting chaired by Uachtarán CLG yesterday.
The PwC All-Star teams will be presented with their awards at a gala black-tie event which will be staged for the first time in Dublin's RDS and shown live on RTÉ tv this Friday, where the PwC Football All-Stars will be announced live, as will the GAA/GPA PwC Hurler of the Year, Footballer of the Year and Young Players of the Year awards. These overall awards are voted on from among the inter-county playing body themselves.
PwC Hurling All-Stars 2023
(Previous winning years in brackets)
Eoin Murphy (Kilkenny) (2016, 2018, 2021)
Mikey Butler (Kilkenny) (2022)
Huw Lawlor (Kilkenny) (2022)
Dan Morrissey (Limerick) (2018, 2020)
Diarmaid Byrnes (Limerick) (2020, 2021, 2022)
John Conlon (Clare) (2018)
Kyle Hayes (Limerick) (2020, 2021, 2022)
Darragh O'Donovan (Limerick) (2021)
Will O'Donoghue (Limerick) (2021)
Shane O'Donnell (Clare) (2022)
TJ Reid (Kilkenny) (2012, 2014, 2015, 2019, 2020, 2022)
Tom Morrissey (Limerick) (2020, 2021)
Conor Whelan (Galway) (2017)
Aaron Gillane (Limerick) (2019, 2020, 2022)
Eoin Cody (Kilkenny)
PwC GAA/GPA Hurler of the Year Nominees
Kyle Hayes, Aaron Gillane, Diarmaid Byrnes (all Limerick)
PwC GAA/GPA Young Hurler of the Year Nominees
Adam Hogan (Clare), Mark Rodgers (Clare), Ciaran Joyce (Cork)
The PwC Hurling All-Star 2023 selectors are: Colm Keys (Irish Independent), Seán Moran (Irish Times), Marty Morrissey (RTÉ), John Fogarty (Irish Examiner), Pat Nolan (Irish Mirror), Damian Lawlor (RTÉ), MacDara MacDonncha (TG4), Philip Lannigan (Irish Daily Mail), John Harrington (gaa.ie), Joanne Cantwell (RTÉ), Gráinne McElwaine (GAAGO), Fintan O'Toole (the42.ie).