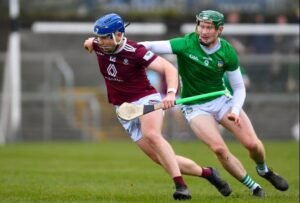 Limerick cruise to league victory over Westmeath:
By John Keogh Limerick Leader Sport
LIMERICK made it three Allianz Hurling League wins in a row following a 1-27 to 1-15 victory over Westmeath at TEG Cusack Park this afternoon.
Conor Boylan got the Limerick goal in the first half with Tom Morrissey landing five points before the break. John Kiely's men led by 1-14 to 0-5 at half time and landed 13 more in the second half.
Donnacha Ó Dálaigh also impressed on his league debut with a scoring haul of five points from play in a game that also saw Diarmaid Byrnes and Aaron Gillane make their first appearances of 2023.
Limerick made a fast start to the game with the first four scores coming from Diarmaid Byrnes, Tom Morrissey, Peter Casey and Seamus Flanagan.
Tommy Doyle then got Westmeath on the board with their first point before Boylan scored the Limerick goal. A Byrnes delivery was taken in by Casey and after a smooth pass, Boylan finished brilliantly with a one handed strike to the net.
Limerick continued to dominate with ease thanks to efforts from Morrissey, Cathal O'Neill and Flanagan that helped them to a six-point advantage after 24 minutes.
That lead was 1-14 to 0-5 at the break with Ó Dálaigh and Morrissey bagging two points, while Casey added another to see Limerick in firm control.
The procession continued in the second half with Mike Casey, Aidan O'Connor and Aaron Gillane contributing to a comprehensive win for the All-Ireland champions.
Gillane's introduction was met with the biggest cheer of the day by the travelling Treaty support as Limerick cruised to a 12-point winning margin.
Limerick Scorers – Tom Morrissey 0-9 (4 frees), Donnacha Ó Dálaigh 0-5, Conor Boylan 1-0, Peter Casey 0-3, Diarmaid Byrnes (1 free, 1 '65), Seamus Flanagan and Cathal O'Neill 0-2 each, Barry Murphy, William O'Donoghue, Aidan O'Connor (1 free) and Aaron Gillane each.
Westmeath Scorers – Niall O'Brien 1-6 (1-0 pen, 5 frees 1 '65), Kevin Regan 0-2,Tommy Doyle, Ciaran Doyle, Robbie Greville, Jack Gillen (1 free), Shane McGovern, Joseph Boyle and Darragh Clinton (s/l) 0-1 each
LIMERICK: Jamie Power; Fergal O'Connor, Dan Morrissey, Barry Nash; Diarmaid Byrnes, Ronan Connolly, Colin Coughlan; Barry Murphy, William O'Donoghue; Tom Morrissey, Cathal O'Neill, Conor Boylan; Donnacha Ó Dálaigh, Seamus Flanagan, Peter Casey.
Subs: Mike Casey for D Morrissey (52 mins), Oisin O'Reilly for Ó Dálaigh (52 mins), Mark Quinlan for Byrnes (56 mins), Aaron Gillane for Flanagan (63 mins), Aidan O'Connor for T Morrissey (68 mins).
WESTMEATH: Noel Conaty; Darragh Egerton, Tommy Doyle, Conor Shaw; Aaron Craig, Robbie Greville, Jack Galvin; Shane Clavin, Shane McGovern; Joseph Boyle, Ciaran Doyle, Kevin Regan; Owen McCabe, Davy Glennon, Jack Gillen.
Subs: Niall O'Brien for McCabe (13 mins, inj), Johnny Bermingham for Clavin (h-t), Eoin Keyes for Gillen (52 mins), Gary Greville for Craig (52 mins), Darragh Clinton for C Doyle (54 mins.)
REFEREE: Colum Cunning (Antrim)