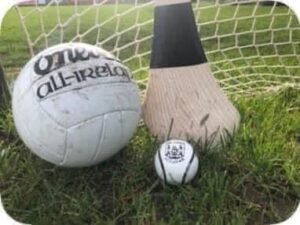 Knockaderry GAA Club Notes:
Lotto Jackpot €8,600:
Results of Draw held Thursday 2nd March from Scanlons Bar
There was no winner.
Numbers drawn were 4,11,15,24
Prizes on the night: James Kelly C/O Glen Bar | Mikey Dowling C/O Scanlons Bar | Jack O'Connor C/O John O'Connor | Mike O'Connor C/O Mike O'Connor | Catherine Hanley C/O Mary Collum | Andrew White – In house draw | Glen Bar – winning promoter
This week's draw will be held on Thursday 9th March in the Halla beag with a jackpot of €8,600. Online sales cut-off time is 8.00pm the evening of each draw. Please contact your promoter to purchase tickets if you normally purchased weekly tickets. All monthly and upfront subscriptions are automatically in the draw.
Facebook: www.facebook.com/CnocandoireCLG Twitter: @KnockaderryGAA. Instagram: KnockaderryGAA. You can also contact us by email pro.knockaderry.limerick@gaa.ie
Munster Junior B Competition:
Kilgarvan (Kerry) 3-07 Diarmuid O'Mathuna (Cork) 1-12.
What a fantastic game of football to witness. For anyone that wasn't there you missed a spectacle. We were right in our prematch assumption that this could be one of the best in the competition. While we congratulate Kilgarvan on victory we really feel the pain of Diarmuid O'Mathunas. They played some scintillating football today. They led from the throw in and had built up a commanding lead through the 1st half and into the 2nd. Kilgarvan threw everything at them and everytime it looked like Kilgarvan were getting a foothold in the game Diarmuid O'Mathunas would keep the scoreboard ticking over with some marvellous points from play. They had inspirational displays from Sean Crowley at centre back, Gearoid O Donovan in midfield, Matthew Draper at centre forward and Jack O'Callaghan in the corner. With the Cork champions 6 up heading to the 55th minute it looked over for the Kerry champions. But they just wouldn't go away. Inspired by midfield colossus Gearoid Fennessy & eventual Player of the Game Daniel Casey who scored a wonderful individual goal in the 55th minute to leave 3 between the teams. Mathunas held firm into injury time when a thunderous run from Casey set up another goal for Kilgarvan to level the game. Kilgarvan smelt blood and it was fitting that Casey stood up to smash the winning point over the bar with the outside of his right boot.
Congratulations to Kilgarvan who are now the 2022 Munster Junior B Football Champions. Limericks Munster Delegate John Cregan had the honour to present the Munster Junior B Cup to Kilgarvan captain John Mark Foley.
Kilgarvan KerryDiarmuid O Mathuna GAA ClubKerry GAAKerry GAA FansCork GAASporting LimerickLimerickGAALimerick Leader Sport / Limerick Live SportLive 95FMMatt O'Callaghan.
AGM:
There is an AGM of KNOCKADERRY CLONCAGH RESOURCE CENTRE LIMITED taking place in Knockaderry Hall 13th March at 8.00 pm all welcome to attend.
Daffodil Day:
We are holding a fundraising event for Daffodil Day , Friday 24th March in Knockaderry Community Centre from 9am to 6pm. All support is greatly appreciated.
Thought of the week:
'At the end of the day, let there be no excuses, no explanations, no regrets.' ~ Steve Maraboli