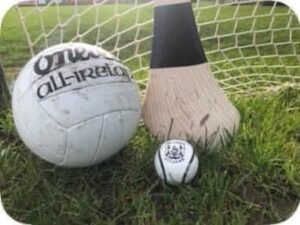 Knockaderry GAA Club Notes:
Lotto Jackpot €8,400:
Results of Draw held Thursday 16th February from Scanlons Bar
There was no winner.
Numbers drawn were 4,11,15,24
Prizes on the night: Mike O'Connor C/O Denis O'Connor | Myra Fitzgibbon C/O Tom Sheehy | Des Flanagan C/O Glen Bar | Brigid Downes C/O Pa Downes | Des Flanagan C/O Glen Bar | Noel Sexton – In house draw | Denis O'Connor – winning promoter.
This week's draw will be held on Thursday 23th February in the Halla beag with a jackpot of €8,400. Online sales cut-off time is 8.00pm the evening of each draw. Please contact your promoter to purchase tickets if you normally purchased weekly tickets. All monthly and upfront subscriptions are automatically in the draw.
Facebook: www.facebook.com/CnocandoireCLG Twitter: @KnockaderryGAA. Instagram: KnockaderryGAA. You can also contact us by email pro.knockaderry.limerick@gaa.ie
Munster Junior B Competition:
Result in the Munster Junior B Football Semi Final – Kilgarvan (Kerry) 0-11 Stradbally (Waterford) 0-05. Congratulations to Kilgarvan who keep the strong Kerry tradition in this competition going as they march on to the Munster Junior B Football Final. They await the winners of next weeks semi final between Diarmuid O'Mathunas of Cork and Kilruane MacDonaghs of Tipperary. Commiserations to Stradbally. They gave the Kerry champs a scare today. Thanks for travelling the long journey today to be with us and we wish ye the best for this year's championship. Next Sunday we have Cork champs Diarmuid O Mathunas back to face Tipp champions Kilruane McDonaghs at 2pm.
Our victorious Junior B hurling and football teams from 2022 will be honoured in a night of celebration at the Halla Mor on Friday February 24th. This promises to be a great night as we acknowledge the great achievements of our players in winning the double at junior B level, a first in our clubs history. Please keep the date free.
Thought of the week:
'It is often the small steps, not the giant leaps, that bring about the most lasting change.'- HRM Queen Elizabeth II