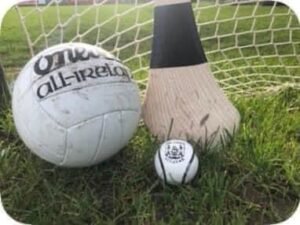 Knockaderry GAA Club Notes:
Lotto Jackpot €8,100: Results of Draw held Thursday 26th January from Scanlons Bar
There was no winner.
Numbers drawn were 2, 15, 22, 23
Prizes on the night: Peadar Barrett C/O Eoin Barrett | Bridget & Julie Sheehy C/O Bridget Liston | Ollie Dowling C/O Ollie Dowling | Seamus Benson C/O John Sheehy | Sara Flatley C/O Mary Collum | Caoimhe Danaher – In house draw | Eoin Barrett – winning promoter
This week's draw will be held on Thursday 2nd February in the Halla Beag with a jackpot of €8,100. Online sales cut-off time is 8.00pm the evening of each draw. Please contact your promoter to purchase tickets if you normally purchased weekly tickets. All monthly and upfront subscriptions are automatically in the draw. The parish draw will also take place this Thursday, the February draw, our last draw on this current draw.
Parish draw is on in the Halla Beag at 9pm this Thursday evening
Facebook: www.facebook.com/CnocandoireCLG Twitter: @KnockaderryGAA. Instagram: KnockaderryGAA. You can also contact us by email pro.knockaderry.limerick@gaa.ie
Knockaderry/Clouncagh Drama Society:
Knockaderry/Clouncagh Drama Society will proudly present 'The Factory Girls' on February 3rd & 5th in Knockaderry Resource centre.
The 2022 Munster Junior B Football:
Competition coordinated by Knockaderry GAA will kick off Sunday 5th February 2023 at 2pm Cooraclare (Clare) vs Kilgarvan (Kerry)
The Munster junior B football championship commences this weekend once again, when we will have the meeting of Cooraclare (Clare) vs Kilgarvan (Kerry) at 2PM in Knockaderry. This is a great competition that is always v keenly contested and this year's tournament will once again be no different. Admission is €10 with refreshments afterwards in the Halla Beag.
Our victorious Junior B hurling and football teams from 2022 will be honoured in a night of celebration at the Halla Mor on Friday February 24th. This promises to be a great night as we acknowledge the great achievements of our players in winning the double at junior B level, a first in our clubs history. Please keep the date free, more details in the coming weeks.
Win a dream holiday Congrats to Margaret Molyneux who won the €10,000 holiday voucher , second prize was €1500 won by Mary Herlihy and third prize of €750 was won by Damien Ahern. Sandra O'Connor, Svetlana Dunworth, Caroline O'Grady, Maria McGrath, Luke Dillion were all our other winners who won a bottle of Whiskey kindly sponsored by Scanlons Bar, Halla Beag, and Brian O'Regan. The Presentation of the top three prizes will take place this Thursday in the Halla Beag from 9:30, All are welcome. Thanks to everyone for your support.
Club Membership:
Membership has been agreed as follows
Option 1 – Family 260 Membership for 2 Adults and up to 4 Children for €260, this includes 3 Lotto tickets per week. Instalment option available online.
Option 2 – Family 360 Membership for 2 Adults and up to 4 Children for €360 this includes 3 Lotto tickets per week plus subscription to the Club Limerick Draw. Instalment option available online.
Option 3 – Child Membership U18 – €30 per Child.
Option 4 – Family Membership (Adult and Spouse) €70
Option 5 – Adult Non Player €50
Option 6 – Adult Non Player Membership & 1 Weekly Lotto Ticket €130
As you will note options 1 & 2 above incl. 3 Tickets per week for our Club Lotto priced at €5 per week / €260 per annum. These options represent excellent value for families, whilst also supporting our clubs main fundraiser which currently stands at €8,000!!
Club Membership will be collected online through the Foireann website.
www.foireann.ie
*If you choose the membership option including Lotto Tickets. Please forward your Lotto Numbers (Choose 4 numbers between 1 & 32 per ticket) and forward to Sean Condon on 0879332878 (Please include your Name and Address in the message*
(If you are renewing this membership option. Existing ticket numbers will be retained)
If you have any questions or issues, please contact your team coach/ secretary/ chairman of Bord Na Nog
or Diarmuid O'Sullivan Registrar on 086 0232146
Please see attached advert for position of groundsperson / Caretaker for Knockaderry GAA jobs creation centre on JobsIreland.ie and you will also find this link on our social media platforms.
Thought of the week:
'You cannot escape the responsibility of tomorrow by evading it today.' ~ Abraham Lincoln