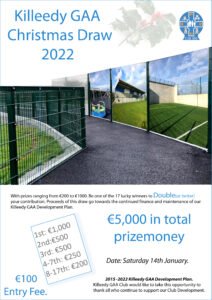 Killeedy GAA Club Annual General Meeting:
Killeedy GAA Club Annual General Meeting will take place on Sunday 29th January at 7pm in The Sports Complex, Raheenagh. All members are warmly invited to attend.
Please forward any Notice of Motions & Nominations in writing to the Club Secretary – ecretary.killeedy.limerick@gaa.ie before Sunday 15th January at 5pm.
Bord na nOg St Stephens day road puc challenge:
Thanks to everyone who supported the Bord na nOg St Stephens day road puc challenge from Ashford to Raheenagh today. A great fun day was had by all. We had 34 teams partake.
Congratulations to the winning teams:
Senior team : Brian Mulcahy, Liam Collins & Jody Collins with 34 pucs.
Joint winners for Family category: John Dore's family team & Enda Shine's family team with 32 pucs each.
U15-U18 team: Darragh Lynch & Reece Daly with 37 pucs.
Thanks to all the stewards who helped us, The Chipper for coming with hot food & The Killeedy Wrenboys for the fabulous entertainment.
Wishing everyone a Happy and peaceful New Year.
Killeedy GAA Christmas Club Draw:
Our annual GAA draw has been changed to Saturday, January 14th. As always proceeds from the annual club development draw go towards the up keep and maintenance of our fantastic facilities. Your support would be greatly appreciated
Picture 7:: Inset Here
Total of €5,000 in prizemoney. Seventeen winners ranging from €1,000 to €200.
Bord na nÓg Bonus Ball:
Congratulations to Nell Cremin this week on winning the bonus ball prize.
Children's Officer (CO) & Designated Liaison Officer (DLP) Killeedy GAA:
Garda Vetting through Foireann. Step by Step Guide to completing Garda Vetting through Foireann
1. Log onto your account in Foireann (each adult should have their own account)
2. Click on "Profile"
3. Click on "Qualifications & Vetting"
4. Click on "Vetting Application"
5. Click on "Please review the guidance here on the documentation you will need to provide."
6. That will lead you to "Gaelic Games Vetting ID Validation Form" – this form needs to be printed and signed
7. All documents will need to be uploaded (a photo can be taken of each on a phone and uploaded onto Foireann)
8. When successfully uploaded the Club Children's Officer will review your application
9. The application will be accepted or rejected (if there is an issue with documents)
This is a new process so please be patient.
Any questions/ queries please contact Club Children's Officer Cecilia Moloney 087-1214920 or email childrensofficer.killeedy.limerick@gaa.ie
Garda Vetting and Child Safeguarding:
All coaches / Mentors / Volunteers over 16 years involved with children under the age of 18 years are required to have up to date Garda Vetting and Child Safeguarding. Young people between the ages of 16-18 years fulfilling the role of responsibility with children will need parental consent. If you have any questions or wish to get involved, please contact the following:
• Children's Officer – Cecilia Moloney 087 1214920 / email childrensofficer.Killeedy.limerick@gaa.ie
• Designated Liaison Officer (DLP) – Miriam Magner-Flynn chairperson.killeedy.limerick@gaa.ie