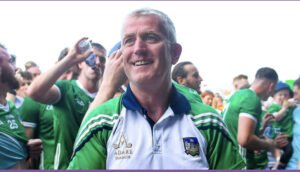 Kiely revels in Limerick's fifth Munster title in a row:
By Tom Clancy
Having navigated his way through the sea of green support for Limerick, into the tunnel at the Clare End of the TUS Gaelic Grounds, Limerick manager John Kiely spoke of how proud he was of his side, who secured a fifth Munster title on the bounce by the slenderest of margins.
In a typically thrilling Munster final, it took late scores from Cathal O'Neill to get Limerick over the line.
Clearly relieved to have gotten the victory, the Galbally native was quick to praise the quality of the game while acknowledging the difficulty posed by the Banner, "Very difficult game, all because you have two very evenly matched teams who know each other extremely well and are able to counter the others' strengths in a very positive way. That generates a tremendous game then".
Having shuffled his team, Kiely was able to call upon Cathal O'Neill from the subs bench, while he also handed a debut to Doon's Adam English – the pair scored a combined three points between them in the closing stages.
"I'd be particularly pleased with the impact we got off the bench. Lads came into a really frenetic, difficult game, probably the most difficult game I've ever seen lads get into. We coped with it really well. Cathal and Adam, particularly given the circumstances around the death of his uncle yesterday, having to come and participate today and do what he did – for a young player, I thought that was an incredible achievement for a Munster final and an occasion like today. That just shows you the calibre of the individual that he is".
Beaten by Clare, also by a point, just six weeks ago at the same venue – there was pride that Limerick had reversed that and taken the title. "This is our home patch, this is our backyard, and we're very proud of our record here. To win a Munster final here is always a very special occasion. This morning, I was in touch with John Allen. Ten years ago, we had the Cork Munster final here and these are special occasions.
"It was a special day. Going up the Ennis Road when you see 20,000 Clare supporters in front of you when you come to the game and our bus drove straight up through the middle of that crowd in a very respectful way and I take my hat off to them. It was a very special occasion. I'm thrilled for both sets of supporters and the way the whole occasion was held. We just had to go and do the business on the field which is a whole different kettle of fish but so relieved to have gotten through that. It's a special feeling now today", explained Kiely, who is in his seventh season in charge.
For Clare and manager Brian Lohan, naturally, there was disappointment after losing in such tight circumstances, especially given that they matched so much of what Limerick tested them with. "I think the stats are kind of even, all the puckouts, breaking balls, everything is kind of even apart from shooting efficiency and their shooting efficiency is way better than ours," said Lohan.
"Our shooting efficiency let us down. The game is about putting the ball over the bar and when you don't put it over the bar you don't win."
Clare will face Dublin or Carlow in the quarter-final later this month.