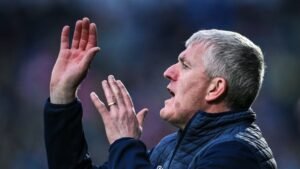 Kiely confident Limerick will improve after 'dose of reality'
By Stephen Barry
John Kiely can see the line of improvement in Limerick's Championship performances even if results haven't yet reflected that.
The All-Ireland champions edged past winless Waterford before falling to Clare but their manager identified signs of progress, even in defeat, ahead of their tangle with Tipperary this Sunday.
He also dismissed the idea that winning the National League could've harmed their Championship prospects, as was speculated with Waterford in 2022.
"I don't think you could draw any comparisons to last year," said Kiely. "We were very competitive in both games, got a win in the first game.
"Our performance levels went significantly up (against Clare), which is what we were hoping for.
"It wasn't quite good enough but I think we have earned enough chances to score. Our efficiency in front of goal was a bit down, just over 50%.
"That's not a high enough level, that's the simple fact of it.
"Sport is all about creating chances and taking them. We just didn't execute that part of our game well enough and Clare were that wee bit more efficient.
"They had a few wides and around the same number of chances."
Any notion that such a defeat might have damaged Limerick's aura of invincibility gets little contemplation; Kiely doesn't believe it existed in the first place.
His troops don't consider the external expectation, with their humility key to processing both the hype and now the "dose of reality" of a first defeat in 17 games.
Kiely is keen to concentrate on how Limerick played rather than the outcome.
"We focus on different things. We are more performance-orientated. We don't allow those narratives to come into our thinking because they are not real. They are just perceptions, opinions, and speculation.
"They don't mean anything, really, when you are in a battle and need to win a puckout and get some dirty ball.
"You won't find a more humble bunch of guys. They are extremely humble. They are very much aware of the need to perform to a certain level in order to be successful and if you don't, you won't.
"We have had a real dose of reality so we have to absorb that, process that, and get going again."
Should Cork manage a win away to Clare, Limerick's task enters must-win territory to keep their Munster and All-Ireland title defences alive.
Playing against Tipperary this summer brings a different dimension for Kiely, a secondary principal across the border in The Abbey School, falling as it does in the school calendar.
"The boys in the school are very capable of having a cut! It's very good-natured," he says.
"It hasn't always been that the fixture has fallen within the school year. There will be huge excitement around it.
"If they win, they'll definitely wear their jerseys the day after. It just creates a great atmosphere and great buzz around the place. That's important too, you know.
"We have a past pupil in Johnny Ryan now who is playing for Tipperary which is brilliant for the school and brilliant for his family and brilliant for his club Arravale Rovers."
Kiely was speaking at the launch of the Dillon Quirke Foundation fundraising drive, in association with The Circet All-Ireland GAA Golf Challenge.
His involvement with the Foundation came about after a chance meeting with the former Tipperary hurler's father Dan.
"I met him just by accident really and we spent an hour or two together. He contacted me afterwards to see if I would be interested in getting involved and sure listen, we're only too delighted to support it in any way we can.
"The aim of the Foundation, to screen young people under the age of 16 and help them and their families to become aware of conditions that they might not be aware of and how to manage those and hopefully save a few lives along the way is a very noble aim and ambition and desire for the Foundation.
"It's going to take a huge effort, there's no two ways about that. But I think there's a lot of support for it and sure none of us knows when that will come on our doorstep either so if we can help in any way, we're very happy to, and I'm sure we will in many ways.
"I think the Association will help too. I know there's been a bit of disappointment around the jersey part of it but in the fullness of time, I think the Association's contribution will be seen to be significant.
"It's only just one small piece of the jigsaw and there's many more pieces to the jigsaw. This is not something that's going to be here for a short while
"This will hopefully be here for a long, long time and we've to look at the big picture as well."