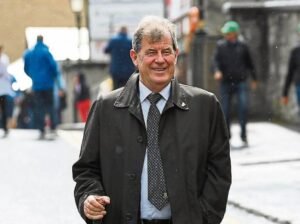 JP McManus to become Limerick GAA Honorary Life President:
Limerick GAA chairman Seamus McNamara recommended that JP McManus would become the county's Honorary Life President at the February county board meeting
By John Keogh Limerick Leader Sport
JP MCMANUS has tonight been approved as Limerick GAA Honorary Life President. At the February County Committee Meeting of Limerick GAA the South Liberties clubman was unanimously accepted for the role.
The motion to fill the position, which had been vacant since Rory Kiely's passing in June 2018, was moved at December's Limerick County Convention by Patrickswell GAA club.
The protocol thus allowed for the chairman of Limerick GAA to then bring forward a recommendation for Honorary Life President to the February County Committee Meeting.
Held at Fitzgerald`s Woodlands Hotel in Adare, the meeting was addressed by county chairman Seamus McNamara who said he was "privileged to bestow this recommendation".
"JP McManus has been an incredibly loyal and respected supporter of Limerick hurling and football teams for many years and attends as many games as possible with his wife Noreen and family and friends," said the county board chairman.
"A former chairman of the South Liberties club, his knowledge and understanding of gaelic games is exemplary. His views and counsel are sincerely valued.
"A true sportsman and a truly great Limerick man, we are very honoured to have someone of the calibre of Mr McManus involved with Limerick GAA," concluded McNamara.