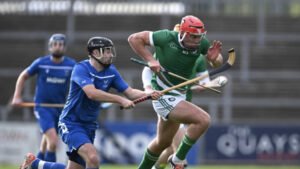 Ireland victorious over Scotland in terrific Hurling-Shinty contest:
Hurling-Shinty International
IRELAND 0-22 SCOTLAND 2-08
By Steve Malone at Páirc Esler
Ireland's dead-ball skills paved the way for an eight-point win in Saturday's International Hurling-Shinty international against Scotland.
Played in Newry's Pairc Esler, the Irish side looked in control but goals kept Scotland in the contest before a flurry of points in the closing stages from Offaly's Eoghan Cahill, Clare's Peter Duggan and Irish captain Neil McManus from Antrim put the game to bed.
With the Down Junior Hurling Final postponed on Friday night due to the heavy rainfall from the storm, the groundsmen deserve a lot of credit because the Pairc Esler pitch was in fine condition for the exhibition game.
Ireland led by three points at the break (Ireland 0-09 Scotland 1-03), Galway's Thomas Monaghan and McManus kept the scoreboard ticking over with impressive converting but it was the range that Scotland could find with their strikes that amazed the crowd and Irish players.
It was an entertaining and exciting contest with a few early woos with a couple of wild swings.
Scores were the same as in hurling and rules similar with the exception of not being permitted to handle the ball, although this year the goalkeepers were allowed to handle.
It was a return to the international rules after a four-year break, the last time the country's clashed was in 2019 pre-pandemic.
Scotland's Kevin Bartlett from Caberfeidh bagged the first of the only two goals of the game on 17 minutes to level the game 1-01 to 0-04 and Iain Robertson might have grabbed another but his effort flashed across goal and narrowly wide and later in the game he was denied by a stunning save from Laois keeper Enda Rowland.
Cork's Ger Millerick, Laois' Stephen Maher and McManus were among the points, with impressive displays from Clare's David Fitzgerald, Fermanagh's Luca McCusker, and Ben Conneely from Offaly.
Scotland's second goal came just after the hour, Ruaridh Anderson of Kingussie with a cool finish, which closed the gap to only a point (0-13 to 2-06).
But in the final quarter Ireland dominated outscoring Scotland 0-09 to 0-02 before the 80 minutes was up. Best for Scotland were Steven McDonald, Roberston and Craig Morrison.
Ulster GAA secretary, Brian McAvoy, presented the trophy to Irish captain Neil McManus.
Ireland scorers: Neil McManus (0-7, 0-05 frees, 0-2 65'), Thomas Monaghan (0-05, 0-03 frees), Peter Duggan (0-03, 0-2 frees), Eoghan Cahill (0-03, 0-3 frees), Ger Millerick (0-02, 0-01 free), Stephen Maher (0-02).
Scotland scorers: Kevin Barlett (1-01, 0-1 free), Ruaridh Anderson (1-00), Iain Robinson (0-03, 0-2 frees), Scott McDonald (0-01), Steven McDonald (0-02, 0-1 65'), Daniel McCuish (0-01, 0-1 free).