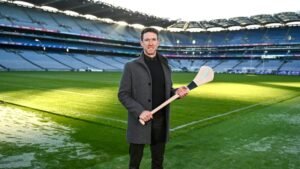 By John Harrington
Like most of the rest of the county, Seamus Hickey has been on the hunt for Limerick merchandise in recent weeks to give as Christmas presents.
But such is the popularity right now of Limerick jersies and assorted paraphernalia, many shops in the county are out of stock.
Another little reminder of just how much the Limerick hurlers have achieved in recent years and how their glory has electrified the county.
"It's absolutely incredible the journey that it's been as a Limerick supporter for the last three/four years," said Hickey at the announcement of GAAGO's exclusive 2023 GAA Championship broadcast schedule.
"It's amazing the standards that our boys have set and maintained.
"Even in the last 12 months in the championship that just passed, the three-in-a-row they achieved, the hurdles that they overcame. Because there was plenty of them, internally and externally.
"So Limerick is an incredibly proud county at the moment. We have a proud hurling history with a barren period in the middle so it's hard not to be grateful.
"Having been a part of it for the first All-Ireland, I know what it takes to do it and it makes me even more appreciative of the group that are there."
The good news if you're a Limerick supporter is that it seems pretty likely their hurling team isn't done winning just yet.
They're very much in their prime right now, and with a fully fit Cian Lynch and Peter Casey back in harness next year they'll be hot favourites to win the Liam MacCarthy Cup again.
At this stage you take it as a given that they'll come back as hungry as ever, because that's simply the sort of competitive animals they are.
"Sustained success is entirely dependent on the mentality of the players," says Hickey. "You'll find in any sport a super group of talent will come together and win. But to sustain success it comes down entirely to mentality.
"That Limerick mentality is serious. We've had three different Hurlers of the Year between Cian Lynch, Gearoid Hegarty, and Diarmuid Byrnes now. So different men who have stepped up at different points, which gives you a flavour of the leaders within the group and the appetite within the group and the relentless pursuit of that perfect season, that perfect game.
"It's there and I know from the relentless competition within the team that there is no days off. The only comparable teams are the Dublin footballers and the Kilkenny hurlers. There is no days off because of the depth of talent in the panel and the fact the appetite for the sport in the county is at an all-time high.
"It's one of those things that's driven entirely by a desire to be on top, and that's a mental attitude that they have perfected to date."
This year's All-Ireland title was the hardest won of Limerick's three-in-a-row. They've set a serious standard in that time but their competitors got closer than ever to matching it in 2022.
That being the case, Hickey reckons we're in for a fascinating All-Ireland Championship in 2023.
"There's no doubt that the gap closed in last year's championship because it was an incredibly competitive championship," he says.
"Every player in that Limerick dressing-room is now a year older for 2023 so that in itself brings its own challenges and you've fresh blood coming in to the likes of Cork, Waterford, and Tipperary and even in Leinster between Galway and Kilkenny.
"The wheel keeps turning and because of that and the bar that Limerick have set, you saw in the League last year that every team gave their best effort against Limerick. And i thought Limerick's struggle in the League was really a reflection of every opposition team giving them their best game, particularly in the likes of the Galway game in the Gaelic Grounds.
"It's symbolic of the perch that they sit on that every team is going to bring it. I think that the standard has elevated in number of counties. I know Cork were disappointed last year and will want to do better this year. I know Waterford were disappointed last year an will want to do better this year.
"So there are two of the favourites from last year who didn't even get to a Munster Final and Waterford didn't make it out of the province at all.
"So you've got that unknown within the championship which makes it inherently watchable and interesting. For me, that's what makes the All-Ireland Hurling Championship as high-octane as it is."