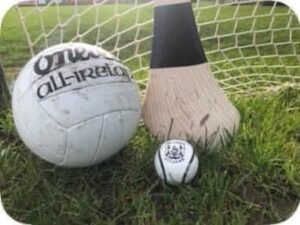 Granagh/Ballingarry GAA Club Notes:
107 Players Present at Bord nan Óg:
107 players were present a most enjoyable Granagh Ballingarry Bord nan Óg presentation night last Sunday night in Ballingarry Community Hall. Jimmy Chawke welcomed especially the players their coaches, parents and club officials. Presentations were made to all panels of players from under 5 upwards. To Tim O'Donoghue and Eoin Horgan who are leaving Bord na nÓg for their dedication to Granagh Ballingarry GAA Club over the years. Club service awards were presented to Mossie O'Connor, Ballingarry and Mick Chawke, Granagh. Special presentations were made to Declan Dunwarth, Nathan Hartnett and Eoghan Kiely who represented the club on the West School Mackey Cup Hurling Team to William O'Grady who made the U14 West Football Academy 2023 and Liam English the U14 West Hurling Academy 2023. To Danny O'Grady who made the West U14 Hurling Academy, the U14 County Hurling team and represented the club in the primary game at half time in last years thrilling Limerick v Clare Munster Senior Hurling Championship final in Semple Stadium, Thurles. To Darragh O'Donoghue who made the UIS County Hurling and Tom Horgan the County U16 football academy to Eoin Horgan who represented the club in last years Sarsfield Cup Team. A special award was made to Maurice Noonan a member of the Munster Wheelchair Hurling/Camogie champions in 2022 our Bord nan Óg committee especially chairperson Stephen Stapleton, secretary Seamus Twomey and Conor and coaching officer Carmac McCarthy deserve great credit for the way the function was organised. Thank you to Jimmy Chawke who did an excellent job as MC. John Carroll for his help with the purchase of the gear, the ladies for the tea and goodies served, by Emma Noonan for taking photos and John Joe Carmody and all in the Hall and everyone who helped in any way to make the night so enjoyable.
Miniature Sam Maguire Cup:
The holding aloft of the Sam Maguire cup by jubilant captain surrounded by frenzied team mates and supporters has become iconic moment for the winners of the All-Ireland senior Football championship since it was first presented in 1928. The cup is again the centre point of celebrations which follow in the victorious county. As for the winning captains they are each presented to Meath's Peter McDermott (1918-2011). Captain of the all-Ireland winning team in 1954. This was the eleventh miniature, with the first being presented after Roscommon won in 1944 all-Ireland senior football championship final. Similarly, the winning captain of the all-Ireland senior hurling championship receive a miniature of the Liam MacCarthy Cup. Declan Hannon of Limerick and Adare is the first captain to receive four miniature of the Liam MacCarthy cups (2018, 2020, 2021 and 2022). There are many replicas of the Sam Maguire trophy, such as those presented to club person of the year in Co. Longford, replicas made by Silversmith George Bellow to celebrate the cups jubilee in 1978 and Waterford Crystal replicas presented to Commemorate seventy five years of the Sam Maguire Cup in 2003. What distinguishes the captains miniature from others is the engraving of the year, captains name and county. In 1975 Kerry's Mickey O'Sullivan received his captains miniature at a central council reception in Dublin the day after the final. Mickey missed out on the distinction of being presented with the Sam Maguire cup itself an All-Ireland final day as he was severely concussed and rushed to hospital with vice-captain Pat Spillane presented with the cup when Mickey eventually recovered almost an hour after the match, it was a nurse who informed him that Kerry had been victorious.
Chalice with Football Medals (1968):
From 1915 to 1918 the Wexford Footballers held the title of All-Ireland champions the first team to win four senior titles in a row Aidan Doyle from New Ross featured in all four of those finals and was renowned for his versatility and ability to turn a game. He was a teenager when he won his first all-Ireland senior football championship medal in 1915, scoring a goal in a match described at the time as the grandest exhibition of football that was ever played since the inception of the Association.
In 1968 Aidan donated four of his medals to the Friary in New Ross, where he regularly attended 10am Mass on Sunday's Two of those were his all-Ireland senior football championship medals from 1915 and 1918 as well as a Leinster senior football championship medal from 1913 and a division two Wexford County junior football medal e won with Geraldine Hanrahan's club in 1919. It was decided that the medals would be fixed and bolted to the base of the best and most valuable chalice in the Friary which was a plain gold chalice. A written tribute to Aidan.
In the New Ross standard after his death in 1977 advocated for those who see the chalice being used at Mass to offer a prayer for Aidan and keep his name front and green in the County he loved and played for.
The Augustinian Archives also hold a chalice which has Cork's Christy Ring eight All-Ireland medal melted into it. Christy attended Mass regularly at Washington Street in Cork City and donated his treasured medal in 1954. In donating those much sought after medals to the Augustinians to be repurposed in this way, Aidan Doyle of Wexford and Geraldine O'Hanrahan's and Christy Ring Cork and Glen Rovers reinforced their personal identities as successful record setting GAA players and deeply devout religious people.
Draw Promoters Hit the Streets:
Granagh Ballingarry GAA Club draw promoters are taking to the streets of the parish to canvass members to join the 10 month draw March to December. By joining you automatically become a member of the club for 2023 and you will be included in the weekly club lottery if you pay your €100 membership in full by May 1st. See draw brochure for details or contact any member of the finance committee.
County GAA Club Draw:
Granagh/Ballingarry GAA Club are once more promoting the Limerick County Club Draw for 2023. There will be monthly draws from March to December with a top prize of €10,000. There are a host of other prizes to be won, 2nd €3,000, 3rd €2,000, 4th €1,000, 5th exclusive star prize, 6th to 9th €500, 10th to 13th €250, 14th to 30th €100. There will again be exclusive monthly prizes to be won. Entry to the draw is just €10 per monthly or €100 for the ten draws with the option to join our own ten monthly draw and County Club Draw for €150. If you would like to renew your membership for 2023 please follow the link limerickgaa.ie/clublimerick-draw-signup and select Granagh/Ballingarry GAA club and the number of draws you wish to sign up for. You may also contact the Granagh/Ballingarry GAA club draw co-ordinator Stephen Stapleton on 086-1960301. Note the first draw for 2023 is on Saturday 25th March and all money must be in by Monday 6th March at 4pm.
Limerick GAA 2022 Yearbook:
A full review of all Granagh/Ballingarry GAA Club activities both on and off the field plus photos in 2022 will be included in the Limerick County GAA Yearbook due to launched at the end of February. The book costs €20 and would make an ideal present for a family member or friend.
Results:
U20 Football Liam O'Connor Cup Round 2:
Clare 2-14, Limerick 0-5.
Sigerson Cup Football Final
UCC 1-16, UL 0-16 (AET).
Fitzgibbon Cup Hurling Semi-finals
University of Galway 1-24, University College Cork 2-18 (AET). University of Limerick 0-19, SETU Waterford 0-16.
Fitzgibbon Cup Hurling Final
University of Limerick 4-19, University of Galway 1-13.
National Camogie League Division 1B Round 1:
Wexford 0-13, Limerick 0-10.
National Ladies Football League Division 4B Round 2:
Limerick 4-9, Leitrim 1-18.
Munster Club Junior B Football Championship Semi-final:
Kilgarvan (Kerry) 0-11, Stradbally Waterford 0-5.
National Football League Division1 Round 3:
Mayo 2-14, Kerry 1-10, Galway 0-16, Tyrone 0-13, Roscommon 2-12, Monaghan 1-20, Donegal 0-15. ??????
National Football League Division 2 Round 3:
Derry 2-15, Meath 1-7. Lough 1-15, Limerick 1-13. Kildare 0-16, Clare 0-15. Dublin 0-18, Cork 2-10.
National Football League Division 3 Round 3:
Antrim 1-19, Tipperary 0-14. Fermanagh 2-14, Down 3-10. Westmeath 2-12, Offaly 0-12. Cavan 1-19, Longford 0-11.
National Football League Division 4 Round 3
Wicklow 1-16, London 1-9. Sligo 0-21, Waterford 0-13. Wexford 0-19, Leitrim 0-15. Laois 1-17, Carlow 2-8.
National Hurling League Division 1 Group A Round 3:
The best of luck to All Ireland senior hurling champions Limerick and their management team in their bid to make back to back wins in Division 1 of Group A in the National Hurling League, when they travel to Pearse Stadium, Galway to play the same side this Sunday 26th February at 2.30pm.
Stone Picking:
Thank you to all those who have come out to help pick stones over the last few weeks. The new pitches are looking smashing and are really taking shape. Stone picking will again take place over the coming weeks and as the saying goes 'many hands make light work'. All welcome to come and help out.
Bruff Bid For all Ireland Glory on Saturday:
The best of luck to South Divisional side Bruff in their bid to bring the All Ireland Club Junior B Hurling Championship title back to Shannonside for the second time, a first since East Divisional side Doon defeated Killenaule of Tipperary by two points 0-12 to 0-10 in the 2015 decider when they clash with Leinster champions Sarsfields of Galway on this Saturday 25TH February in Killeedy GAA grounds in Raheenagh at 2pm.
Limerck GAA Club Tickets:
Limerick County GAA Board launched their 2023 club season tickets recently. The tickets will entitle the bearer entry to all Limerick County Board games from Minor to Senior levels. The cost is €150 plus postage. Order your ticket now at limerick.ie/step/limerick-gaa-season-tickets-2023/
Membership Due:
Granagh/Ballingarry GAA Club membership fees for 2023 are now due and are €40 for adult players (€120 with club draw), €20 for students and non-players who pay €100 club draw fee in full will automatically be members for 2023. Fees should be paid on or before 31st March to Club Registrar John Carroll or any club official. To train or play for the club you have to be insured. If you are not yet registered we ask you to do so. It is generally felt by club officers that any member or player should feel obliged to get their membership paid as soon as possible and we must reiterate that people who have not paid will not be covered by insurance or entitled to any privileges what so ever from our club.
First League Win for Louth:
National Football League Div 2 Round 3
Louth………………1-15
Limerick………….1-13
Louth recorded their first in Div 2 of the National Football League with a thrilling two part victory over unlucky Limerick at Páirc Mhuire, Adree on Sunday to go joint fourth on the League table on 2 points, with Cork, Clare and Kildare. We wish the Limerick boys the best of luck as they play neighbours Cork on Round 4 on this Sunday 26th February at 3.45pm???? in Páirc Uí Chaoimh where a victory is a must for the Shannonsiders to avoid the drop to Division 4 for 2024.
West Senior Hurling League/Championship 2023:
Saturday 1st April – Round 1: Croagh/Kilfinny v Granagh/Ballingarry in Croagh at 6.30pm.
Sataurday 8th April – Round 2: Granagh/Ballingarry v Newcastle West in Ballingarry at 6.30pm.
Tuesday 11th April – Round 3: St. Kieran's v Granagh/Ballingarry in Coolcappa at 6.30pm.
Tuesday 18th April – Round 4: Granagh/Ballingarry v Adare in Ballingarry at 6.30pm.
Sunday 30th April – Round 5: Granagh/Ballingarry bye.
Saturday 6th May – Round 6: Knockaderry v Granagh/Ballingarry in Knockaderry at 7.30pm.
Saturday 27th May – Round 7: Granagh/Ballingarry v Feohanagh/Castlemahon in Ballingarry at 7.30pm.
Note: Top four teams qualify for West Senior Hurling Championship semi finals, 1st v 4th and 2nd v 3rd. If teams finish level on points scoring differential will apply West Championship final winners qualify to play ???? winners in the County Senior Hurling League semi final. DOES THIS PARAGRAPH READ OK????
Club Gear:
Granagh/Ballingarry GAA Club's tops, hoodies, tracksuits, jackets, shorts and socks can now ordered on line at www.laroacasports.ieproduct-category/clubs/granagh/ballingarry
Club Website:
Check out our website at www.granaghballingarry.ie for all the latest club news. Our club website is updated regularly and is well worth a visit. You can also follow us on Facebook, www.facebook.com/granaghballingarrygaa and twitter at www.twitter.com/granaghballingarrygaa
Dinner Dance:
Granagh/Ballingarry GAA Club will hold a combined dinner dance on Saturday 25th March in the Longcourt Hotel, Newcastle West for the presentation of 2022 West and County Junior A Football Championship medals and the silver jubilee of Granagh/Ballingarry winning the West and County Junior A Hurling Championship defeating Newcastle West in both finals. Doors open at 6.30pm, dinner at 7pm sharp. Music by Overdrive and DJ. There will be special guest speakers. Tickets cost €50 are now available from David Clancy (087) 6982747, Seamus Twomey (087) 1201571, Stephen Stapleton (086) 1960301, Shane O'Grady (087) 3138528, Damien O'Donovan (087) 6279934 and Shane Mulqueen (087) 6795320. Your support for this social event is greatly appreciated.
New Presidents:
Congratulations to JP McManus who was confirmed as Life President of Limerick County GAA Board at the February County Board meeting at the Woodlands House Hotel, Adare last Tuesday. To Jarlath Burns of Silverbridge Club in Armagh, on his election as President elect of the GAA at the annual congress in Croke Park on Friday. We wish both Jarlath and JP the best of luck in their new positions.
€8,700 Jackpot on Saturday:
There was no winner of the €8,600 jackpot in the Granagh/Ballingarry GAA Club lottery on Saturday 18th February in Buckley's Bar, Ballingarry. The numbers drawn were 8, 26, 27 and 31. The lucky dips of €20 each went to Ester O'Doherty, promoter online; Louise Enright, promoter Eoin Kennedy; Paddy McKieran, promoter Dinny A's Bar, Ballingarry; Marie O'Brien, promoter Donagh McCarthy. The next draw for a jackpot of €8,700 will be held on Saturday 25th February in Condron's Bar, Ballingarry. Tickets are €2 each or three for €5 and are on sale in local shops, bars and from promoters. You can now also play the weekly draw online and the link to play is available on the Club's Facebook or Twitter which finishes at 6pm every Saturday. Thank you for your continued support.
Club Diary:
Saturday 25th February
All Ireland Junior B Club Hurling Championship Final: (Bruree) Limerick v Sarsfields, Galway in Killeedy GAA Club grounds in Raheenagh at 2pm.
Sunday 26th Februrary
Munster Club Junior B Football Championship Semi Final: Kilruane MacDonaghs (Tipperary) v Diarmuid O'Mathuna's (Cork) in Knockaderry at 2pm.
League Div 2, Round 4: Kildare v Derry in Newbridge at 2pm; Meath v Louth in Páirc Tailteann at 2pm; Cork v Limerick in Páirc Uí Chaoimh at 3.45pm.
National Hurling League, Div 2, Group A, Round 3: Limerick v Galway in Pearse Stadium, Galway at 2.30pm; Cork v Westmeath in Páirc Uí Chaoimh at 1.45pm; Wexford v Clare ion Wexford Park at 1.45pm.