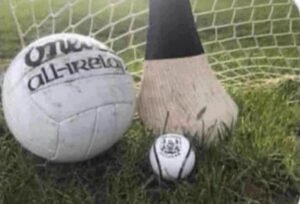 Granagh/Ballingarry GAA Club Notes:
KNOCKFIERNA'S BRIGADE 2023:
The praises of the Granagh/Ballingarry hurlers, winners of the 2023 Limerick County Intermediate Hurling Championship given in verse by team manager Michael Clancy:
Knockfierna's Brigade 2023
Ger's head is full and the tactics are set,
Donie Walsh he is pacing the dressing room yet.
The veterans arise with an uplifted glance
"Crying comrades ahoy, this is our chance"
With thunderous cheer they do as they're bade
For hurlilng is loved by Knockfierna's brigade.
First to be slain were Knockainey and Feohanagh/Castlemahon
Croom, Saint Kieran's and the boys of Murroe/Boher.
As onwards we marched, our eyes on the pear
Our forwards on fire, backs tough as old teak.
In every hour we drilled and we trained
For glory we dreamed for Knockfierna's brigade.
In the knock-outs Murroe/Boher, again posed a great threat
To progress from the semi, a plan we did set.
Hurrah boys says Seamie, our battle has come
And Cagney was beating on many's a drum.
They rushed from the dressing room to join the affray
For the hurl is the sword of Knockfierna's brigade.
They hurled as they trained, both fiery and true
And as victors they left every field they did view
New Condron our captain holds the Michael O'Leary Memorial Cup to the fore
The tears and the cheers shake us all to the core.
They said in the final, the Croagh/Kilfinny boys couldn't be late,
But in battle there's none like Knockfierna's brigade.
So, raise your glass to Josh Quille Mulcaire and to Denis's wise craft
To the Casey's Luke Flynn and the whole bloody cast.
Good luck to the men who hurled long ago,
From Lee's Cross to Granagh and back to the Grove.
In every field on each side of the Maigue
Reigned the great hurling men of Knockfierna's brigade.
In every field on each side of the Maigue
Reigned the great hurling men of Knockfierna's brigade.
Cups Visit National Schools:
Granagh/Ballingarry/Ballingarry GAA Club officials and players and team management visited Granagh and Ballingarry National Schools last Friday with the County Intermediate Hurling Championship.
(Michael O'Leary Memorial Cup), Granagh/Ballingarry Intermediate Hurling (Jim Twin Lynch Memorial Cup). West Junior B Hurling Championship (Mary Sexton Memorial Cup), West Junior B Hurling League (Seamus Flanagan Memorial Cup, County Junior B Hurling League (County Bord Cup), Granagh/Ballingarry Junior B Hurling Tournament (Dinny A Cup) Granagh/Ballingarry U11 Hurling (Liam English Memorial Cup), Blackrock U11 Hurling (Cahill Cup), Murroe/Boher U9 Hurling (Reale Cup). A great morning of celebration was had at both schools with nine pieces of silverware on display. Thank you to the children and staff of both schools for the great welcome they gave us on the morning.
1973 Keeping The Dream Alive Book Launch
The story of Limerick's historic All Ireland hurling success 50 years ago in 1973, 'Keeping The Dream Alive' book was launched by the Mayor of Limerick City and County Councillor Gerald Mitchell in front of a big attendance on Sunday night at Fitzgerald's Woodlands Houser Hotel, Adare.
The book numbering 532 pages is packed with original archive material plus a host of photographs, many of which have never been seen before. The profits from this book which costs 30, will be shared between two most deserving charities, the Children's Ark University Hospital Limerick and the Limerick Society of St. Vincent de Paul would make an ideal present for a family member or friend and is available in O'Grady's Spar, Ballingarry, Elmcourt Service Station, Ballyneety, O'sullivan's Centra, Clarina, Caherconlish and Doon, Broderick's Spar, Croom, McDermott's Patrickswell, Londis, Adare, Talking Bookshop, Cresent Shopping Centre, Tadgh O'Connor, Hardware, Newcastlewest, Daybreak, Dromkeen and Lenihan's Centra, Cappamore.
Granagh/Ballingarry Camogie Club Officers 2023
The AGM of Granagh/Ballingarry Camogie Club took place on Friday night in the GAA clubhouse in Ballingarry where the following officers were elected to guide the club for 2024: Chairperson Tony Fitzgibbon, vice chairperson Gráinne Noonan, secretary Annette Carey, Assistant Secretary Sineád Griffin, treasurer Noreen Hartigan, assistant treasurer Niamh Culhane, PRO Paula O'Grady, registrar Aisling O'Grady, Children's Officer Claire Houlihan, Development Officer Claire Houlihan.
Granagh/Ballingarry Ladies Football Club AGM
Granagh/Ballingarry Ladies Football Club will review a very successful year winning U14 league and championship and fielding U19 and junior teams at their AGM on this Friday 17th November in the GAA Clubhouse, Ballingarry at 7.30pm. All are welcome to attend on the night.
Granagh/Ballingarry GAA Club AGM
Granagh/Ballingarry GAA Club will review a busy and successful year both on and off the field at the AGM on Friday 15th December at 8pm in the clubhouse, Ballingarry. Nomination and motion papers can be downloaded online/Facebook from Friday 17th November and must be returned by email to the secretary
Granaghballingarry.limerickatgaa.ie or by post to John Lynch, The Bungalow, Granagh, Kilmallock, Co. Limerick on or before Friday 1st December. Any club member who may not have access to email can contact the secretary at 087 2912356 to receive a hard copy of notice and nomination and motion papers. The AGM is there for members and players to air their views on club affairs over the past year. The aims and ambitions for 2003 will be high on the agenda and it will take people with time, vision and energy to maintain the club's place among the top dual clubs in the county. All club members are asked to attend particularly players as the debate and discussion as always should be lively.
West Convention
The West Limerick GAA Board will review a very successful year at their annual convention in the Devon Inn Hotel, Templeglantine on Wednesday 22nd November after 7pm Mass for deceased members, relatives and friends of the GAA. It will be a quiet affair with all officers returning unopposed for 2024 and no motions will be on the clár. Granagh/Ballingarry, winners of the West Junior B Hurling League and Championship and St. Kieran's, the West Senior and Junior B Football Championship lead the roll of honour, Adare Senior Hurling, Askeaton Intermediate Hurling, Cappagh Intermediate football and Mountcollins Junior A Football are the other championship winners.
Granagh/Ballingarry will be presented with their 2023 West Junior B Hurling League and Championship medals.
Community Games Registration Night
Granagh/Ballingarry are delighted to have the Community Games re-established in our parish again. Community Games is where all young sports people begin and provides a huge range of activities for children from 6 to 17 years of age. These activities include a number of individual and team sports, some include art, hand writing, drama, music, draughts, chess, hurling, football, camogie, soccer and athletics. The full list can be found on the Community Games website. The Community Games will hold a registration night on this Wednesday 15th November from 7pm to 9pm in the supper room in Ballingarry Hall. The cost is €10 per child up to a maximum of €30 per family.
County U21B Hurling Championship Group 3
Caherelly is the venue on this Saturday 21st November at 3pm for the meeting of the home side Ballybricken/Bohermore and Granagh/Ballingarry in Group 2 of the Limerick County U21B Hurling Championship. Ballybricken/Bohermore have defeated Claughaun/St. Patrick's 3-16 to 1-14 and West went under to Caherline by seven points 2-15 to 0-14 while Granagh/Ballingarry in their only game to date went under to Claughaun/St. Patrick's by six points, 4-18 to 4-12. With a win a must for both sides to stay in contention for a semi final spot, an exciting game is in prospect.
Your support for the boys in black and green would be appreciated.
Granagh Ballingarry 2
RESULT
County Premier Junior A Football Championship Final
Newcastle West 0-10 Feenagh-Kilmeedy 1-4
County Junior B Football Championship final
Ballylanders 2-7 Bruree 1-8
County U21 B Hurling Championship Group 3 Round 1
Chaeline 2-15 Ballybricken-Bohermore 2-15
County U21 B Hurling Championship Group 2 Round 1
Tournafulla/Kileedy 6-16 Dromcollogher/Broadford 1-9
County U21 A Hurling Championship Group 1 Round 2
Dromin/Athlacca 2-16 Knockaderry 1-17
County U21 A Hurling Championship Group 2 Round 2
Murrow/Boher 3-24 Killacolla Gaels 1-16
County U21 A Hurling Championship Group 2 Round 3
Garryspillane 0-15 Killacolla Gaels 1-10
County Premier U21 Hurling Championship Group 1 Round 5
Doon 2-26 Ahane 3-20
County Premier U21 Hurling Championship Group 2 Round 3
Bruff 2-14 Patrickswell 0-15
Munster Senior Club Football Championship Quarter Finals
Clonmel Commercials (Tipperary) 2-7 Newcastle West (Limerick) 06
Castlekevin (Cork) 1-12 Cratloe (Clare) 0-11
Munster Club Intermediate Hurling Championship Quarter Final
Crotta O'Neils (Kerry) 1-22 Ferrybank (Waterford) 2-13
Munster Club Intermediate Football Championship Quarter Final
Cilln a Martra (Cork) 1-17 Kilmihil (Clare 0-7
Roonmore (Waterford) 3-10 Grangemockler-Ballneele (Tipperary) 0-16
Munster Club Junior Football Championship Quarter Final
Kilmurry (Cork) 2-16 Sean Treaceys (Tipperary) 1-6
Munster Intermediate Club Ladies Football Chanpionship Semi Final
Glanmire (Cork) 0-8 Monagea 1-3
Limerick County Intermediate Hurling Championship Final Programme:
A limited number of complimentary souvenir programmes for the Granagh/Ballingarry v Croagh/Kilfinny thrilling Limerick County Intermediate Hurling Championship Final played at Paddy Carroll Park, Ballyagran on Sunday 29th October are available from Granagh/Ballingarry GAA Club Secretary/PRO John Lynch. To book your copy contact at 087/2912356.
Club Gear:
Granagh/Ballingarry GAA Club tops, hoodies, tracksuits, jackets, shorts and socks can now be ordered online at www.larochasports.ieproduct-category/club/granagh/ballingarry
€2,300 Jackpot On Sunday:
There was no winner of the €2,200 jackpot in the Granagh Ballingarry GAA Club lottery draw on Saturday 11th November in Danny A's Bar, Ballingarry. The numbers drawn were 1, 19, 29 and 31. The lucky dips of €20 each went to Rena O'Brien, online; Dylan and Taylor Stapleton, McAuliffe's Bar, Ballingarry; Eamonn Byrnes, Eoin Kennedy; Dan Hartigan, Niall Carroll. The next draw for a jackpot of €2,300 will take place on Saturday 18th November in McAuliffe's Bar, Ballingarry. Tickets are €2 each or three for €5 and are on sale in local shops, bars and from promoters. You can also play the weekly draw online and the links are available on the club's Facebook and Twitter which finishes at 6pm every Saturday. Thank you for your continued support.
Club Website:
Check out our website at www.granagh-ballingarry.ie for all the latest club news. Our website is updated regularly and is well worth a visit, you can also follow us on Facebook or Twitter.
CLUB DIARY:
Wednesday 15th November
County Premier U21 Hurling Championship Group 1 Round 3
Ballybrown v Doon, venue to be confirmed at 7.30pm
Thursday 16th November
County U21 A Hurling Championship Group 1 Round 3
Knockaderry v South Liberties/Crecora/Manister in Mick Neville Park, Rathkeale at 7.30pm
Friday 17th November
Granagh Ballingarry Ladies Football Annual General Meeting
AGM will take place in the GAA Club house in Ballingarry at 7.30pm
County Premier U21 Hurling Championship Group 2 Round 4
Patrickswell v Monaleen in Drumgoole Park, Caherdavin at 7.30pm
Saturday 18th November
County U21 B Hurling ChampionshipGroup 2 Round 3
Templeglantine v Dromcollogher Broadford in Templeglantine at 3pm
County U21 B Huling Championship Group 3 Round 2
Ballybricken Bohermore v Granagh Ballingarry in Caheriley at 3pm
Claughain/St. Patrick's v Caherline in Rhebogue at 4.30pm
County U21 A Hurling Championship Group 2 Round 4
Glenroe v Killcolla Gaels in Glenroe at 3pm
Kildimo-Pallaskenry v Murroe Boher in Pallaskenry at 3pm
County Premier U21 Hurling Championship Group 1 Round 4
Newcastle West v Doon in Pairc na Gael at 2pm
Munster Junior Club Hurling Championship Semi Final
Feenagh Kilmeedy (Limerick) v Banners (Clare) Clare Venue to be confirmed at 1.30pm
St. Catherine's (Cork) v Ballinchinch (Tipperary) in Paric Ui Rinn at 1.30pm
Munster Junior Club Football Championship Quarter Final
Affane (Waterford) v Killimer (Clare) in Kilrush at 1.30pm
Sunday 19th November
Munsteer Senior Club Hurling Championship Semi Finals
Kiladongan (Tipperary) v Clontara (Clare) in Semple Stadium, Thurles at 2pm
Ballygunners (Waterford) v Na Piarsaigh (Limerick) in Pairc nan Gael at 4pm
Munster Intermediate Club Hurling Championship Semi Final
Dromin Athlacca (Limerick) v Corofin (Clare) in Corofin at 1.30pm
Castlelyons (Cork) v Crotha O'Neills (Kerry) at Kerry venue T.B.C at 1.30pm
Tuesday 21st November
County Premier U21 Hurling Champinship Group 1 Round 2
Ballybrown v Newcastle West in Drumgoole Park, Caherdavin at 7.30pm
County Premier U21 Hurling Championship Group 1 Round 5
Mungret St. Paul's v Newcastle West in Mick Neville Park, Ratheale at 7.30pm
County Premier U21 Hurling Championship Group 2 Round 5
Cappamore v patrickswell at venur TBC at 7.30pm