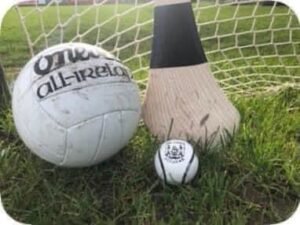 Granagh Ballingarry Club Notes:
Dinner Dance:
Granagh/Ballingarry GAA Club will hold a combined dinner dance on Saturday 25th March in the Longcourt Hotel, Newcastle West for the presentation of 2022 West and County Junior A Football Championship medals and the silver jubilee of Granagh/Ballingarry winning the West and County Junior A Hurling Championship defeating Newcastle West in both finals. Doors open at 6.30pm, dinner at 7pm sharp. Music by Overdrive and DJ. There will be special guest speakers. Tickets cost €50 are now available from David Clancy (087) 6982747, Seamus Twomey (087) 1201571, Stephen Stapleton (086) 1960301, Shane O'Grady (087) 3138528, Damien O'Donovan (087) 6279934 and Shane Mulqueen (087) 6795320. Your support for this social event is greatly appreciated.
Con and Annie Kirby Memorial Stake Launch:
The launch of the 10th annual Con and Annie Kirby stake takes place on Tomorrow Thursday 2nd March at Limerick Greyhound Stadium at 6.30pm. Guests are welcome to stay and enjoy racing on the night. Tickets and supporters packs for all clubs will be available on the night.
Team Limerick clean-up back for a third year:
Registration is now open for the 8th edition of the largest one-day clean up in Ireland, Team Limerick Clean-Up (TLC). Set to take place on Good Friday 7th April across Limerick City and County. Founders of the team Limerick Clean-up initiative JP McManus, Paul O'Connell and Helen O'Donnell are urging volunteers to sign-up early on www.teamlimerickcleanup.ie and help make this the best TLC yet! This year participants in TLC 8 are encouraged to bring a friend and involve any new neighbours in the community to come along and join in, in making limerick a cleaner and more environmentally friendly county. The popular tea and coffee gatherings after the clean up will also be held at locations throughout the city and county last year TLC 7 marked the longest participation numbers. So far, with over 21,000 volunteers were from all walks of life ranging from schools, colleges, GAA clubs and Munster Rugby to businesses, charities, nursing homes well-known faces to locally sponsored by JP McManus, Benevolent Fund and supported by Limerick City and County Council. TLC has seen over 400 tonnes of litter gathered from the streets by volunteers and event partner Mr. Binman since inception in 2015- equating to over 14,500 household wheelie bins.
Limerick GAA Referee Recruitment:
Are you interested in becoming a referee? Think you can do better? Then put your whistle where your mouth is and become a GAA referee! Why become a GAA referee? Stay involved with the game as an alternative to playing. Fitness: it's a great to kee3p fit. Ambition: could you referee a county final or All-Ireland! Learn more about the game. Give something back, offers players at the end of their playing days, the opportunity to continue in the sport. Personal development skills that are of value in all walks of life. What qualities are required to become a GAA Referee? Good knowledge of the playing rules. Be physically and mentally fit. Have the ability to remain calm, have the moral courage to make decisions which are correct.
If interested please forward your details ASAP to Patsy Coffey, Cappamore 087-9160344 or Donnacha O'Callaghan Feohonagh Castlemahon 087-06747984.
West Senior Hurling League /Championship 2023:
Saturday 1st April – Round 1: Croagh/Kilfinny v Granagh/Ballingarry in Croagh at 6.30pm.
Sataurday 8th April – Round 2: Granagh/Ballingarry v Newcastle West in Ballingarry at 6.30pm.
Tuesday 11th April – Round 3: St. Kieran's v Granagh/Ballingarry in Coolcappa at 6.30pm.
Tuesday 18th April – Round 4: Granagh/Ballingarry v Adare in Ballingarry at 6.30pm.
Sunday 30th April – Round 5: Granagh/Ballingarry bye.
Saturday 6th May – Round 6: Knockaderry v Granagh/Ballingarry in Knockaderry at 7.30pm.
Saturday 27th May – Round 7: Granagh/Ballingarry v Feohanagh/Castlemahon in Ballingarry at 7.30pm.
Note: Top four teams qualify for West Senior Hurling Championship semi-finals, 1st v 4th and 2nd v 3rd. If teams finish level on points scoring differential will apply West Championship final winners qualify to play ???? winners in the County Senior Hurling League semi-final.
Liam O'Connor Cup Round 3:
The best of Luck to the Limerick U21 footballers who play in Offaly this Saturday 4th March in round 3 of the Liam O'Connor Cup in Mick Neville Park, Rathkeale at 3.30pm. A win for the Shannonsiders will see them qualify for the final. Please support.
Poc Fada Marking Stone (c1980s):
Walk up the stony terrain of the Cooley Mountains at Annaverna in Co. Louth and you will find a domain and two yellow painted upright standing stones. The stones are purposefully placed and mark the start and finish point for All-Ireland poc fada competition- an annual national contest for hurlers and camogie payers. The objective is to puck a sliotar as far as possible and to get around the mountain in the fewest possible number of shots. The route is marked by dozens of these yellow painted stones that indicate the 5km circuit. Initially the standing stones were painted white but from a distance local farmers mistook them for sheep, so it was decided to paint the stones yellow. The standing stone has 'Poc Fada' engraved on it and an arrow pointing towards the direction to take along the circuit. The first poc fada competition ran in 1960 and following this usually took place on the seventh Sunday after Easter. A day known as Whit Sunday, traditionally regarded in Ireland as a fatal and unlucky time. Thought to be the unluckiest day of the year people were encouraged to stay indoors because of this hurling and football matches did not take place on Whit Sunday. However, the Poc Fada competition prevailed and the freeing-up of the fixtures schedule on that Sunday allowed hurlers to compete many of whom were inter-county goalkeepers.
The competition was suspended in 1970 due to lack of entries but was later revived in 1981 on a new course. The course has four stages with three turning points – an ceide, carn an mhulaigh and an ciabhlan- as well as the added challenge of crossing a ravine on the last leg . In a time when gaelic games are subject to constant changes in rules, equipment and tactics, poc fada has retained its steady its steady uncomplicated form within the wild foothills of Co. Louth.
Centenary Cairn (1984):
Stone cairns have been built since prehistoric times and are used across many different cultures as landmarks, burial sites and trail markers. The stone cairn was built on the grounds of Kilclief Ben Dearg G.A.C. (Gaelic Athletic Club), Co. Down to commemorate the GAA's centenary in 1984 created by local craftsmen James Denver and Patsy King. It comprises stones from every townland, mass site and former GAA pitch in the parish of Kilclief. The cairn was unveiled by Fr. Kelly, parish priest and president of the club on 28th July 1984. This date was designated by the GAA for each club around the county to organise special celebrations to mark the centenary of the association. The idea of Kilclief Ben Dearg's La na gClub was not to focus on past achievements but to look to future generations. With this in mind a time capsule was buried underneath the cairn which contained photographs of teams, newspapers and details of the centenary celebrations. The instruction is that in 2034 the time capsule will be opened to coincide with the GAA's 150th anniversary and fifty years since the time capsule and cairn were put in place.
Kilclief is located on the edge of Co. Down's eastern coast in a small area where the Isle of Man is visible in the distance on a clear day. In the club's early years its teams played on many different pitches throughout the parish, but in the 1950s they settled in the present location – St. Malachy's Park on the banks of Strangford Lough. To update the facilities and to create a community walkway the cairn was moved but remained completed in tact with the time capsule undisturbed.
Limerick GAA 2022 Yearbook:
A full review of all Granagh/Ballingarry GAA club activities, both on and off the field plus photos in 2022 will be included in the Limerick County GAA Yearbook due to be launched shortly. The book costs €20 and would make an ideal present for a family member or friend.
Draw Promoters Hit the Streets:
Granagh/Ballingarry GAA Club draw promoters are taking to the streets of the parish to canvass members to join the 10 month draw, March to December. By joining you automatically become a member of the club for 2023 and you will be included in the weekly club lottery if you pay your 100 membership in full by May 1st. See draw brochure for details or contact any member of the finance committee.
County GAA Club Draw:
Granagh/Ballingarry GAA Club are once more promoting the Limerick County Club Draw for 2023. There will be monthly draws from March to December with a top prize of €10,000. There are a host of other prizes to be won, 2nd €3,000, 3rd €2,000, 4th €1,000, 5th exclusive star prize, 6th to 9th €500, 10th to 13th €250, 14th to 30th €100. There will again be exclusive monthly prizes to be won. Entry to the draw is just €10 per monthly or €100 for the ten draws with the option to join our own ten monthly draw and County Club Draw for €150. If you would like to renew your membership for 2023 please follow the link limerickgaa.ie/clublimerick-draw-signup and select Granagh/Ballingarry GAA club and the number of draws you wish to sign up for. You may also contact the Granagh/Ballingarry GAA club draw co-ordinator Stephen Stapleton on 086-1960301. Note the first draw for 2023 is on Saturday 25th March.
Membership Due:
Granagh/Ballingarry GAA Club membership fees for 2023 are now due and are €40 for adult players (€120 with club draw) €20 for students and non-players who pay €100 club draw fee in full will automatically be members for 2023. Fees should be paid on or before 31st March to club registrar John Carroll or any club official. To train or play for the club you have to be insured if you are not yet registered we ask you to do so. It is generally felt by club officers that any member or player should feel obliged to get the membership paid as soon as possible and we must reiterate that people who have not paid will not be covered by insurance or entitled to any privileges what so ever from our club.
Results:
All Ireland Club Junior B Hurling Championship Final
Sarsfields (Galway) 1-9, Bruff Limerick 0-9.
Munster Club Junior B Football Championship Semi Final
Diarmuid Ó Mthuna's Cork 5-10, Kilruane McDonagh (Tipperary) 2-5.
National Hurling League Division 1 Group A Round 3
Limerick 0-24, Galway 0-19; Clare 6-25, Wexford 1-18, Cork 2-21, Westmeath 0-21.
National Hurling League Division 1 Group B Round 3
Kilkenny 0-34, Laois 1-18, Waterford 1-22, Antrim 1-22, Tipperary 2-23, Dublin 0-24.
National Football League Division 2 Round 4
Cork 6-18, Limerick 0-12.
National Camogie League Division 1B Round 2
Antrim 2-17, Limerick 1-11.
National Camogie League Division 3B Round 1
Antrim 0-10, Limerick 1-5.
Limerick GAA Club Tickets:
Limerick County GAA Board launched their 2023 club season tickets recently. The tickets will entitle the bearer entry to all Limerick County Board fames from minor to senior levels. The cost is 50 plus postage. Order your tickets now at limerick.ie/step/limerick ga-season-tickets-2023/
Bruff Brave Bid for All Ireland Glory Just Fail
All Ireland Junior B Club Hurling Championship Final:
Sarsfields (Galway) 1-9, Bruff (Limerick) 1-9
Limerick and Munster Junior B Hurling champions Bruff's brave bid to bring the All Ireland Junior B Hurling Championship title back to Shannonside since Doon won just failed when going under to Galway and Leinster champions Sarsfields by three points 1-9 to 0-9 at Killeedy GAA grounds in Raheenagh on Saturday.
The Bruff boys leading by three points 0-8 to 0-5 at the interval looked in a good position but the sending off of Cian Madden just before the break cost them dearly and they only added one point to 1-4 for the Galway and Leinster Sarsfields to become the fifth club to be crowned all Ireland Junior B Club hurling champions after wins by Menlo Emmetts 2006, Athenry 2009, Ballinderreen 2011 and Loughrea 2020.
Back-To-Back League Wins For Limerick
National Hurling League Division 1 Group A Round 3
Limerick 0-24, Galway 0-19.
Congratulations to All Ireland champions Limerick who made it back-to-back wins in Group A of Division 1 of the National Hurling League with a deserved five point 0-24 to 0-19 victory over Galway in Pearse Stadium, Galway on Sunday to joint second on the table with Clare on four points, two behind neighbours Cork. Limerick's next outing is on Sunday 12th March when they travel to Cusack Park, Mullingar to play pointless Westmeath at 2pm.
Second League Win For Cork:
National Football League Division 2 Round 4
Cork 6-18, Limerick 0-12.
Cork recorded their second win in Division 2 of the National Football League with a comfortable 6-18 to 0-12 victory over gallant Limerick at Páirc Uí Chaoimh on Sunday to go joint second on the league table on 4 points with Louth and Meath who wish the Limerick boys the best of luck as they play Meath in Round 5 on this Sunday 5th March at 2pm in Páirc na nGael where a victory is a must for the Shannonsiders to avoid the drop to Division 3 for 2024.
Club Gear:
Granagh/Ballingarry GAA Club's tops, hoodies, tracksuits, jackets, shorts and socks can now be ordered online at www.laroachasports.ieproduct-category/clubs/granagh/ballingarry
Club Website:
Check out our website at www.granaghballingarry.ie for all the latest club news. Our club website is updated regularly and is well worth a visit. You can also follow us on Facebook www.facebook.com/granaghballingarrygaa and twitter at www.twitter.com/granaghballingarrygaa
€8,800 Jackpot on Saturday:
There was no winner of the €8,700 jackpot in the Granagh/Ballingarry GAA Club lottery on Saturday 25th February in Condron's Bar, Ballingarry. The lucky dips of €20 each went to Catherine Ahern, promoter online, David and Joshua, promoter Paddy Hennessy, Carmelo Quille, promoter John O'Keeffe, Richard O'Donoghue, promoter Richard O'Donoghue.
The next draw for a jackpot of €8,800 will be held on Saturday 4th March in the Rock Bar, Granagh. Tickets are 2 each or three for 5 and are on sale in local shops and from promoters. You can now also play the weekly draw online and the link to play is available on the club's Facebook or Twitter, which finishes at 6pm every Saturday. Thank you for your continued.
Club Diary:
Saturday 4th March:
National Football League Division 1 Round 5: Armagh v Donegal in Athletic Grounds, Armagh at 7.30pm.
National Football League Division 2 Round 5:
Laois v Waterford in O'Moore Park, Portlaoise at 6pm.
Masita Post Primary Schools (Sebnior D Hurling)
Coláiste na Trocaire, Rathkeale v Mercy College, Waterford in Clarecastle at 12.30pm.
Sunday 5th March:
National Football League Division 1 Round 5: Tyrone v Kerry in Healy Park, Omagh at 12.45pm. Galway v Monaghan in Pearse Stadium Galway at 12.45pm. Mayo v Roscommon in Dr. Hyde Park, Roscommon at 2.45pm.
National Football League Division 2 Round 5: Clare v Cork in Cusack Park Ennis at 2pm. Limerick v Meath in Pairc na nGael at 2pm. Louth v Kildare in Pairc Mhuire Ardee at 2pm.
National Football League Division 3 Round 5:
Fermanagh v Tipperary in St. Joseph's Park, Edenrey at 1pm. Longford v Offaly in Pearse Park at 2pm. Westmeath v Antrim in Cusack Park, Mullingar at 2pm. Cavan v Down in Breffni Park at 2pm.
National Football League Division 4 Round 5:
London v Carlow in McGovern Park, Ruislip at 1pm. Wicklow v Leitrim in Echelon Park, Aughrim at 1.30pm. Sligo v Wexford in Markievicz Park at 2pm.
Munster Junior B Football Championship Final: Diarmuid O'Mathunas Cork v Kilgarvan (Kerry) at 2pm.
Sympathy:
Granagh/Ballingarry GAA Club officials, players and members extend sympathy to the Chawke family, Croagh an Ballingarry, on the death of Richard Gerard Chawke. Ar dheis Dé go raibh a anam.