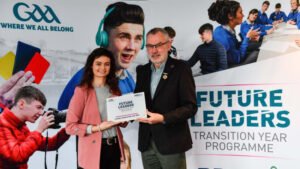 GAA Future Leaders Event Month edges closer:
By Cian O'Connell
The GAA Future Leaders Event Month will take place between April 17 and May 19.
All schools involved in the programme are encouraged to organise at least one event during that spell. McKeever Sports School Equipment packs will be awarded each week for the top four schools, while a visit from GAA President Larry McCarthy is another possibility for those planning activities.
Colm Madden, a teacher at Gort Community School, explains the different types of initiatives that Transition Year students are spearheading. "Every October, we run a Primary School blitz in which more than 400 fifth and sixth class students converge on GCS to take part in hurling and camogie games.
"All of our TY students assume roles on the day such as team managers, referees, catering etc. As you can imagine, such an event requires considerable effort and diligence on the part of our TYs but every year they rise to the occasion."
Another significant event took place recently. "To mark the 25th anniversary of the school, our TYs, with the help of past and present teachers, put together a nomination list of the best camogie and hurling players to don the GCS jersey," he says. "Once the list was collated, they put it to a public vote, allowing our community to be involved in the process. Thousands of people voted and our TYs then created an accompanying YouTube show to officially announce the teams.
"We also held an awards evening where the successful nominees were celebrated. Other events that our TYs have organised include, GCS GAA Fittest family, non-uniform days and wallball competitions. The fact that we are one of over 300 Future Leaders schools in the country means we can learn from what other schools are doing while also sharing our ideas too in what is essentially, a Future Leaders family."
Ronan Flanagan, a teacher in Virginia College, is encouraged by the reaction of students in the Cavan school. "Our students have ran a first year blitz, a second year blitz, a TY wellbeing day, Christmas Craft Fair and a fun run/walk.
"For National Future Leader events month students are in the process of organising a National School blitz day, International Food day and a School Sports day.
"It has worked great with students getting many opportunities to practically apply their skills from coaching, reporting and performance analysis at live games, planning and running events and cooking at home using the recipes for success book."
Aoife McWeeney, a teacher at Maynooth Education Campus in Kildare, is delighted with how the programme is working.
"We have taken part in the future leaders programme for the past three years and each year we have ran the programme slightly differently, mainly due to Covid," she says.
"This year we have two hours contact time with students which allows us to instil the importance of the skills the students are learning and better enables us to facilitate a hands on approach to the modules.
"We have currently 10 TY classes on campus and all classes partake in the programme. At the moment we offer the event management module, coaching module, nutrition module, and sports journalism or performance analysis modules.
"Next year we hope to have the coaching and refereeing modules taught externally, which will free up time for teachers to focus on more modules such as wellbeing and sustainability."
Ultimately it means students are able to implement what is being learned in a practical manner. "We have tried to incorporate as many different events as possible and link to all of the modules the students partake in," she adds.
"We have carried out GAA blitzes for our first year students, student versus teacher games, the cube and MECs fittest class competitions for TYs, table quizzes for first years and many more."
Valuable skills continue to be learned. "We want students to be able to use their event management skills in a wide variety of circumstances," she states. "We are trying to build on the experiences of these events so they can get involved with the wider community.
"This year in particular our TYs will be getting involved with the organisation of the local 5/10km run, a Leinster LGFA first year blitz and helping out with football teams for the Maynooth Autism Friendly Towns committee."
Forging links with clubs and groups is critical. Gort CS's Colm Madden highlights the relevance of co-operating with others. Upcoming Super 9 competitions, involving 16 schools in hurling and camogie, are being organised.
"None of this would be possible without our TY students who have put in an incredible effort to ensure that both days will be a huge success," he says.
"I must also give a special mention to Gort GAA Club who have once again kindly given us the use of their superb facilities to host the competitions on their grounds. Again, it's further proof of the club-school link that's possible through the programme.
"Our school management and staff have always been very supportive too and everyone chips in to help out in any way they can.
"At the very centre of the process is our TY students. Both Mr Hanley and I act as facilitators and sounding boards really for their ideas, opinions and plans. We all look forward to seeing them make these plans a reality."
The Future Leaders programme continues to develop and evolve which is crucial according to Colm Madden. "Reflection is a key component within the programme itself and at the end of every year, teachers and students alike reflect on the year gone by and look at areas where we can improve," he acknowledges.
"This process has helped make the programme stronger. Also, there is now a culture of friendly competition so to speak in the school whereby every TY group tries to be the best GCS Future Leaders cohort. As a result, standards are raised every year by the students themselves and the club becomes an even more vibrant entity in GCS school life.
"Hopefully the programme will continue to thrive in the years to come. One of our main goals is to further develop and strengthen the link between the school and all our local GAA and camogie clubs. I think this where the programme can reach its full potential, not only in GCS but throughout the country, connecting the school and club.
"From a personal point of view, the programme has been one of the most positive experiences of my teaching career to date."