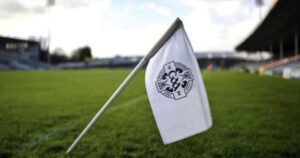 Fr Casey's GAA Club Notes:
Upcoming Fixtures:
County Senior Football Championship
Fr. Caseys vs Claughaun, Sunday July 9th in Bog Garden, Rathkeale at 7.30pm
County Senior Football Championship
Fr. Caseys 1-11 Newcastle West 3-07
Fr. Caseys Senior Footballers made the short trip to Tournafulla last Thursday evening to take on county champions Newcastle West in the opening round of the county championship. Minus some key players through injury and travel this was going to be a daunting task for a very young Fr. Caseys side.
An impressive opening quarter saw Fr. Caseys race into a 0-04 to 0-01 lead but on 18 minutes Newcastle West struck for goal to level the scores. The response from Fr. Caseys was to kick five points without reply to hold a commanding lead as we entered injury time. Newcastle West kicked the last point of the half to leave four points between the teams at the break. After a dominant first half in which our forwards had definitely brought their scoring boots, Fr. Caseys took a 0-09 to 1-02 lead into the interval.
Newcastle West needed a big reply and they delivered with 1-01 inside the opening ten minutes of the second half to level the scores. On 45 minutes Newcastle West then took the lead for the first time when they struck for their third goal of the night. Fr. Caseys were now the team that needed a reaction and two minutes later they were awarded a penalty. Up stepped Eoghan O'Connell to confidently drill the ball to the back of the net and level the scores once more. We were now setup for a grandstand finish with just 10 minutes on the watch. The teams traded points before Newcastle West kicked two without reply to hold a slender advantage as we headed to injury time. Fr. Caseys reduced the margin to a single point and had a chance to level the scores once more in the dying minutes. Newcastle West defence held firm and countered to score at the other end to restore the two-point cushion. The final whistle came too early for Fr. Caseys and they unfortunately had fallen just short. The final score in Tournafulla was Fr. Caseys 1-11, Newcastle West 3-07. The old story of goals win games was very true on this occasion. Despite a very impressive opening half our seniors left Tournafulla empty handed and the focus will now be on Claughaun in round two this weekend.
Club Lotto Results – June 27th:
Fr. Casey's Club Lotto continued on Tuesday June 27th with a Jackpot of €16,400 up for grabs. The numbers drawn were 12, 25 & 27 with the bonus ball 3. We had three match 2 plus bonus winners claiming €50 each. The Jackpot for next week's draw now increases to €16,600.
Match 2 plus Bonus winners:
John Riordan €50 (Promoter: Yearly)
Mike Square €50 (Promoter: Square)
John Oliver O'Sullivan €50 (Promoter: Yearly)
The lucky dip winners were as follows:
Bridie O'Donnell €30 (Promoter: Square)
James Harnett €30 (Promoter: Square)
Jonathon O'Donnell €30 (Promoter: Yearly)
How do you play? Simply select three numbers from 1 to 30 and one bonus number from 1 to 10. If all four chosen numbers appear the jackpot will be won or shared. A match three prize of €500 is also on offer and applies to the 1 to 30 number selection not including the bonus ball. In addition to this we also have a match 2 plus bonus and a host of lucky dip prizes up for grabs each week. The draw will run on a weekly basis, each Tuesday night at 9pm sharp. All ticket sales must be completed prior to 8pm will the draw results shared from 9pm on our Club Facebook Page.
Where can you buy a ticket? Tickets cost €2.50 and are available in a host of local shops including Gala Killarney Road, An Siopa Milseán, Kathleens Foodstore, Sheehy's Hardware, Danny Scanlon's, Lanes Foodstore, Cryle View Cleaners, Needles & Pins, The Ploughman, Jack O'Rourkes, Glorach Bingo, DP Lyons Bar, Mag Nash and John Murphy. You can also play Online @ https://www.klubfunder.com/Clubs/FrCaseys/Lotto with the option of reoccurring draws, yearly tickets and Quick Pick function available.
Club Website:
Check out our club website at www.frcaseysgaa.ie for all the latest club news, fixtures, results and lots more. Our club website is updated regularly and is well worth a visit. You can also follow us on Facebook at www.facebook.com/frcaseysgaa and on Twitter at www.twitter.com/frcaseysgaa