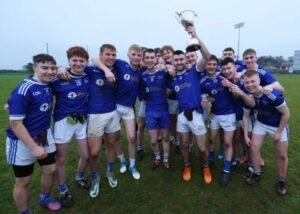 U21 County Final:
Fr. Caseys 0-08 Newcastle West 0-05
Fr. Caseys U21 Footballers and their large band of supporters travelled to Mick Neville Park on New Years Eve to battle it out with neighbours Newcastle West for the County Title. Fr. Caseys were bidding to retain the cup won in 2021 while Newcastle West were aiming to conclude a strong year for their club having won the County Senior and reaching the Munster Club Final. The opening quarter was a tight affair with neither defence giving much away. Fr. Caseys in this period were more clinical with their attacks and registered three valuable points on the board thanks to a Dylan Quirke free, a magnificent converted 45 from Eliah Riordan and a fine point from play from the lively Adam Fitzgerald. On 18 minutes Newcastle West finally opened their account but Fr. Caseys would reply with two more points before the break thanks to another Adam Fitzgerald score and a pointed free from Dylan Quirke. The half time score was Fr. Caseys 0-05, Newcastle West 0-01. While the contest was still very much alive the Abbeyfeale men were more than happy with their opening half. The direction at half time was more of the same but a powerful comeback from their rivals was also expected.
Fr. Caseys made the perfect start to the second half kicking the opening two points thanks to another Dylan Quirke free and an Eliah Riordan point. Leading by six points with twenty minutes on the clock, the focus now was to preserve their lead. Slowly Newcastle West began their comeback however and with 12 minutes remaining the margin was reduced to just one goal. Ronan Quirke stepped up to kick a valuable point but Newcastle responded to reduce the margin to three points once more. As the clock ticked down Newcastle West knew only a last gasp goal could save them but the Fr. Caseys defence marshalled by captain Sean Kilbridge stood firm. When the final whistle went it was a deserved victory for the Fr. Caseys men. The final score was Fr. Caseys 0-08, Newcastle West 0-05.
It may not have been the most free flowing game we have witnessed but the effort of the players throughout could not be faulted. The club now captures its tenth County U21 title and hopefully this is a foundation for better days in the future. Well done to all involved including the management team of Daniel Daly, Killian Sweeney, Martin Scannell and Donagh Kelly. Well done also to captain Sean Kilbridge and his team of warriors, each player giving their all throughout this campaign and representing the club with pride.
Club Lotto Results:
December 20th
Fr. Casey's Club Lotto continued on Tuesday December 20th with a Jackpot of €16,400 up for grabs. The numbers drawn were 4, 21 & 27 with the bonus ball 8. We had no jackpot winner, match 3 or match 2 plus bonus winners this week. The Jackpot for our next draw on January 10th increases to €16,600. Please note there will also be no sales in the square until January 6th
The lucky dip winners were as follows:
Rebekah Daly €30 (Promoter: Online)
Joe Brosnan €30 (Promoter: Square)
Sheila Treacy €30 (Promoter: Online)
Denis Foley €30 (Promoter: Square)
Maria Harnett €30 (Promoter: Cryle View Cleaners)
Niall Moloney €30 (Promoter: Online)
Sean Collins €30 (Promoter: GALA)
Pat O'Flaherty €30 (Promoter: Yearly)
Jack Curtin €30 (Promoter: Needles & Pins)
M Flavin €30 (Promoter: Square)
How do you play? Simply select three numbers from 1 to 30 and one bonus number from 1 to 10. If all four chosen numbers appear the jackpot will be won or shared. A match three prize of €500 is also on offer and applies to the 1 to 30 number selection not including the bonus ball. In addition to this we also have a match 2 plus bonus and a host of lucky dip prizes up for grabs each week. The draw will run on a weekly basis, each Tuesday night at 9pm sharp. All ticket sales must be completed prior to 8pm will the draw results shared from 9pm on our Club Facebook Page.
Where can you buy a ticket? Tickets cost €2.50 and are available in a host of local shops including Gala Killarney Road, An Siopa Milseán, Kathleens Foodstore, Sheehy's Hardware, Danny Scanlon's, Lanes Foodstore, Cryle View Cleaners, Needles & Pins, The Ploughman, Jack O'Rourkes, Glorach Bingo, DP Lyons Bar, Mag Nash and John Murphy. You can also play Online @ https://www.klubfunder.com/Clubs/FrCaseys/Lotto with the option of reoccurring draws, yearly tickets and Quick Pick function available.
Club Website:
Check out our club website at www.frcaseysgaa.ie for all the latest club news, fixtures, results and lots more. Our club website is updated regularly and is well worth a visit. You can also follow us on Facebook at www.facebook.com/frcaseysgaa and on Twitter at www.twitter.com/frcaseysgaa