Upcoming Fixtures:
U21 County Championship Round 3
Fr. Caseys Vs Monaleen – Tuesday December 20th in Adare at 8.00pm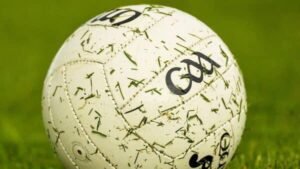 Happy Christmas:
Fr. Caseys GAA Club would like to wish all our players, management, committee members and supporters a Merry Christmas and a Happy New Year. Many thanks for your support all year and we look forward to many more great days in 2023
Dee Harnett 5K:
The annual Dee Harnett 5K Run & Walk will return this St. Stephens Day (December 26th). Starting at 11am sharp on the Abbeyfeale Railway Track (Greenway), this is the ideal event to meet with friends and work off the Christmas Turkey. All of this is for a great cause, the Mid-Western Cancer Foundation and in memory of a great man that was Dee Harnett. This event is organised by Fr. Caseys GAA & Abbeyfeale Utd FC clubs and supported by the Harnett family. There will be a bucket collection on the day and also an online donation option via the following Go Fund Me link – www.gofundme.com/Dees5k
2022 Review:
With the 2022 Club Football season nearing completion, it has been another positive season for Fr. Casey's GAA as the club continues to grow both on and off the field. We are blessed to have a fantastic bord na nog and ladies committee within our club that attract large numbers of underage players each year and coach them to an extremely high standard that is evident when they progress to adult grades. Our club committee under the stewardship of club chairman Liam Murphy must be commended for all their administrate efforts and the fantastic job they have done to progress our ground developments and fundraising activities.
The greatest success of the year is undoubtable our Minor (Under 17) Football team who captured the county title for an amazing fifth year in a row on November 5th in Mick Neville Park. This year was supposed to be a transition period with more than half of this team still underage next year. It was felt the team might be too young to compete with the physicality of teams like Mungret and Monaleen. Having to face both teams in the knockout stages we won this championship the hard way and won many admirers along the way with their free flowing play. The final with Monaleen was a titanic affair, having lead for most of the second half a late comeback from Monaleen took the game to extra time. Needing to dig deep, the team produced a master class in extra time to march to a 10-point victory, with the great depth in the squad evident as our introduced players added an extra gear which Monaleen could not handle. Hopefully some of this team will also taste success at U21 level in the near future and then progress to our Junior and Senior ranks.
At Under 21 level the county championship has been delayed due to the recent bad weather with the knockout stage now likely to occur after Christmas. Having secured a draw in their opening game against Newcastle West they recorded a comfortable victory over Adare in round two. A win or draw against Monaleen in their last game will put our Under 21s through to the semi-final stages but Monaleen can also secure a similar faith with victory. Fr. Caseys are defending this title and to retain our crown would be a massive boost to the club heading into the 2023 season. We wish all players and management the best of luck in the coming weeks.
At Senior level, Fr. Caseys were the early pace setters in the championship, recording high scoring victories over Oola and Claughaun before producing their best performance of the season with a statement of intent victory over Monaleen in Mick Neville. A round four victory over Galbally then setup a top of the table clash with Newcastle West where we surrendered our winning streak with a narrow one point defeat. The team regrouped in style to put Kildimo/Pallaskenry to the sword in the quarters and setup a mouth-watering semi-final clash with Adare. In that game we started with a bang, running into a four-point lead in the opening quarter but Adare slowly cut the deficit. It was a game where Fr. Caseys were extremely wasteful in attack, kicking up to 18 wides and this factor alone lead to their downfall. Having run both Newcastle West and Adare so close it is obvious our Seniors are not far from the top table but unfortunately yet another year slips by and the wait for a county senior crown continues
At Intermediate level we suffered a challenging year. Having won the Junior A championship in style the previous year we lost some valuable team players for a host of reasons such as immigration, injury and progression to the senior ranks. Those factors coupled with an extremely hard group meant we failed to win any of our five championship games but still maintained Intermediate status due to Bruff forfeiting their championship campaign. The New Year will bring a clean slate for this team and hopefully a more successful campaign awaits
Our club is also extremely proud of all our club players who wear the green and white of Limerick and represent Fr. Caseys on the biggest stages. Our senior player Adrian Enright in particular had a fantastic season on the playing field capturing the National League Division 3 crown and reaching the Munster Final. The training for the new inter county season has already begun and we wish all club players involved the very best in their pursuits.
Club Lotto Results:
December 13th
Fr. Casey's Club Lotto continued on Tuesday December 13th with a Jackpot of €16,200 up for grabs. The numbers drawn were 6, 17 & 27 with the bonus ball 10. We had no jackpot winner, match 3 or match 2 plus bonus winners this week. The Jackpot for next week increases to €16,400
The lucky dip winners were as follows:
Mike O'Shea €30 (Promoter: Yearly)
The Golden Girls €30 (Promoter: Siopa Milsean)
Aidan Keogh €30 (Promoter: John Murphy)
How do you play? Simply select three numbers from 1 to 30 and one bonus number from 1 to 10. If all four chosen numbers appear the jackpot will be won or shared. A match three prize of €500 is also on offer and applies to the 1 to 30 number selection not including the bonus ball. In addition to this we also have a match 2 plus bonus and a host of lucky dip prizes up for grabs each week. The draw will run on a weekly basis, each Tuesday night at 9pm sharp. All ticket sales must be completed prior to 8pm will the draw results shared from 9pm on our Club Facebook Page.
Where can you buy a ticket? Tickets cost €2.50 and are available in a host of local shops including Gala Killarney Road, An Siopa Milseán, Kathleens Foodstore, Sheehy's Hardware, Danny Scanlon's, Lanes Foodstore, Cryle View Cleaners, Needles & Pins, The Ploughman, Jack O'Rourkes, Glorach Bingo, DP Lyons Bar, Mag Nash and John Murphy. You can also play Online @ https://www.klubfunder.com/Clubs/FrCaseys/Lotto with the option of reoccurring draws, yearly tickets and Quick Pick function available.
Friday Night Card Game:
The weekly progressive 41 card games continue every Friday night in the GAA Clubhouse, starting at 9pm sharp. Please spread the word and bring a friend, old and new faces are more than welcome. The next card game will be January 6th as the games break for the Christmas period
The following are the results on Friday December 23rd:
Winners (14 games): Eamon Scannell, Beth Collins, Sean O'Connor
Runners- Up (after play-off): Joan Murphy, Jerry O'Connor, Tim Harnett
Table Prize: Sean Healy, Mike Donoghue, Tony Purcell
Door Prize: Noel Murphy
Raffle: Mairead Nolan, Connie Collins, Liam O'Connor, Tony Purcell, Dan Brosnan
Club Website:
Check out our club website at www.frcaseysgaa.ie for all the latest club news, fixtures, results and lots more. Our club website is updated regularly and is well worth a visit. You can also follow us on Facebook at www.facebook.com/frcaseysgaa and on Twitter at www.twitter.com/frcaseysgaa