David Reidy enjoying Limerick adventure:
By Cian O'Connell
In the old dressing rooms at TUS Gaelic Grounds, David Reidy reflects on the past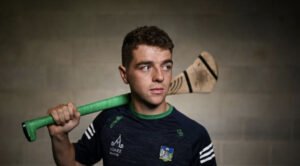 decade.
There have been plenty of twists and turns along the way. So Reidy truly appreciates these glorious green and white times.
A young substitute when Limerick captured the 2013 Munster title, Reidy's future glimmered with promise.
By 2017, though, in John Kiely's first campaign in charge, Reidy was left of the panel. Important time, though, was spent that year hurling for Kildare under Joe Quaid.
"Reflecting on it, I don't think I'd be back in here if I didn't play with Kildare," Reidy says.
"That's my own personal opinion. I'm grateful and delighted that I said yes. I really enjoyed it."
Reidy embraced the opportunity with the Lilywhites. "I was involved in the Limerick panel for four years from 2013 up to '16 and then I got left go in 2017 and I was teaching in Kildare, teaching primary school in Rathcoffey," he explains.
"I was living up there obviously and Joe Quaid was the manager of Kildare. At the time there was a rule, I think you were allowed three outside players so he rang me, we had a meeting and he laid it straight out – 'the standards up here are the same, come in for a week and see how you get on and see if you enjoy it.'
"I did enjoy it and I kept going. John Mulhall was there at the same time, a gas man. We had good craic myself and John. It was a brilliant experience."
Valuable lessons were learned, but the joy and relevance of sport was always central. "I think I grew or matured from it," he adds. "I learned a lot of things. The training, the facilities, the way we were looked after, I couldn't speak highly enough of it.
"I made some good friends up there. I'd meet them at random things and we'd always have that. John brought me back then in October or November. It was around the time of the boxing event. Leading up to 2018."
That proved be an interesting process – reintegrating back into the Limerick set-up.
"I got caught with Aaron Gillane for my sins," Reidy laughs. "I came out with a win, though. I put him down once. There was only one knockdown in the whole event.
"Aaron Gillane was down – he said it was a slip, but it wasn't. It was three two-minute rounds. I was way more nervous than anything I ever done.
"It was in the South Court (Hotel), it was packed out. Six or seven fights. A red team and a blue team and you trained away together for six or seven weeks in St Francis' Boxing Gym there in the city."
Edgy and nervous about the bout Reidy appreciates the craft. "The admiration I have for boxers – I'll never ever forget how tired I was sitting down in the seat after the first round," he recalls.
"Myself and Aaron said 'take it easy for the first 30 seconds or minute' but no, once you get one hit, you see red. You were using muscles you never used before. Your upper back and your arms."
It helped Limerick bodies and minds for the challenges ahead. The intervening years have flown by. Dromin-Athlacca clubman Reidy will occasionally go down beside the Morningstar River at Enda Bolger's yard. "Nice and calm," he says. "Peace of mind. He's down the road from me.
"The Morningstar River flows through there – he's it done really nice for the horses to go in. The river is only up to knee height. It's a big horse area down from where I'm from. I live close to Austin Leahy as well. He's a horse trainer too.
"I would have an interest, but I don't follow it as much. I don't have the time. I like going to the races. I've been to Cheltenham twice – the November meeting. It's a great occasion to go to horse-racing, it's a great day out."
Reidy has played his part in memorable occasions for Limerick too. A blistering cameo in the 2022 All-Ireland SHC Semi-Final against Galway was decisive.
On the Friday before the decider, though, Reidy injured an ankle. "I strapped it up and adrenaline got me through," he says. "Kyle (Hayes) went down the same day with a bit of a hamstring injury as well so it was a bit of a weird feeling.
"But that's the way it has to be, you need to push hard. You don't take your foot off the gas."
Saturday was spent resting, but also worrying. "I didn't know until the warm-up really," Reidy says. "I didn't try running on it. "They're games you want to play in. Not be unfortunate enough to miss out due to injury."
Reidy remains a key contributor for Limerick, starting the Munster decider and All-Ireland Semi-Final.
Staying cool and focused Reidy divides his time between city and country life. "I'm renting an apartment in Castletroy so I'm spending a bit of time between home and Castletroy," he says.
"We're farming at home so I do a bit of work. Some lads think I don't do anything – I'd like to disagree with them.
"It's nice to have that switch, to go out on the farm for an hour or two, leave the phone inside and switch off. Don't hear from anyone, go up the fields."
When Limerick call, Reidy is ready, willing, and able to deliver.