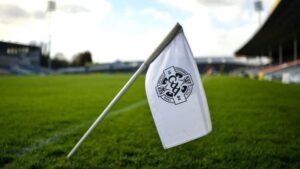 Croom G.A.A.
Play Online: https://www.lottoraiser.ie/Croom/
Weekly Lotto Draw
Next Week's Draw 3rd April 2023
No Jackpot Winner
€ 7,000
Croom GAA Clubhouse
Numbers drawn: 3, 8, 18, 19
Lucky Dips:
Josh & Harry, C/O AnneMaria Daffy Raheen;
Kathleen Cahill, Banogue;
The 3 Amigos , C/O Storan's Bar;
The Lynch Family , Croom;
Jerry Dunworth, Croom
#Croom_Results
Membership:
Membership can be renewed online at www.foireann.ie
As a player, if you are currently NOT a member and you incur any injuries, you will have to cover all costs including medical and loss of earnings yourself. The Player Injury Fund only covers registered members
The Munster/All-Ireland Championship begins in 4 weeks. Only members registered by Friday 14th April will be eligible to apply for tickets for the first round. All members registered before this date will get first preference on ticket allocation for future rounds.
Croom Bord Na nOg Notes:
2023 Season: Croom Bord Na nOg are looking for volunteers to help with coaching, organising team events, catering club events, organizing fund raisers, etc.., If you feel that you are able to help out in any way please contact:
P.J. O'Mahony 085 7161505 / Trevor Costello 087 0691023 or Breda O'Dwyer 086 8798219