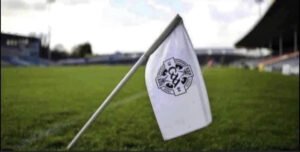 Crecora/Manister GAA Club Notes:
Intermediate Football:
On Saturday 26th August our Intermediate Footballers played their last group championship match against Castlemahon in Rathkeale.
We got off to a good start with us raising the white flag from the boot of Richard Murphy.
We kept the pressure on the Castlemahon defence which eventually paid off with a great pass from Sam Riordan into the path of Richard who tucked the ball into the corner of the net which left us 1 – 6 to 0 – 3 up at half time.
In the 2nd half both sides exchanged points but then we conceded two goals in a matter of minutes which left us 2 points down.
Our lads showed great character to get back level with Cormac Flannagan on the end of two valuable points.
The match ended level at 1 – 9 to 2 – 7.
Best wishes to Ciaran Heagney and Peter Boohan who are heading further afield.
Team: Ciaran Heagney, Peter Boohan, Tim Moloney, David Macken, Evan Moloney, Cormac Flannagan (0.2), Patrick Dolphin, Ciaran Cusack (0.1), Karl Moloney, Donnacha Connolly, Tomás Connolly, Sam Riordan, Richard Murphy (1.7), Sean Malone, Conor Kirby.
Subs Shane O'Connor, Francis, Shane O'Connell
Junior A Hurling:
After 2 weeks of football, the hurling championship resumed with 2 games on the bounce against Tournafulla and Templeglantine. Both games were high quality high scoring encounters with the outcome in doubt up to the end.
First up for us were Tournafulla, on Saturday 2nd September, a game which was played in Quaid Park Coolyroe in ideal conditions.
We held the upper hand in the first half and with points from Shane Moloney, Richard Murphy, David Power, Cathal O'Neill and Conor Kirby we established a half time lead with a scoreline of 0-18 to 0-11.
Tournafulla came back in the game early in the second half with a succession of scores.
Scores at crucial times from Mark Shanahan, Conor, Rian and Cathal enabled us to keep our noses in front but the lead was reduced to a point with time almost up.
One of the Tournafulla forwards broke through and bore down on goal.
He struck his shot well but Ger Kennedy pulled off a magnificent save to preserve our lead.
The final whistle blew shortly afterwards and we had secured our second win of the campaign.
Final score was 0-24 to 0-23.
Second up was Templeglantine on Saturday 9th September, which again was played in excellent conditions at the Bog Garden Rathkeale.
One factor which had to be managed was the sweltering heat on what seemed like one of the hottest days of the year.
There was a flurry of scores at both ends at the start of the game with Templeglantine having the slightly better of the exchanges and they established an early 2 point lead.
The game was keenly contested with both teams knowing a win was vital to stay in championship race.
We were unfortunate to lose a man to a red card midway the first half.
However, it inspired our lads to step up a gear and with Cathal O'Neill unerring from frees, a couple of points each from Chris Shanahan and David Power and a goal from Cormac Flanagan when he pulled first time on a ball on the ground, we reached the half way stage in the lead on a scoreline of 1-11 to 0-12.
Despite playing with 14 men, we continued to set the pace in the second half and pushed the lead out to 6 points by midway stage with points from Cathal, David, Rian O'Byrne and the hard working Shane Moloney.
Our defence was holding firm with Darach Skelly, Evan Moloney and Jack Dalton to the fore but Templeglantine gave themselves a lifeline with a goal which went in via a deflection.
The lead was now reduced to 3 points. Again, credit to our lads who stepped up their efforts.
The introduction of Brendan Power and Damien Kearney helped us to re-establish a foothold in the game and we finished strongly with points from Cathal, Cormac and Paraic O'Neill enabling us to close out the game on a scoreline of 1-27 to 1-19.
With one round of league matches to be played, we are in second place in the table on 6 points.
The top 2 teams qualify from each group.
We would like to take this opportunity to wish Ciaran Heagney the very best on his departure to Australia.
Squad : Gerard Kennedy, David Power, Jack Dalton, Tim Moloney, Paraic O'Neill, Richard Murphy, Darach Skelly, Shane Moloney, Rian O'Byrne, Cathal O'Neill, Chris Shanahan, Conor Kirby, Rob Henehan, Cormac Flanagan, Rory Hannan, Brendan Power, James Conheady, Donnacha Connolly, Damien Kearney, Ciaran Heagney, Ciaran Kennedy, Fergal Egan, Evan Moloney, Ciaran Humphreys, Shane O'Connor, Sean Malone, Sean Keyes, Ciaran Cusack.
Golf Classic:
The BreezeAir sponsored Crecora Manister GAA golf classic took place on Friday 8th September under glorious sunshine at a superbly presented Limerick Golf Club.
40 Teams lined out on the day with the following taking the prizes at the end of a long day !
1st- Padraig Byrnes, Cian Fitzgerald & Sean Malone
2nd- Cormac Flanagan, Ciaran Cusack & Ciaran Heagney
3rd – Kevin Donohue, Oliver O'Toole & Joe Hanly
4th – Tom O'Keeffe, Mark O'Keeffe & Ray Deering
Nearest the Pin – Gerry Keyes
Long Drive Ladies – Maria Walsh
Long Drive Gents – Conor O Brien
Many thanks to all the teams who played & the many local businesses & individuals who sponsored a tee box.
Also a big thank you to the organising committee who put huge work into making it a great success.
Upcomming Fixtures:
Mr. Binman Under 17 Hurling Division 3B
Caherline vs South Liberties / Crecora Manister
Wednesday 13th September 2023 at 6.30pm
Venue: Fr. Hayes Memorial Park
Mr. Binman Under 15 Hurling Division 3A
Crecora Manister vs Belville Gaels
Monday 11th September 2023 at 6.30 pm
Venue: Crecora
Mr. Binman Under 15 Football Division 4 Sheild
Coshlea Gaels vs Crecora Manister
Monday 11th September 2023 at 6:30pm
Venue: Staker Wallace GAA, Kilbreedy
Mr. Binman Under 13 Football Division 4 Championship
Crecora Manister vs Caherconlish
Thursday 12th September 2023 at 6:30pm
Venue: Crecora