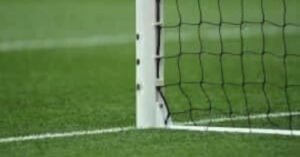 Crecora/Manister GAA Club Notes:
U15 Football Championship:
Crecora Manister vs Coshlea Gaels
Monday 17th April
In ideal conditions for football at Crecora pitch Crecora Manister under 15s, playing their second championship match secured their first win with a 0 – 5 to 1 – 1 victory on Monday night against a gallant Coshlea Gaels side.
It was a low scoring first half with Crecora Manister defending well, and Sam Collins getting the only score of the half, a fine point from play.
The second half was a much more entertaining affair with both teams playing well and digging in deep to try and secure a result.
Crecora scored 2 points from Sam Collins and Pierce Griffin before Coshlea Gaels got a goal back.
It was a nail-biting final 10 minutes with Crecora Manister getting another point, this time a well taken free from Daniel Gardiner only for Coshlea Gaels to equalise.
With the play ebbing and flowing and a resolute defence performing admirably, up stepped Sam Collins scored another point from play to secure the win.
This was a fine team performance all round considering we were down a good few players due to injury.
Some great individual performances as well from Harry Buckley and Daniel Woods, but well done to all the players, the lads who came out to encourage them on and thanks for the support.
CLUB Limerick Draw:
The first Draw of the 2023 CLUB Limerick draw will take place on Saturday 29th April.
Entrants will have the chance to win €10,000 and 28 Other Cash Prizes each month.
The STAR PRIZE for April is a Two Night Stay in An Grianan, set in the blissful village of Burt in the rolling Donegal Countryside. Renowned for its warm, Irish Welcome and friendly staff!
PLUS A €250 One For All Voucher
Thanks to all who have supported us by joining up the Draw.
We have many new Draw members, with the majority of the Draw member supporting this vital source of annual funding year in and year out.
The Draw can be entered online by going to the CLUB Limerick Draw website and choosing Crecora/Manister in the "select your club" section.
Best of luck!
Defibrillator Installed:
A new Defibrillator has been fully installed and commissioned at our all-weather facility.
This is a great resource for our GAA and Camogie Clubs, members of our walking club and all visitors to our facilities.
Thanks to our Club man, Ger Hickey of CE-TEK Medical for sponsoring this defibrillator.
Fixtures for the Coming Week:
U15 Hurling
Crecora Manister vs Knockainey
Monday 24th April at 7pm
Venue: Crecora
Junior B Hurling League
Crecora Manister vs Ballybrown
Monday 24th April at 7pm
Venue: Ballybrown
U11 Football
Crecora Manister vs Caherconlish
Tuesday 25th April at 6:45pm
Venue: Caherconlish
U17 hurling League
Crecora Manister / South Liberties V Askeaton
Wednesday 26th April at 6:45pm
Venue: Askeaton
Intermediate Hurling League
Crecora Manister vs Claughan
Wednesday 26th April at 7pm
Venue: Claughan
U13 Hurling Champ
Crecora Manister vs Dromin Athlacca
Thursday 27th April at 7pm
Venue: Crecora
U17 Football League
Crecora Manister vs na Piarsaigh
Sunday 30th April at 7pm
Venue: Caherdavin
Junior B Hurling League
Crecora Manister vs Caherline
Sunday 30th April at 7pm
Venue: Caherconlish
U16 Camogie League
Crecora vs Croagh Kilfinny
Wednesday 26th April at 6:30pm
Venue: Crecora
U14 Camogie League
Crecora vs Knockaderry/Ballyagran
Friday 28th April at 7pm
Venue: Crecora