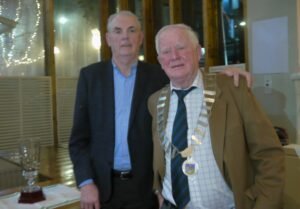 CLUB Limerick Dublin Notes:
Kilmallock's Harry Keane – Limerick Person of the Year 2023
Harry Keane has been named as the Limerick Person of the Year (Dublin) for 2023. The Kilmallock-native received his chain of office at the AGM of Club Limerick Dublin last Monday (27 Feb 2023), the first to be held since 2020.
There to make the handover was incumbent Willie Devitt from Doon, a Faughs clubmate of Harry. Treasurer of Club Limerick Dublin/Limerick Supporters Club from 1995 to 2020, Harry relocated to Kilmallock last year. A former executive with Aer Lingus, he has the distinction of playing for the national airline against the Vatican some years ago. Club Limerick Dublin Chair, Paul Stapleton commended Harry and added "if there are two words that typify Harry it would be passion and loyalty".
Present at the AGM was another Kilmallock-native, county board secretary Mike O'Riordan as well as county board treasurer Seán Burke and Club Limerick Chairman Seán Scanlan.
Caption: Harry Keane (right) Limerick Person of the Year (Dublin) 2023 with outgoing award holder Willie Devitt (2020-2022) from Doon.