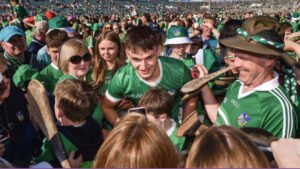 Cathal O'Neill enjoying Limerick adventure:
By Cian O'Connell
Cathal O'Neill made his first Allianz Hurling League start for Limerick in May 2021. At the time O'Neill was still in school and the match didn't go according to plan against Galway at Pearse Stadium.
Learning about high level sport and the relevance of respect and values, O'Neill's phone pinged later that evening.
"I remember in my first year, my debut in the league didn't go too well up in Salthill, I remember Darragh O'Donovan sending me a text that night," O'Neill recalls.
"It meant a lot, something small like that, it isn't massive on him, but it means an awful lot to a young fella at the time. Stuff like that and you always want to make younger guys feel welcome. It is passing on the baton that way."
Any emerging player entering the Limerick set-up is surrounded by decorated hurlers, who have sampled glory in the green and white jersey under John Kiely's shrewd guidance. So there is an undoubted challenge to deliver, to maintain standards.
"A lot of the lads came in when they weren't successful so we are in a privileged position now a few of us, Adam (English), who came on the last day, myself, Colin (Coughlan) and a couple of the younger lads, we are privileged to be part of such a grounded group that is being successful at the moment," O'Neill acknowledges.
"The lads around us are very good, they are helping out young lads coming in, they are making them feel welcome.
"That is one of the strengths of the group, John always talks about making everyone feel welcome and encouraging everyone. For a young fella it does take time to adapt to the inter-county scene. They are very good at making us feel welcome and at home."
Courage and commitment is required, but there is joy in the journey – Kiely makes sure that sense of fun and adventure exists. "I think John, Caroline (Currid), and Paul (Kinnerk) place a big emphasis and significance on the enjoyment factor because you have to.
"If you don't enjoy it, you aren't going to perform. It is as simple as that. You are spending so much time going to the gym, worrying about your diet, training, that you have to enjoy it to get the most of yourself. You are only going to play well if you are enjoying it. So it is very important."
Being able to switch off is vital too according to O'Neill. "It is something I'm learning," he says. "When you are a younger player you are so into it, you are so intrigued about the whole thing. Golf and stuff, a few of the younger lads are getting into it.
"You are always going to have your ups and downs, like any player in sport. You just try to keep as consistent as possible, not to get too high with the highs or too low with the lows. That is important."
Kiely's background as a secondary school principal is helpful too. "100 per cent, he is aware, working with younger people, of the challenges of being an 18, 19 or 20 year old trying to break into the panel," O'Neill replies.
"With stuff like that he is very good, he is the most successful Limerick manager, so his record speaks for itself. He is very good at coping with the younger lads and everyone on the panel."
During an electric Munster Final, O'Neill contributed handsomely as a substitute in the closing stages. "It was brilliant now, especially the way it finished," he recalls. "The victory was sweet enough and the fact that we did it in front of our own fans too, definitely it was a special one.
"It was class, shooting into the Limerick supporters added an extra special buzz. It was a brilliant occasion.
"The Munster Championship this year was an absolute bear pit. It was just so competitive, week on week for six weeks. It is nice to catch your breath for a few weeks, to train hard obviously, I think it is nice to get a break and go at it again."
That connection between the Limerick team and supporters was evident once again. "They are definitely great supporters, they have shown that at times, they showed it in the Munster Final," O'Neill says.
"It is something that will live long in the memory, the supporters flooding in. The players and supporters were all as one. It is just special, Limerick were crying out for so long for a bit of success.
"Thankfully we have been successful for the last few years and hopefully we can keep giving ourselves opportunities like going back to Croke Park, to give them something to cheer about." An All-Ireland SHC Semi-Final against Galway is next on the agenda.