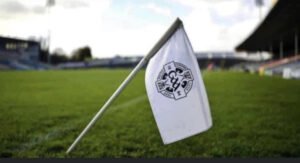 Bruree GAA Club Notes:
Result:
Junior B South Football championship:
Bruree 3-11 Galbally 1-9
Bruree GAA and Community Lotto:
The lotto was held on Monday July 10th. The numbers drawn were: 5,12,16,17. As there was no winner, there was a lucky dip.
€50 David Curley, Bruree Seller ONLINE | €25 Sean & Kevin, Bruree Seller Sean O'Connor | €25 Helen Cussen, Bruree Seller Kit O'Halloran | €20 Birdie O'Rourke, Bruree Seller Birdie O'Rourke | €20 Leah, Aine & Caoimhe Prunty, Bruree Seller ONLINE | €20 Hazel Murphy, Charleville Seller Frankie Finn
Lotto:
The next lotto will take place on July 17th. The jackpot is now €5800. Tickets can be purchased from our lotto promotors or online at www.brureegaa.com/draws. If you would like to receive the results on a Monday night, then you can install our club app which has all information.
Historical pieces:
Some old reports from games in 1951, 1966, 1978, 1982 and Bruree Camogie in the 30's are up on our club app. The aim is to add more articles as we go along. If anyone is interested in a reading these then you can install Clubzap app on your Android/Apple phones and look for Bruree GAA or you can send a text to 0861736608 and ask for a link to be sent to your phone.
Club Limerick Draw 2023:
The last draw took place on June 23rd, unfortunately we had no winners but a sincere thanks to all who joined. Nine more draws to come with fantastic prizes Best of luck to all who have joined. Joining this draw is of huge benefit to the club and you can join at any time. It is €10 per month with €5 going to Bruree GAA. Each month there is a €10,000 prize plus twenty-nine additional cash prizes each month and one Star Prize. The next draw will take place on Saturday 29th of July. To join or get more details visit www.clublimerick.ie/draw Or contact any Bruree GAA Club Officer. Select Bruree GAA as your club.