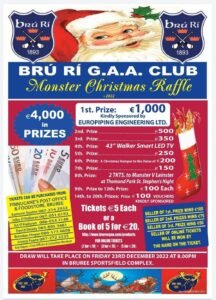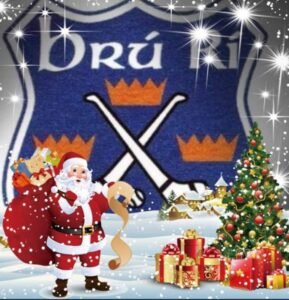 BRUREE GAA & ROCKHILL /BRUREE COMMUNITY LOTTO:
Bruree GAA & Rockhill/Bruree Community Lotto was held on Monday 19th December. The numbers drawn were 2 – 12 – 20 – 24. We had no Winner. The Christmas lucky dip winners are as follows.
€100- Matthew O'Halloran Newport
Seller: Kit O'Halloran
€100 – Mary Feane Bruree
Seller: Jimmy Feane
€100 – Noreen Clancy
Seller: Online
€50 – Evelyn O'Dea Bruree
Seller: Eamon O'Dea
€50 – Darren Murphy Dublin
Seller: Danny Deady
€50 – Breda Buckley C/O O' Learys
Seller: Dano Byrnes
€50 – Vincent Daly Kanturk
Seller: Kit O'Halloran
€50 – Dominic Enright Broadford
Seller: Eamonn Sexton
€50 – Michael Curtin
Seller: Online
Congratulations to all our Christmas lucky dip winners. There will be no lotto on Monday 26th December. The next club lotto draw will take place on Monday Night 2nd January 2023 at 9.00pm in Bruree Community Hall. All tickets must be in by 8.30pm.
The Jackpot will be €2,900. If there is no Jackpot winner there will be 6 Lucky dips to be won on the night. Lucky dips are 1 x €50, 2 x €25, 3 x €20,
Tickets can be purchased from our lotto promotors so if you would like to support our draw, you can contact them directly to support or contact the club lotto coordinator Brendan Hogan on 086-1736608. Tickets can also be purchased online at www.brureegaa.com/draws
Cut off point for online lotto is 7.00pm Monday evening 2nd January 2023.
We thank everyone for their continued support all year it is truly appreciated. Bruree GAA & Rockhill/Bruree Committee lotto would like to wish everyone a Happy Christmas & a peaceful & safe New year.
CLUB LIMERICK DRAW 2022 🇳🇬🔵⚪:
The Club Limerick Draw for 2022 is finished. We would like to sincerely thank everyone who joined the draw. To all involved in collecting money we thank ye so much for yer continued good work. As you know half of money comes back to the club. This will help with the cost of running the club for the 2023 season. We look forward with you all to the 2023 Club Limerick Draw. Thank you.
BRUREE GAA AGM 2022 🔵⚪
Bruree GAA will hold its Annual General Meeting on Monday, 16th January 2023 at 7:30pm in Bruree Community Hall. Club Secretary David Deady will send forms for motions and nominations for positions to all members by email in the coming days. If you require a physical form to be posted to you, just reach out and let me know thanks.
BRUREE GAA CLUB GEAR🔵⚪
With Christmas just around the corner why not check out our Bruree GAA Club gear which can be purchased from O'Neill's Sports. There is a wide range of Bruree GAA gear available for adults and kids. A Wonderful gift idea for a family member or a friend home or abroad.
Go to www.oneills.com
TYPE IN BRUREE GAA
BRU RI GAA MONSTER CHRISTMAS RAFFLE 2022:
🎅🏻🎄🎁🎉🎊⛄🎅🏻🎄🎁🎉🎊⛄
This Years Bru Ri GAA Monster Christmas Raffle Draw has €4,000 In Prizes. We have Fantastic Cash prizes to be won as well as prizes like a 43" Smart LED TV & 2 Tickets to see Munster v Leinster in Thomond Park on St. Stephens Night.
The ✨1st Prize is an incredible €1,000 and this is kindly sponsored by Owen & Judy Tobin of Europiping Engineering Ltd. We thank Owen & Judy so much for this, it is truly appreciated by all in Bruree GAA.
✨2nd Prize: €500
✨3rd Prize: €350
✨4th Prize: 43" Walker Smart LED TV
✨5th Prize: €250
✨6th Prize: Hamper To The Value Of €200
✨7th Prize: €150
✨8th Prize: 2 Tickets to Munster v Leinster at Thomond Park on St Stephen's Night.
✨9th Prize to 13th Prize: €100 Each
✨14th To 20th Prize: Vouchers Kindly Sponsored To The Value Of €100
🎅🏻FOR ONLINE TICKETS VISIT🎄 http://www.brureegaa.com/products
2 Tickets For €10
3 Tickets For €15
5 Tickets For €20
TICKETS FROM CLUB
€5 Each
5 For €20 (1 Free Ticket)
Tickets Can Be Purchased From: Finucane's Post Office/Foodstore Bruree, The Players & Club Officers, & Committee Members. Tickets will be distributed over the coming days.
Bru Ri GAA Christmas Fundraising Team 🎅🏻🎄🎁🎊🎉⛄
Eamonn Sexton 087-3142932
Brendan Hogan 086-1736608
John O'Halloran 087-0516192
Kit O'Halloran 086-0537146
David Deady 083-8953481
Jimmy Feane 087-2722235
⭐We also have Sellers prizes⭐
🎅🏻Seller of the 1st prize wins €100
🎅🏻Seller of the 2nd Prize wins €75
🎅🏻Seller of the 3rd Prize wins €50
🎅🏻Seller of online tickets will be won by the name on the ticket.
Tickets are selling very fast. The Monster Christmas Raffle Draw Will Take Place this Friday 23rd December at 8.00pm In the Bruree Sportsfield Complex.
A huge thanks to you all for your continued support. We Wish everyone the very best of luck. Bruree GAA Club Officers would like to wish everyone a Very Merry Christmas and a Happy And Peaceful and Safe New year.
Bru Ri Abu 💙🤍
🎅🏻🎄🎁🎉🎊⛄ 🎅🏻🎄🎁🎉🎊⛄