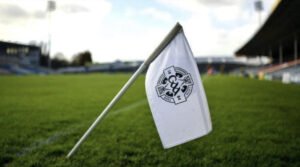 Blackrock GAA Club Notes:
Lotto:
13th April; no winner – numbers drawn 12 17 20 21
€40 lucky dip; Ted Danaher, Promotor Con Danaher
€20 lucky dips; Jack and Lily Moloney, Promotor Monica Moloney, Patricia Roche, Promotor Brendan O Brien, Teresa Carroll, Promotor Centra, David Gleeson, Promotor Breda Walsh
Lotto; 20th April; no winner – numbers drawn 17 18 20 29
€40 lucky dip; Mike McAulliffe, Promotor Brendan O Brien
€20 lucky dips; Seamus Nunan, Promotor Brendan O Brien, Declan O Brien, Promotor Brendan O Brien, Marie Burke, Promotor Fintan Leahy, Denise Weekes, Promotor Carmel Murphy.
The Jackpot remains at €13,000.
Results:
Over the last few weeks, we have had losses to Bruff and Kilmallock in the Senior league and to Bruree in the Junior league.
Fixtures:
Senior league V Glenroe on Tuesday 25th in Kilfinane at 6.45, Junior league V Staker Wallace 7th May.
Congratulations:
To Sean O Neill who started for Limerick V Tipperary U20 hurling on Friday last, Rosie Quilty Ellen Meehan and Claire Power who beat Clare to reach the Minor Camogie Munster final, Grace Fitzgerald, Chloe Beechinor, Jane O'Dwyer and Maeve Power who were part of the U16 B team who played Cork in the Munster final. Jamie Bequiri who played on the Primary Game team v Waterford on Sunday, and Jimmy Quilty who is part of the Limerick Senior hurling panel who played Waterford on Sunday. Congratulations to the Limerick Senior hurler with victory over Waterford.
Well Done:
Well done and best wishes to all our boys and girls playing with county teams currently.
Best wishes; to Sean O'Neill and the Limerick U20 hurlers v Cork on Friday night 28th and to Jimmy Quilty and the Senior hurlers v Clare on Saturday 29th.
Sports Capital Grants:
The first part of our Sports Capital Grant has been completed with the installation of Astro turf surfacing on the hurling wall. It looks fantastic and is already a hit with the players young and old. We also resurfaced the goal mouths with Astro turf. Well done and thanks to Maura Quane who oversaw the project.