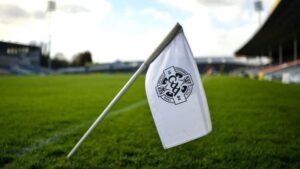 Blackrock GAA Club Notes:
Lotto:
There was no winner of the club lotto; numbers drawn 2 18 20 24. €40 lucky dip Jimmy Quilty Jnr, Promotor Carmel Murphy, €20 lucky dips Dave O Flaherty Promotor Fintan Leahy, Joan Quinn Promotor Breda Walsh, Martin Hennessy Promotor Brendan O Brien, Pauline Kenneally Promotor Centra. Jackpot remains at €13,000.
Membership:
We appreciate all who have chosen to be members of Blackrock GAA in the past.
Membership is compulsory for;
• Players cannot play without being a member of the club, an individual player has no insurance without being a paid up member and cannot take to the field.
• Officers and officials, trainers etc. cannot be involved in the club without membership and the relevant insurance cover needed for active members. This includes all trainers officers etc of Bord na nOg.
• Social membership; for use of the walking track or gym which are under the GAA insurance, all people who use these facilities need social membership.
Membership is not compulsory for;
• Supporters and general public – do not require membership unless they want to be in a draw for tickets for Limerick matches when demand ensures there will be a draw. However we appreciate the support. All draws for tickets are member only.
LGFA players – require a LGFA membership.
There is also a membership/lotto offer which needs immediate attention.
All memberships close on 31st March. This is the closing date for all GAA clubs and is strictly enforced.
Well Done:
Well done to all the Limerick teams over the last week, wins for the U18's, U20's and Senior Limerick hurlers, with Sean O Neill playing with the U20's, and the U16, Junior and Senior Camogie teams, with Laura and Katie O Connor with the Junior team, Claire Power, Ellen Meehan and Rosie Quilty with the Minors, and Eimear O Donovan with the u16's all from the Blackrock Effin Camogie teams.
Fixtures:
All County leagues commence next weekend, the Premier Intermediates have a bye and the Junior A team play Bruree on Sunday night the 2nd in Kilfinane at 6pm. Over Easter the Prem Intermediates play Garryspillane in Knocklong and the Junior A's play Ballyagran in Ballyagran, details to follow.