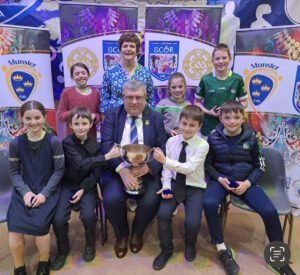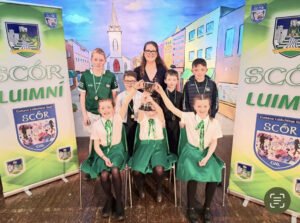 Banogue GAA to Contest All Ireland Final:
It is a headline you would seldom so it makes it all more sweet.
Yes. This Saturday May 6th 2023 this wonderful group of young performers will compete in the 2023 All Ireland Scór na nÓg Nuachleas competition in the amazing venue that is the INEC in Killarney & we are so proud of them.
They are the sole Scór Luimní representatives on the day and what fantastic representatives they are. Despite being so young this group entertained us at their local Scór competition , had us in howls of laughter at the County final , impressed us very much at the Munster semi-final and literally bought the house down at the Munster final in Ovens.
And it is well deserved as Banogue were the only club not only in the county but also in the PROVINCE of Munster to hold a local Scór in the 2023 season.
A local competition is the most important night in the Scór season – this is where we bring friends , family , club members and local supporters together to celebrate all that is Irish.
Scór Luimní were delighted to have been there on that first night where not only did you have representatives in all 8 competitions but competition within the competitions as well . A true local event – and it seems only fitting that you now make your All Final appearance.
And all this from a small rural club (or pocket parish) as someone calls them , who only made a return to Scór in 2022. Your enthusiasm has been evident and your participation has added a much needed injection of "new blood" new ideas and new energy into the county.
We are in awe of you. Congratulations.
Of course this is not Banogue's first All Ireland final appearance. Way back in the early 90's Muirne Liston competed in the Solo Singing competition at juvenile level after taking the Munster title. While in 2012 their Scór Sinsear Ballad group took the Munster crown and competed in the 2012 All Ireland final again in the INEC. Incidentally once member of that group is the current Limerick Cultural Officer Veronica Twomey Callinan !
As they say 3rd time apearance is lucky !!!
To Seamus, Ella , Kathleen . Rowan , Rory , Saoirse & Tomas – we wish you the very best of luck on Saturday. Go out do your best and after that you can do no more.
The most important thing is to enjoy the whole experience. Getting to an All Ireland final is never easy and it only happens to a small number of people – ENJOY this experience – soak it all up – be proud – make memories – make friends that is what Scór is all about.
It would be amiss if we didn't mention their mentors who have done trojan work getting to this level so to Evelyn Ryan , Mike Larkin & Mary Liston – THANK YOU from all of us at Scór Luimní.
Best of luck Banogue – the county is behind you.
HON BANOGUE
#luimneahcabu
#GAABelong
#scórnamumhan
County Final Pic 1
Munster Final Pic 2