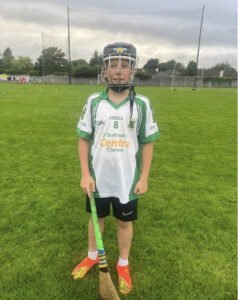 Ballybrown GAA Club Notes:
Family Fun Day:
Great Fun was had yesterday at the Family Fun day. As you can see from the photos we had a huge mix of ages at all the activities. Thankfully the weather did its best and held up pretty good. We were delighted to welcome our Ukrainian neighbours who took part in all the activities even the long Puc. Many thanks to Mick who was our compère for most of the afternoon – only handing over the reigns to Conor out of necessity. Thanks to Q3 and Brian O'Sullivan who sponsored the trophies, medals and vouchers. Thanks to Catherine and her staff for keeping the bar going efficiently as always. Thanks to Hack for parking up the lorry for "Hang with Hack". I think 5 mins was the record by the juveniles which meant the adults didn't attempt it- 5 seconds wouldn't have looked quiet as impressive. Thanks to the BBQ team for staying all afternoon and helping to keep everyone fed. Biggest thanks has to go the the Juvenille committee lads – as always this took a number of days to set up and then all of their time yesterday- it was a non profit day just to give families a day out and I think it was very successful- Hopefully it will be an annual day at the start of the summer.
Good Luck:
To Aidan & Colin and the Limerick senior hurling team in the All Ireland next Saturday. Be sure to get your flags and bunting out to show the lads our support.
Congratulations to Daniel who became the first Ukrainian to play for Ballybrown after lining out for the u11's Tuesday evening v's Monaleen. A big welcome from all of us to Daniel and his family to the club.
Congratulations:
To the U14 lads who won the football league league final last Thursday night.
Coffee Morning:
Marguerite Quinn is having a coffee morning next Thursday 6th in the GAA clubhouse bar @10 a.m.to raise some funds and awareness about visually impaired tennis. Marguerite has made the Irish team and along with 7 others and is heading to Birmingham on August 21st to represent Ireland in the world blind games. We wish Marguerite the Very Best of Luck and hope you can pop up to support the coffee morning
Lotto Update:
Lotto on Monday 26th June – 3,4,29,32 B22. Next Week's Jackpot is €6,200. Be sure to get your tickets from The Clubhouse Bar, Hayes or local sellers.
Summer Bar Opening Hours:
** Monday to Thursday- 7p.m to 11.30 p.m. Friday 6p.m. To 12.30 p.m.
Saturday 6p.m to 12.30 p.m. (subject to change dependent on sporting fixtures). Sun 6p.m. to 11p.m (subject to change dependent on sporting fixtures)
Club Jerseys:
New updated Club jerseys are available to purchase through O'Neills NOW.
CLUB Limerick:
The Club Limerick Draw continues in 2023. There are 14 prizes in the draw, the top prize being €10K. By joining this draw, you are also contributing to Ballybrown Gaa Club so check out
Keep in Touch:
With us on Facebook: https://www.facebook.com/324869034297818/photos/885117041606345/ Twitter: BALLYBROWN@Bailebrun2014 E-Mail: Pro.ballybrown.limerick@gaa.ie or WEBSITE: www.ballybrowngaa.com