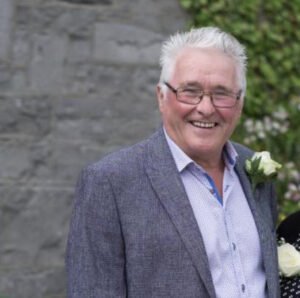 Ballybrown GAA Club Notes:
5th May 2023. Paddy McCarthy. RIP.
Ballybrown GAA Club would like to express its condolences to the family of the late Paddy McCarthy from the Carrig East and Tervoe area of Clarina. To his wife Catherine and sons and daughters Paul, Mary, Patrick, Leona, John and Conor and all his grandchildren who he loved dearly and equally. Paddy came from a large family himself with several brothers and sisters. He
would also have a large extended family of cousins and in laws.
Mick Roberts has written these words about his great friend Paddy 🇳🇬💚
Paddy's father James was very involved in Ballybrown GAA at team management and club officer level, so Paddy and his siblings grew up in a house that had hurling and farming as part of their daily lives, particularly during the summer months. Paddy received his education in Tervoe Boys school, but after 6th class he would have stayed at home to work the farm rather than going onto Secondary school. There are plenty of pictures of Paddy and Ballybrown GAA Club which feature in copies of the local Ballybrown journal. To give 2 examples was the 2005 journal which has Paddy as a supporter of a 1965 junior Hurling team on page 118. Paddy, Kieran and Charlie were part of the successful 1967/68 junior hurling team themselves. His interest in Ballybrown and Limerick hurling continued as his family got bigger and older. In 1986 a picture was taken of a group to organise the building of the new clubhouse and bar which opened in 1987. This photo is on page 209 of the 2022 journal.
Paddy featured in a newspaper article in I think late 1970's promoting Mazda cars to the farming community as he had just purchased one. Paddy was one of the five trustee's of Ballybrown Youth Field Project who as part of a larger committee from various local groups purchased land on Ballybrowns Church Road to develop a new field. Money was collected under a life membership subscription. He also played a big part in the running of the GAA Club lotto which started in the late 1980's. Paddy continued his involvement throughout the 1990's. After a bit of a break from club affairs, he became involved again in the early 2010's. He became club vice chairman from 2016 to 2022. He filled in as club chairman in the latter half of 2020. He was the club Limerick draw contact from 2017/18 to 2022. Ie the Mackey Draw.
Throughout his club involvement, Paddy with Catherine's help gave tireless service to Ballybrown GAA in both fundraising and also helping with the general maintenance of fields and carpark. Ballybrowns adult Hurling teams prior to Senior Hurling Championship games liked to have a cup of tea and a sandwich at the last training session prior to a big game. Paddy with some help from Catherine would organise the making of sandwiches and large apple tarts and cream which he loved to slice and serve himself in the hall or dressingroom. Players will have fond memories of those evenings.
Paddy was a colourful character and loved people. He loved the big occasion, be it matches, dances or concerts. As Paddy took a slightly lesser role on the farm, both Catherine and Paddy gave themselves more time to enjoy life. The might go to Lisdoonvarna for 2 or 3 days dancing. Or a week or 10 days in Fort a Ventura on the Canary Islands in September. Maybe to a regular dance in the Woodlands or Newcastlewest. Or a couple of days in Milstreet or Ballybunion. I think he went to some big concert by himself in Croke Park only a couple of years ago.
Similar to others in our club, Paddy's hard work and vision has given bigger opportunities on the playing fields to the younger people of Clarina who he lived for. Paddy took responsibility for the area that he came from. Throughout the years his involvement included Ballybrown GAA, Ballybrown Pioneers, Ballybrown Community Council. He organised 45 drives in the community centre. As Chairman of Ballybrown Fianna Fail Cumann, he helped people with local issues, and canvassed with local and national politician's seeking election. He was someone that people could turn to for help when a tough situation might arise in their lives. He was often the man needed to make the peace between parties. Although he was know to stir up a good debate too with a controversial comment.
Paddy will be greatly missed for his charisma, stylish dress sense, his decency to others and the great generosity of his personal time. He cannot be replaced, but we can only hope that the good things that he stood for can pass on to future generations.
Paddy, you have had a big impact on this world and on those who knew you. Your greatest legacy is your large family and large circle of friends, who can take inspiration from your hard work and good deeds.
Ar dheis de go raibh a anam dilis.
Lotto Updates:
Lotto on Tuesday 2nd May5,11,12,29 B13. Next Week's Jackpot is €4,600. Be sure to get your tickets from The Clubhouse Bar, Hayes or local sellers.
Bar Opening Hours:
Monday to Thursday- 8p.m to 11.30 p.m. Friday 7p.m. To 12.30 p.m.
Saturday 6p.m to 12.30 p.m. (subject to change dependent on sporting fixtures). Sun 6p.m. to 11p.m (subject to change dependent on sporting fixtures)
Club Jerseys:
New updated Club jerseys are available to purchase through O'Neills NOW.
CLUB Limerick:
The Club Limerick Draw continues in 2023. There are 14 prizes in the draw, the top prize being €10K. By joining this draw, you are also contributing to Ballybrown Gaa Club so check out
Keep in Touch:
With us on Facebook: https://www.facebook.com/324869034297818/photos/885117041606345/ Twitter: BALLYBROWN@Bailebrun2014 E-Mail: Pro.ballybrown.limerick@gaa.ie or WEBSITE: www.ballybrowngaa.com