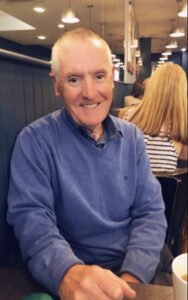 Ballybrown GAA Club Notes:
Good Luck:
The Very Best of Luck to Bobby & Jamie and the Limerick U20 footballers Vs Cork on Monday night in their semi Final. Also to James Coughlan, Evan and the minor team on Tuesday night Vs Tipperary.
Well Done:
To Harry, Alex, Darragh and Aaron who were at the dog track last Saturday for the Puc & Cic Fada at the Con & Annie Kirby Memorial.
Con & Annie Kirby Memorial:
"Singalong Eimear" had her last run in the memorial last Saturday night. We thank the McManus family for allowing us to participate in the chance to win. Always great fun and We appreciate all the work. #kirby2023
CLUB Limerick:
The closing date is fast approaching for the renewal of the Club Limerick draw for the first draw for 2023.Thank you to those who have renewed already.For those that still have to renew online we really do appreciate that some may not be in a position to renew but for those who can, we would ask you consider doing so as 50% of the monies paid goes directly to the club and these monies are needed now more than ever for the projects we are committed to for the club and it's members
WWW.clublimerick.ie/draw Thank you
Condolences:
Ballybrown GAA Club are very sad to hear of the sudden passing of Patrick McNamara, better known as Packie Mac of Tervoe Clarina. We offer our condolences to Bryan, James, their families and all the McNamara family and friends.
Packie was a twin to his sister Ann. He was a proud father to Bryan and James. He was very proud of all his family and loved his grandchildren very much. Packie lived in Tervoe, just alongside the old boys school. He was a very hard working employee of Irish Cement Ltd.and took great pride in his job. He retired from the factory in late 2010. He was a very tidy and clean worker and had his own house and garden in perfect condition. Packie often worked a shift behind the clubhouse bar and was a great man to pull a pint. He also helped with the club lotto every Monday night for several years. He was always available to support the Club when called upon. In Nov. 2015 he was one of the 24 in the club, who won a share of over €192,000, when five numbers and one lucky star came up in the euromillions draw. Packie was part of a band at one stage, and as well as being a good drummer, he had a very entertaining singing voice. He loved to sing a couple of songs at the annual senior citizens Christmas party in the clubhouse. He was also one of the organisers and entertained at the retirement Christmas party for Irish Cement Ltd. workers which was held every Christmas. During his lifetime he had to deal with a couple of major health incidents, which he fought bravely and recovered from. He was a very organised, a very exact and very dependable man. He was very kind and generous and will be sorely missed by his family and friends and all who knew him in Ballybrown GAA and the local community ( tribute by Mick Roberts)
https://rip.ie/…/patrick-paki-mcnamara-clarina…/532175/
Ar Dheis de go raibh a ainm.
Bar Opening Hours:
Monday to Thursday- 8p.m to 11.30 p.m. Friday 7p.m. To 12.30 p.m.
Saturday 6p.m to 12.30 p.m. (subject to change dependent on sporting fixtures). Sun 6p.m. to 11p.m (subject to change dependent on sporting fixtures)
Lotto Updates:
Lotto on Monday 11th April-6,9,20,21 B13. Next Week's Jackpot is €4,000. Be sure to get your tickets from The Clubhouse Bar, Hayes or local sellers.
Club Jerseys:
NEW updated Club jerseys are available to purchase through O'Neills NOW.
CLUB Limerick:
The Club Limerick Draw continues in 2023. There are 14 prizes in the draw, the top prize being €10K. By joining this draw, you are also contributing to Ballybrown Gaa Club so check out
Keep in Touch:
with us on Facebook: https://www.facebook.com/324869034297818/photos/885117041606345/ Twitter: BALLYBROWN@Bailebrun2014 E-Mail: Pro.ballybrown.limerick@gaa.ie or WEBSITE: www.ballybrowngaa.com.