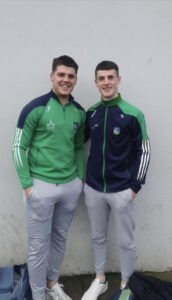 Ballybrown GAA Club Notes:
Club Players:
Plenty of participation from our Club members this weekend representing the Club at Colleges, University and County Levels. Its always great to see our young people represent us – Its a proud time for their families and the Club
– Congratulations to Colin Coughlan and his UL teammates on winning the Fitzgibbon Cup last Saturday in Waterford. Colin adding a score to the board.
– Congratulations to Bobby Smith & Jamie Behan out with the U20 Limerick Footballers Vs Clare on Saturday also. Bobby scored one of the 2 points from play for Limerick
– Congratulations to @MIC St Patricks Campus Hurling Team on winning the Ryan Cup v TUD in Waterford. Ballybrown represented by Harry Hannan on the panel
The Goals in both fields have just been reseeded/repaired for the coming season. Can we please ask all members to stay out of goal areas for the coming weeks to allow these repairs to work.
Congratulations:
Congratulations to JP McManus who is to become Limerick GAA Honorary Life President. A well deserved honour for JP McManus in recognition of the support he gives his county both on and off the field of play.
Membership:
Membership rates for 2023 is now up on Foireann and available to pay. Find them on this link https://www.foireann.ie/clubs/16e6a332-6dd7-d868-cbc9-26602a611159?#membershipOptions **Should anyone need help with Foireann ring Anne 087 2872853
Staff:
Staff Wanted for the Clubhouse Bar. Contact Catherine in the bar or send your CV to catherinehall1998@yahoo.ie
New Bar opening hours:
Monday to Thursday- 8p.m to 11.30 p.m. Friday 7p.m. To 12.30 p.m.
Saturday 6p.m to 12.30 p.m. (subject to change dependent on sporting fixtures). Sun 6p.m. to 11p.m (subject to change dependent on sporting fixtures)
Lotto Updates:
Lotto on Monday 13th February -10,11,17,31 B4. Next Week's Jackpot is €4,800. Be sure to get your tickets from The Clubhouse Bar, Hayes or local sellers.
New Club Jerseys:
New updated Club jerseys will be available to purchase through O'Neills NOW.
CLUB Limerick:
The Club Limerick Draw continues in 2023. There are 14 prizes in the draw, the top prize being €10K. By joining this draw, you are also contributing to Ballybrown Gaa Club so check out https://clublimerick.ie/draw
Sponsors:
O'Sullivans Centra Clarina sponsor Ballybrown Juvenile Club and Q3 Security Systems sponsor Ballybrown Gaa Senior club. Please support them where you can.
Keep in Touch:
With us on Facebook: https://www.facebook.com/324869034297818/photos/885117041606345/ Twitter: BALLYBROWN@Bailebrun2014 E-Mail: Pro.ballybrown.limerick@gaa.ie or WEBSITE: www.ballybrowngaa.com