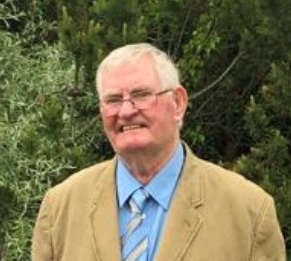 Condolences:
Ballybrown GAA Club would like to express its condolences to Pat Gavin our chairman & Mark Gavin our juvenile secretary and the extend Gavin family on the death of their dad John RIP – President of the Club and former Chairman. Our thoughts and prayers are with you all at this sad time
-It is with great sadness that all in Ballybrown GAA and the wider community in Clarina have learnt of the passing of John Gavin.
He was for the last couple of years the President of Ballybrown GAA club and held the position of club Chairman from 2001 until the club AGM in October 2009.
John was himself born in Newtown Clarina and was married to Maura who was from Castleconnell.
The family home is on the road between Hayes Shop in Tervoe and Bolands Cross in the area known as Corbally. John and Maura reared 8 children, 4 boys and 4 girls. John worked for over 20 years in the local Cement Limited Factory alongside Mungret village. Part of the benefit of working in the cement factory was the option that a lot of local families had in being able to holiday in the Cement Limited owned mobile homes in Ballybunion. Johns and his wife Maura and their children and indeed some of their older grandchildren spent part of their summers down there. Of course during those summers, they would have also have had to go the underage GAA training and club matches and also make time to go to Limericks Munster Championship matches.
In 1998 Maura aged 55 years passed away and was a cruel blow for John and his 8 children and at that stage about 4 grandchildren. Around this time John got involved in the Gaa club and served as Vice Chairman for a couple of years before becoming Club Chairman in 2001, a position that he held until the AGM in October 2009. During this time the development of the Ballybrown Youth Field Project was a huge part of what was going on in the club.
While there were several people involved in fundraising for the overall project, both John Gavin and John Hayes worked tirelessly to make the project a success. They both worked to get grants from different sources to get that new field and dressing rooms to where it is today. It took bravery and determination.
John Gavin was a hardworking, honest and fair man.When the going got tough which it did from time to time, he was not a man to turn his back and walk away. The hurling wall in the old field was another project that was constructed during John's term as Chairman. There are large numbers of children,teenagers and young adults both male and female who now enjoy the benefits of John Gavins vision and hard work. Our way of life in Ballybrown is greatly influenced by John and the people around him at that time. He will not be forgotten by those who knew him.
We will not forget you John for your straight approach to life and your honesty and h ard work. and we are proud to have known you.
Ar dheis de go raibh a ainm dilis.
(Tribute: Mick Roberts )
AGM:
Ballybrown Senior GAA Club AGM will take place on Friday 20th January at 8pm in the Hall. We would like to see a big attendance.
County Player:
Aidan O'Connor called into the Limerick squad this year played his first Senior Match on Sunday Vs Cork. He scored 2 points from play on the day. Wishing Aidan the Best of Luck for the season ahead.
Lights Up:
The LGFA Mothers and others group have decided to join in Ireland Lights Up. The plan is to meet every Wednesday starting this week at 8pm at Mungret Church. BUT you can also do the walk in your own time and register your steps. Download app, enter details and register under Ballybrown LGFA. Every step counts & best of luck to everyone. ALL WELCOME
Lotto:
Lotto on Tuesday 10th January – 2,19,25,29 B21. Next Week's Jackpot is €3,800. Be sure to get your tickets from The Clubhouse Bar, Hayes or local sellers.
Club Jersey:
New updated Club jerseys will be available to purchase through O'Neills NOW.
CLUB Limerick:
The Club Limerick Draw continues in 2023. There are 14 prizes in the draw, the top prize being €10K. By joining this draw, you are also contributing to Ballybrown Gaa Club so check out https://clublimerick.ie/draw
SPONSORS:
O'Sullivans Centra Clarina sponsor Ballybrown Juvenile Club and Q3 Security Systems sponsor Ballybrown Gaa Senior club. Please support them where you can.
Keep in Touch:
with us on Facebook: https://www.facebook.com/324869034297818/photos/885117041606345/ Twitter: BALLYBROWN@Bailebrun2014 E-Mail: Pro.ballybrown.limerick@gaa.ie or WEBSITE: www.ballybrowngaa.com