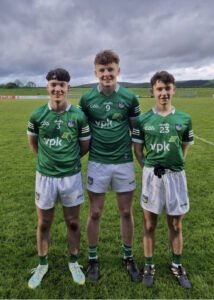 Athea GAA Club Notes:
County Minor Football Championship:
Congratulations to our Athea Boys Callum, Evan and James and the rest of the Limerick team and management who are phase one champions of the Munster Minor Football championship following a 1-9 to 1-6 win over Tipperary in Mallow on Thursday evening last in front of a large crowd of proud supporters from Athea. Limerick will now play neighbours Kerry in the Munster Minor semi final on Thursday evening May 18th in Newcastle West at 6.45pm. Tickets must be purchased in advance. The link for tickets can be found on our Facebook page.
Clothes Collection:
Many thanks to everyone who contributed to our recent clothes collection.
Athea Ladies Minor Team :
Athea Ladies will play Cappagh LGFA in the league final in Athea on Friday May 26th at 7pm. Best of luck to the team and management. All supporters are welcome.
Club Draw:
Tickets for the Club Draw are now distributed to the sellers, and can also be purchased online through Club Force. The first draw will take place in July. Tickets are priced at €50, which covers entry into 5 draws, with the top prize each month being €1000, among other prizes. It could be you!!!
Áth an tSléibhe – Coiste na nÓg –16ú Bealtaine 2023:
Traenáil Peile Buachaillí & Cailíní:
Boys & Girls Football Training
Nursery,U7,U9 & U11 – Dé hAoine (Friday) @ 6.30pm
Newcomers welcome, please come and try out.
Traenáil Peile Buachaillí:
Boys Football Training
U13 – Dé Luain (Monday) @ 6.30pm
U15 – Dé Céadaoin (Wednesday) @ 7pm in Athea & Dé hAoine (Friday) @ 7pm in Glin
U17 – Dé Céadaoin (Wednesday) @ 7pm in Glin & Dé hAoine (Friday) @ 8pm in Athea
Traenáil Iomána Buachaillí & Cailíní:
Boys & Girls Hurling Training:
Nursery, U7 & U9 – Dé Domhnaigh (Sunday) @ 10am
U11 – Dé Domhnaigh (Sunday) @ 10am and Dé Céadaoin (Wednesday) @ 7pm
Newcomers welcome, please come and try out
Limited number of Helmet and Hurley's available for newcomers for first few weeks.
Traenáil Iomána Buachaillí:
Boys Hurling Training:
U13 – Dé Domhnaigh (Sunday) @ 10am and Dé Céadaoin (Wednesday) @ 7pm
Tabhair leat sciatha Guma agus uisce le do thoil.
Please bring Gum shields and water.
Ballraíocht:
Membership:
Membership for all Coiste Na Nog members (Nursery to U 17) needs to be paid ASAP.
Torthaí
Results:
U11 Boys & Girls Football
We played our second round of the Go-Games series Tuesday evening last in Athea against Monagea. We had 22 players available on the evening and we were able to field two teams and play two 11-aside games against Monagea allowing all players full game time which is fantastic. Both teams played excellent football with some great scores, heroic defending and no shortage of skills on display from both sides.
Athea Maroon: Edward Kelly, Nathan Ambrose, Colton Brouder, Aine Ahern, Ella Collins, James Kelly, Noah Nash, Tiarnan Fitzgerald, Fionn Hunt, Jontie Wielding, Josiah Wielding. Athea White: Kayleigh Finucane, Shane Ahern, Grace Ahern, Juliette Nash, Oisin McCarthy, Oran Hayes, Anna Murphy,
Conor Hayes, Kieran Sheehan, Killian Leahy, Niamh Hickey.
Our next match is against Granagh Ballingarry on May 23rd
U7 Boys & Girls Hurling
First blitz of the year. What a performance from our U7's on Saturday morning. 20 boys and girls took to the pitch and did a fantastic job representing the club. Great skill and determination shown by all. Thank you to Askeaton/Ballysteen/Kilcornan for travelling and making it a very enjoyable
morning of hurling. Our next match is away to Newcastlewest and Feohanagh Castlemahon in Newcastlewest on Saturday 27th May.
U9 Boys & Girls Hurling
First blitz of the season. 16 boys and girls travelled to Askeaton to play against
Askeaton/Ballysteen/Kilcornan and Croagh Kilfinny. Some amazing hurling was on display and sportsmanship. Well done to all and thank you Askeaton for hosting. Our next match is at home to Tournafulla and Rathkeale on Friday 26th May.
U13 Boys Hurling
Athea 0:7 V Claughaun 1: 0
Second match of the season for this great group of boys and what a performance for them to secure there second win of the season. There was some fine hurling on display against a strong Claughaun team who fought to the end but our defence held strong. There was some superb skill shown and it
was commented on how the skill level of the team has improved in the last twelve months. Thanks to referee Michael Brown and to Claughaun for travelling the long distance.
Panel: Tom Mullane, Kane Brouder, Tadhg Hunt, Paddy O'Connor, Jack Leahy, Mark Collins, Daniel Hunt, Liam Og Reidy, Jayden Kiely, Nathan Ambrose, Tony Ambrose, Jamie Brosnan, Edward Kelly,Cathal Fitzgerald, Aarron Hunt, Se Ahern.
Our next match is away to Ballybricken/Bohermore/Fedamore on Wednesday 24th May.
Junior Mens:
Athea will play Castlemahon on Saturday May 20th at 7.30pm in Castlemahon, and will play Gerald Griffins on Tuesday May 23rd at 7.30pm in Ballyhahill in the West Intermediate Football League.
Pictures:
Athea Minor County Football Players, Callum, Evan and James
Athea U13 hurling team who played against Claughaun recently
U9 Athea Boys & Girls pictured at recent Blitz
U7 Athea Boys & Girls pictured at recent Blitz
U11 Boys & Girls who played Monagea recently